Ansel Elgort & His GF Might Be Young, But They've Been Dating For Years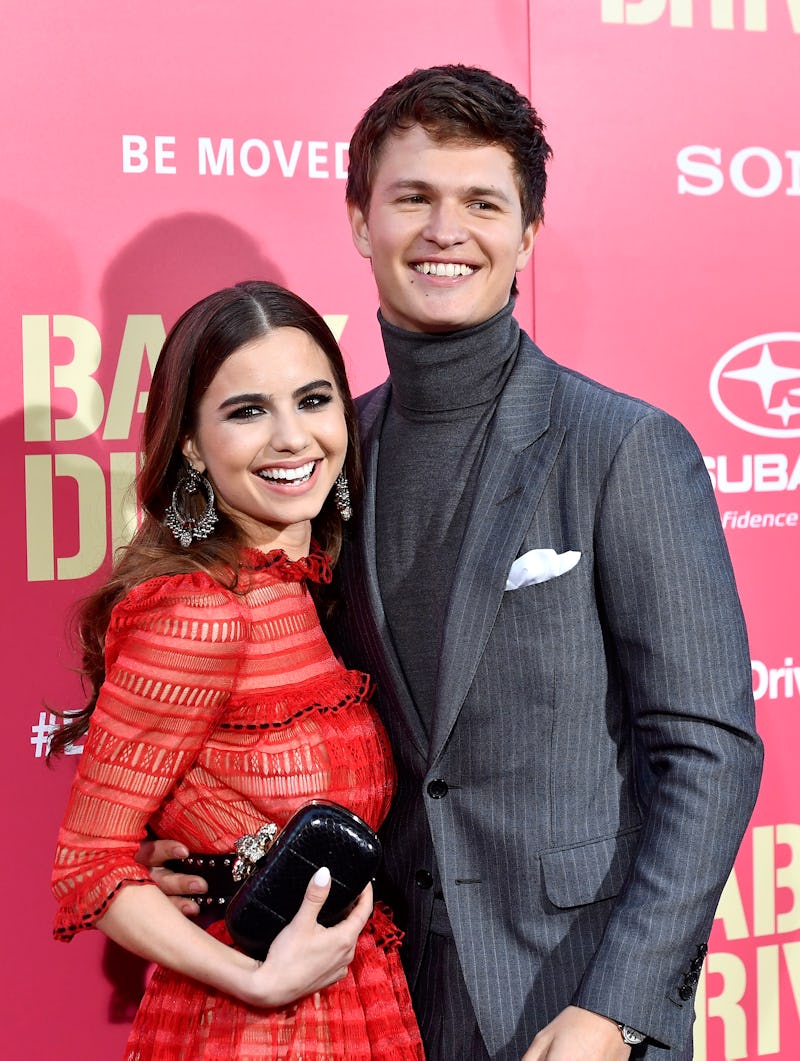 Frazer Harrison/Getty Images Entertainment/Getty Images
Ansel Elgort and his girlfriend, Violetta Komyshan, are just one of the adorable couples you might find walking the 2018 Golden Globe Awards red carpet. At this point, they're total pros when it comes to supporting each other at glamorous Hollywood events. Those who aren't familiar with the pair's lengthy relationship might be left to wonder: When did Ansel Elgort and Violetta Komyshan start dating? Turns out, the two have been going strong for some time now.
Elgort has been (rightfully!) nominated for a Golden Globe for Best Actor in a Musical or Comedy for his work in Baby Driver, and his longtime love will almost certainly be there to support him at the glamorous event. They've been there for each other ever since they started dating in 2012. Elgort and Komyshan met when they both attended high school at New York City's famed LaGuardia High School. He studied theater while she studied dance, which makes sense given their successful careers now as an actor and dancer, respectively. Elgort posted a photo of his girlfriend recently with a caption that ties back to their school days. He wrote, "Last Sunday morning... I've been obsessed with Violetta since highschool. [sic]" The dancer even told Cosmopolitan that the snap is one of her faves.
Aside from a minor blip in their relationship road, they've been together ever since. And these two are not afraid to open up about each other and what makes their relationship work.
In her interview with Cosmopolitan, Komyshan revealed exactly how and when she and Elgort met. She explained:
"[One day freshman year] I was with my friend, and he was walking down the block. I didn't even know he went to my school — I just thought he was really attractive. I looked at him and told my friend, 'Oh my God, that guy's so hot,' and she's like, 'Oh that's Ansel, he goes to LaGuardia.'"
This is all totally relatable and ridiculously cute.
She then said that she thought he actually liked her friend. But, when he waited for her after school one day, she knew there was a spark between them. The two were friends before they started dating at the end of her sophomore year of school.
Yet, things weren't entirely smooth sailing for the couple. In 2014, Us Weekly reported that the pair had called it quits. Apparently, the two split because of Elgort's "hectic schedule" between filming and press engagements. At the time, the young lovebirds seemed to have an amicable split and seemed pretty mature about it.
But, they couldn't stay apart for too long. In January 2015, five months after their reported split, Us Weekly reported that the couple were back together. A source told the publication, "They just missed each other," and they have been going strong ever since. Elgort also gave some insight into their reunion when he spoke to Details (via E! News). He said, ""I was doing OK," in terms of their split, and continued, "but I knew something was missing, and I was like, 'Oh, that's love.'" It was basically inevitable that these two found their way back to each other again.
In fact, they even put their love on display when they both appeared in a music video for Elgort's song, "Thief". They starred as a couple for the actor's electronic tune. True to life, no? According to Entertainment Tonight, Elgort wrote and produced the track, and his brother, Warren Elgort, directed the steamy shoot.
Elgort and Komyshan's adorable and lengthy relationship just shows that they're pretty much the definition of #couplesgoals. If you weren't a fan of them before, these high school sweethearts are sure to capture your heart now.