Kim K's Kimoji Heart Fragrances Are Landing Soon & Here's Exactly When To Snag Them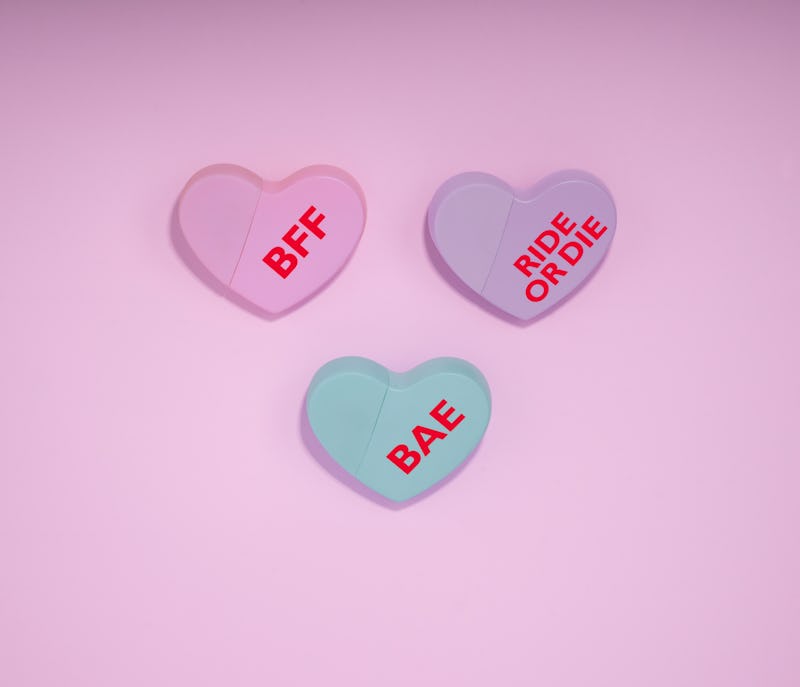 Courtesy of KKW Fragrance
The Kimojis are coming to life and they smell like heaven. The KKW Beauty x Kimoji Heart fragrances are the latest extension to Kim Kardashian West's cosmetics brand. While last fall's trio of crystal-inspired, gardenia-based scents was all about elegant glamour, the KKW x Kimoji Hearts are much more playful and coquettish. These kitschy perfumes capture the peak cuteness of Kardashian's viral Kimojis and allow the makeup mogul to show off her lighter and more mellow side.
The fragrances, which are packaged in pastel-colored candy heart containers, are arrive on Thursday, Feb. 1 at 3 p.m. ET/12 p.m. PT. They will be exclusively available for purchase via the KKW Fragrance site and will certainly make for the perfect Valentine's or Galentine's Day gift.
Kardashian is stoked to expand her fragrance offerings. "I'm so excited to expand my fragrance line and do something cute around Valentines's Day," the entrepreneur said in a press release. "It's one of my favorite holidays, and the fragrances are fun and sweet. The bottles are reminiscent of the candy hearts that I loved as a kid."
As of press time, it's not clear if the KKW Beauty x Kimoji Hearts fragrances are limited edition or a permanent addition to the brand's repertoire.
Kardashian initially intended for her Crystal Gardenia collection to be a one-and-done launch, with no plans for a restock. However, she diverted from the plan, replenished the supply, and bottles remain available for purchase as of press time.
While anything is possible regarding the Kimoji Hearts and their future after launch, you would be wise to scoop up a bottle or two immediately. The first drop is bound to sell out quickly. So if you are feeling the magnetic pull of these charming perfumes, go forth and shop the collection.
There are three yummy scents in the Kimoji Hearts collection.
There's the pink-packaged BFF, which boasts fruity floral notes like Wild Berries, Star Apple, Pink Rose Petals, and Pear Blossom. Those notes are punched up by the sweetness of Vanilla, Marshmallow, and Cedar Wood. It sounds like KKW Beauty captured a bakery in a bottle.
Bae lives in a baby blue dispenser. It's also a fruity floral backed by some seriously creamy sweetness. Juicy Mandarin, Kiwi, Jasmine Sambac, and Gardenia Blossom notes are mixed with Whipped Vanilla and Velvet Sandalwood. What an utterly intoxicating olfactory explosion.
Ride or Die owns the best name of the bunch. It lives in a lavender bottle and mixes Blackberry, Purple Plum, Night Blooming Jasmine, and Raspberry Nectar with Caramel and Tonka Bean for a dose of decadence.
Not only do they smell delish, but the Kimoji Hearts will add some decorative spunk to your vanity or wherever your store your perfume stash.
The Kimoji Hearts range is totally affordable. At just $30 per bottle, you can grab all three and build a fragrance wardrobe that will last through the year. You won't break the $100 spend mark, either.
The Kimoji hearts are also a frisky change of pace from the opulent and slightly more expensive Crystal Gardenia range. Those scents are $35 a piece.
It's also refreshing to see KKW let loose with this campaign. The glam diva is showing off a sassier side with the Kimoji Hearts.
Kardashian is building up quite a perfume portfolio in a short amount of time. She has created a total of six scents over the past few months, providing her fans and customers with plenty of options.
Kim Kardashian West really wants you to be her Valentine and has a trio of sweetly seductive scents as her ammo. How can you — or anyone else, for that matter? – refuse?