Kim Kardashian Is Launching Her Own Versions Of Lip Kits — Well, Sort Of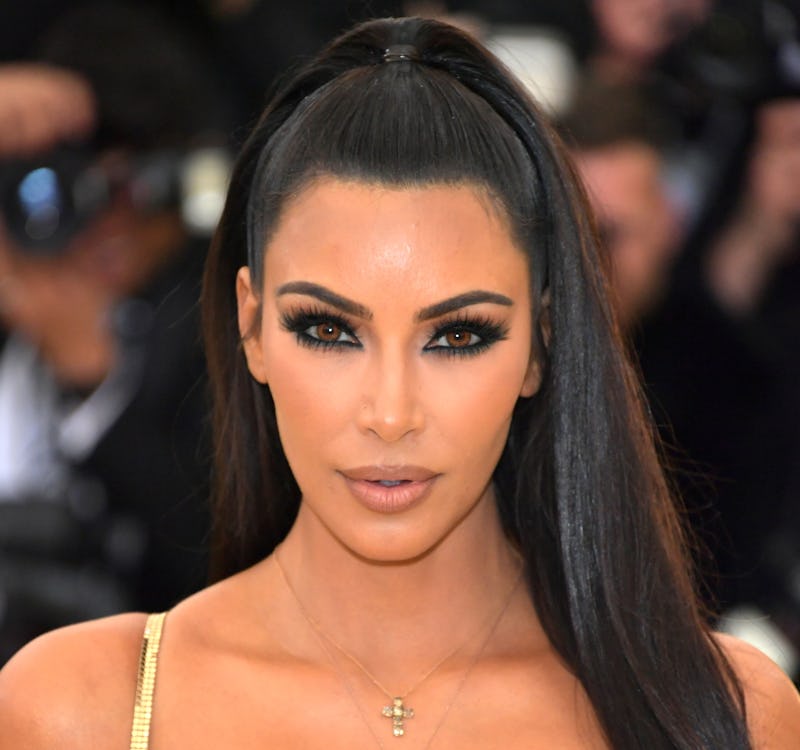 Neilson Barnard/Getty Images Entertainment/Getty Images
It's hasn't been long since this A-lister dipped herself in clay and made a perfume bottle of her naked body, but now she's back to beauty. According to the Instagram announcement, Kim Kardashian created KKW Beauty lipsticks and liners, but don't call them Lip Kits. Here's everything that you need to know about the "universal lip products," so you're ready for launch day.
Kardashian loves her neutral lip shades, and now she wants to share them with you. According to KKW Beauty's Instagram, the brand is launching eight Crème Lipsticks and three lip liners for summer. Because nothing says warm weather like neutral lips, apparently.
The KKW Beauty Crème Lipsticks will hit the KKW Beauty website on June 8, so set your alarms now.
The new shades are being branded as universal lip colors by KKW Beauty. They're all inspired by "Kim Kardashian's signature nude lip," and range from rosy pinks to a deep purple-brown hue.
Each one comes in the light pink and clear KKW packaging and, if previous lipsticks are any indication, will likely be available for $20 on the brand's website. Unlike her little sister's Lip Kits, these are classic bullet-shaped lipsticks that twist up.
Just because they have liners doesn't make them Lip Kits, though. There will be three different liners available for sale, but you won't get one for every single shade.
As for the shades, Kardashian already showed every single one on Instagram. She posted on-lip swatches of the new colors on her social media. While you'll only be able to see what they look like on her on Instagram, she shared swatches on a variety of lip shades on Twitter. That way you can see exactly what they'll look like on a skin tone similar to yours.
Actually, you've probably already seen all of these shade before. According to her Instagram caption, Kardashian has been wearing these in public for a while now.
"OMG I've been wearing these for months now," the Instagram caption reads. "My favorite Nude lipsticks & lip liners launching June 8th kkwbeauty.com The creamiest long lasting lip stick formula (8 lipsticks and 3 liners!!!)"
Although there's no word on what events she wore the lip colors to, there's a good chance that she was rocking them whenever she had a neutral lipstick on. You can either comb through all her old photos to find out or just wait for her to start snapping selfies again. The choice is yours.
Let's stress again that these lipsticks will be out on June 8, because versatile shades are always flying off the virtual shelves. There's no word on how much they will cost just yet. All of the other Crème Lipsticks are $20 though, so that should be a pretty good indication. It's unclear if you'll have to buy each one separately or if there will be a bundling option. Bustle reached out to the brand for comment.
This is not the first time that Kardashian has sold a neutral shaded lipstick on her website. In fact, she's sold nothing but neutral lipsticks on her website. Although she's branched out when it comes to shadows, she's featured her Kylie Cosmetics neutral lipstick set, shimmery glosses, and the KKW x Mario lipstick that were all neutrals.
The only difference this time is that there's liners up for grabs as well. There's no word on how much those will cost, since this is the first time they've hit the website.
Despite the fact that these are not exactly the most exciting lipstick shades, they will likely fly off the virtual shelves. Get your wallets ready, because they will be here before you know it.