Here's How Long You'll Be Waiting For The Next Chapter Of 'AHS'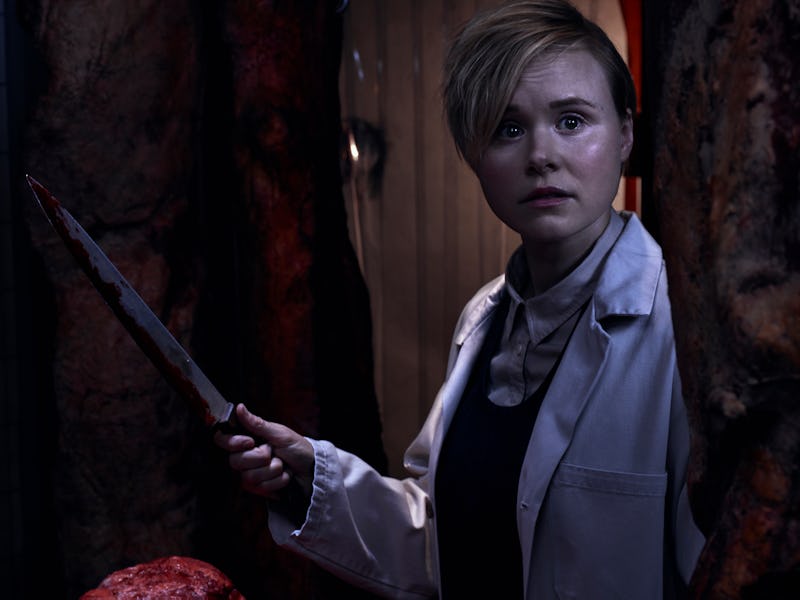 Frank Ockenfels/FX
The lull between seasons of American Horror Story is never fun, especially because each new installment of the anthology brings an unexpected, unpredictable and often outrageous new theme. When Season 8 of American Horror Story premieres, the whole story will reset yet again. But how long will that hiatus be?
UPDATE: American Horror Story Season 8 premieres on Sept. 12, per a network press release.
EARLIER: No announcements have been made yet by creator Ryan Murphy or FX as to when the horror anthology show will come back. However, the last two seasons have debuted new episodes starting in September. Prior to that, an early October premiere was typical for AHS. Though fans will unfortunately have to weather months without new episodes, they can likely rest easy that the new season — whatever it entails — will likely be back in time for next Halloween.
Murphy typically sticks with a strong and familiar guild of actors when it comes to American Horror Story. Sarah Paulson and Evan Peters have been in more episodes than any other actor in the series, but other staples like Lily Rabe, Denis O'Hare, and Frances Conroy have appeared over spans of many different seasons. It's likely that audiences will see many of their favorites come back, as the show's regular cast members are usually vocal when it comes to how much they love working with Murphy. Paulson has already confirmed to Adweek that she'll be returning for another year.
"I love working at that network more than I can say," Paulson told the publication of FX. The actor, who also won an Emmy for her role as Marcia Clark in The People vs. O.J. Simpson, another Murphy project, even went so far as to say she's not interested in working on any television show Murphy isn't involved with. "There are great creators out there, absolutely, but I have found a home in the sense that I work for a person who sees me completely, knows my strengths and weaknesses, knows how to push me and keeps throwing me the ball," she told Adweek.
Peters shared similar sentiments about working with Murphy, a showrunner he said he's come to trust completely. "He's having the character do what he does for a reason, whether that's to throw a mirror up to the real world or to frighten people or to awaken them," Peters said on "Remote Controlled," a podcast produced by Variety. "He has his finger on the pulse, and it's just in your benefit to just go with it." Peters also said he'd love to be involved in a crossover season or a revisit to a past theme, saying he'd be up for a Murder House reunion. "Everyone's gotten a little older, I know ghosts can't really age," Peters joked.
The one-and-done aspect of each season of the show (barring any potential crossovers or visits to past seasons, which Murphy confirmed he's definitely doing at some point), is something Peters said appeals to American Horror Story fans because it's both intriguing and familiar. "It'll also satisfy that ADD we all have now where it's something new and something fresh, but there's something familiar about it, and you're still seeing some of the same actors and that feels cool," the actor said in the same interview.
Rabe, who's appeared in the past six seasons (and who may very well pop up in the Cult season finale — who knows) told Rolling Stone that the finality of each season also appeals to her; she gets to see the complete story of her characters.
"It's a massively appealing thing; a television show. You have a steady job for five or six months and you have this feeling of family. And yet you get this incredible luxury of playing someone new every year," Rabe said to the magazine in 2014. "So in that way it's more like doing a film because you start each season with a beginning, a middle and an end. That definitely keeps me coming back. And I love working for Ryan. He writes such great characters, especially for women."
While it's not known yet when AHS will come back or exactly how many of its revolving cast will be involved, Season 8 will be as comfortingly familiar as it is unsettling.