Why 'Ballers' Is Everything We Love About The Rock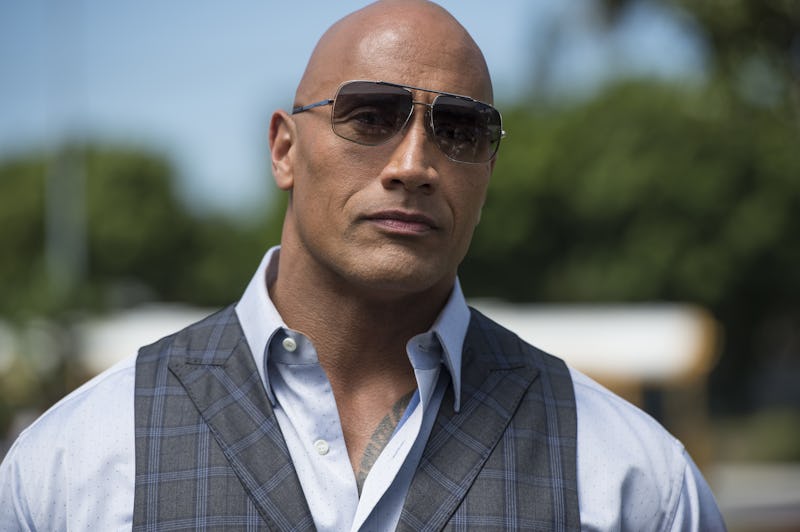 Jeff Daly/Courtesy of HBO
Right now, it seems like Dwayne "The Rock" Johnson can't lose, with a major action franchise in the Fast & Furious films, kid-friendly projects like Moana, and his HBO sports comedy, Ballers. And, in the latest piece of good news for the WWE performer turned movie star, even though the details reported by Deadline are still a little vague, HBO has confirmed that Ballers will return for Season 4 next year. (The network renewed Insecure for Season 3 in the same announcement.)
In a statement, HBO Programming executive vice president Amy Gravitt said, "We're thrilled that the summer lineup of Ballers and Insecure connected with our viewers out of the gate. We're so proud to work with Dwayne, Issa [Rae] and all of the amazing talent in both shows."
HBO is clearly confident in its current slate of shows, and for good reason. A pair of successful summer comedies from their respective debuts, Insecure has set social media alight every Sunday night, while Ballers' Season 3 ratings have been very strong, according to TV Series Finale, even if they dipped significantly after the Game Of Thrones finale. And the show has always done well in the numbers game, because according to Deadline, the first season averaged HBO's biggest half-hour ratings until that point.
With those successes, it seems logical to assume that Ballers will return with another 10 half-hour episodes in the summer of 2018, as it has for the past three years. Johnson announced the news of Ballers' fourth season on Instagram, writing in his caption: "Delivering a lil' package of gratitude. Thanks for rockin' with us and enjoyin' Ballers. When I get the happy calls from studios & networks, first thing I do I reach out to you guys. Then I go have a shot of tequila. Or three. Appreciate y'all and have a productive day."
In the video he posted with this caption, Johnson discussed ratings, and how Ballers' premiere was the "highest rated half-hour comedy since the finale of Entourage in 2011, years ago." He goes on to joke about the beard he's growing out (for a role), and ends the short video by saying a simple "thanks for enjoying Ballers."
With the show reaching this kind of success, there could be some changes in store. Already, Deadline has reported that actor Brittany S. Hall will be promoted to series regular in Season 4, after recurring as Amber, Ricky's former fling turned current hookup. After a pregnancy scare in the season premiere, Amber was a small part of Season 3, so whatever happens to her character next will be interesting to watch — will it finally be time for Ricky to settle down? That could be an interesting development.
But other than Hall's promotion, there's been surprisingly little news about the future of Ballers. The show has a formula, and so far, it's worked: take Dwayne "The Rock" Johnson's natural charisma, add some athletes and financial planners with messy, disastrous personal lives, and combine with a healthy dose of Miami scenery. It's been a winning strategy so far, and it certainly doesn't look like the show is heading in a different direction.
So though the premiere date is yet to be decided, fans can be content knowing that Johnson is still making time as a major movie star to keep up with his hit HBO series. Real sports (and sports blogs, sports commentary shows, fantasy football leagues, and so on... ) will have to do for now, but it won't be long before the athletes and managers of Ballers' sports world are back to get into new trouble.