Bill Hader Promises That Barry's Life Is Somehow Going To Get Even Worse In Season 2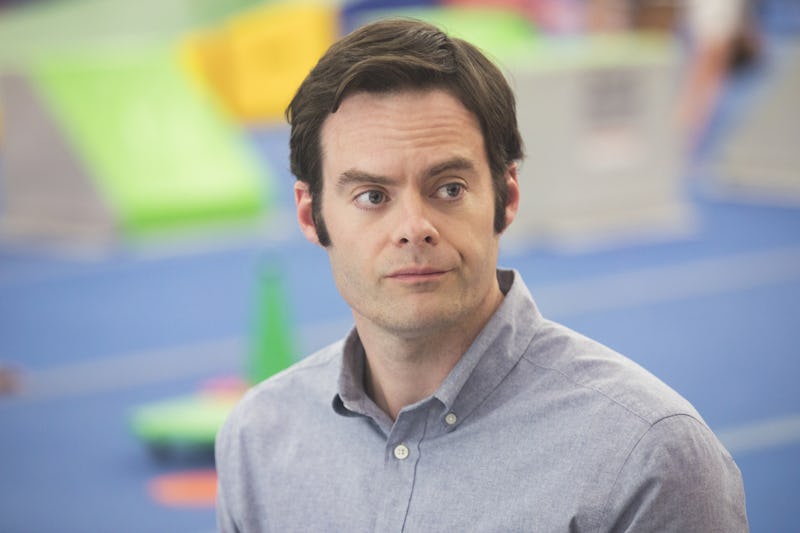 John P. Johnson/HBO
Good news, Barry fans: you're all in for more Bill Hader and his hitman-turned-actor-turned-hitman-again antics. Deadline reported last month that HBO renewed Barry for Season 2. "Barry has delighted audiences with its deft interplay of comedy and drama," Amy Gravitt, HBO Programming's executive vice president, said in a press release. So no matter how much darker and more dangerous the story becomes in the May 13 finale, rest assured that the unique series will return, though when is still up for debate.
There are still plenty of story to tell with Barry, which Hader also co-created and sometimes directs. The titular character, a former marine who simply wants to live out his theater dreams, keeps getting helplessly sucked back into his old living as a hitman. The slippery situation is largely thanks to loyalty to his old partner, Fuches (Stephen Root), and also the fact that he murdered one of his own acting classmates before he vowed to give up his life of crime, and police are on the trail.
Oh, and there's kind of an imminent battle between rival crime organizations, and Barry is stuck in the middle as Fuches' life hangs in the balance. As the season nears a close, he seems further than ever from actually distancing himself from that troubled life, and problems will likely continue into the newly announced second season.
Hader and his team seem up to the task, no matter where the tumultuous plot takes them. "What can we say about Season 2? It somehow is a bit darker," Hader told IndieWire at a press event. "We're writing Season 2 right now." Co-creator Alec Berg said in the same piece that they're very conscious of the way the story is told. "Every episode, it's what cards have we dealt ourselves the week before," he said. "What would logically happen?"
"My head's going to explode," Hader continued, referring to his ideas of what Season 2 could entail. "I was just in traffic for an hour and a half. I saw Alec and just pulled him aside, and was like, 'Here's what it can be.'"
But despite its heavy subject matter, Barry manages to perfectly strike a tone between humor and darkness. You feel horribly about what Barry's gotten himself into, but in the same moment you laugh at the absurdity of his situation and the hopelessly clueless people he's surrounded himself with.
Hader's talent as a dramatic actor really shines, too — he's proven with serious projects like The Skeleton Twins that he's so much more the wacky Stefon on Saturday Night Live, but this multi-episode arc has really given him the room to stretch those muscles.
There's also a dynamite ensemble behind him — The Good Place's D'Arcy Carden is endearing even with limited screen time, and show business icons like Henry Winkler and Root steal scenes on the regular. Hiro Murai — the directing talent behind FX's Atlanta and Childish Gambino's incredible "This Is America" music video, even sat in the director's chair for a couple of the best episodes of Barry's inaugural season.
The show is a product of some of the most creative minds in the industry today, and its renewal is a victory for both viewers and those behind the production. There's no word yet on when exactly Season 2 will hit HBO — as Hader said, they're still working on writing the season — but the first season premiered in late March of this year, so fans can probably expect it to follow that same relative timeline. While viewers await a new batch of episodes, they can at least be confident that they'll soon be following Barry through more trials and tribulations as his new life conflicts with the old.