'Better Call Saul's Fifth Season Could Bring The Series Full-Circle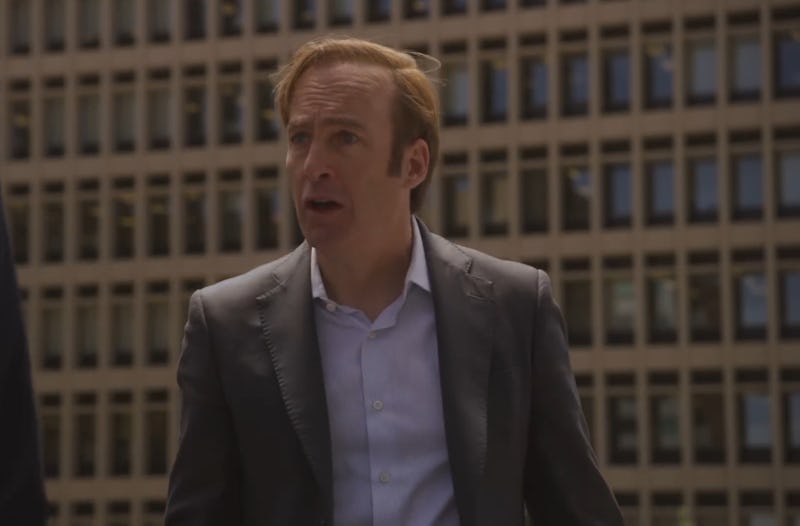 AMC/YouTube
Better Call Saul is wrapping up its fourth season this week, and just as it was with its parent series, Breaking Bad, anxious fans are on the edges of their seats to find out what's going to happen next. The long game has always been important with this show, so it's no surprise that even before Season 4 ends, the talk of the town is when Season 5 of Better Call Saul will premiere.
Unfortunately, there's not yet a solid announcement on when the rumored final season will debut, but it is definitely coming. AMC announced a couple months ago that the network had renewed the Bob Odenkirk-fronted Saul Goodman origin story series. Previous seasons of the Golden Globe-nominated show have debuted anywhere between February and August of their respective years, so there's not really any way to tell when exactly it'll return in 2019.
Whenever it does, though, things are bound to get dicey. No matter what happens in this week's Season 4 finale, the showrunners have teased that Season 5 will feature explosive developments, and could even bring Saul's prequel journey into Breaking Bad territory. In an interview with the Independent, showrunner Peter Gould suggested that he doesn't want Better Call Saul to go on longer than Breaking Bad did, and the latter ran for five seasons. So as we approach Saul's fifth year, the end may be near.
Breaking Bad fans were introduced to Saul, a sleazy, corrupt lawyer, as they followed Walter White's journey to becoming a notorious druglord. Better Call Saul has fleshed out Saul's backstory, showing how he started as a much more innocent and well-intentioned Jimmy McGill. And now, he's slowly inching closer and closer to the man viewers met in Breaking Bad's run.
Odenkirk may be the one who brought Saul (and Jimmy) to life, but he's having perhaps just as hard of a time with the downward spiral as dedicated viewers are. "They made him such a likable guy, and yet kept it organic," Odenkirk told Entertainment Weekly of his character in the newer show. "It's not a completely different person, but I really like the guy."
That likeability is slowly but surely waning for Jimmy, and even Odenkirk is uncomfortable with the necessary evil. "I'm having to confront the fact that he is becoming Saul, and I don't like Saul," he continued. "If he was my friend, I would say, 'Don't go that route.'"
That slow burn transformation from Jimmy to Saul is really the essence of the Better Call Saul. Vince Gilligan, who created both shows at hand, was once was unsure of how long fans would wait to get to the fully formed Saul they already knew from Breaking Bad. But the reality of the transformation illustrates just how unfortunate Saul's reality is, and how much of a punch his character packs. "Because the show is named Better Call Saul, we thought that we had to get to this guy quick or else people will accuse us of false advertising — a bait and switch," he told Rolling Stone. "Then lo and behold, season after season went by and it dawned on us, we don't want to get to Saul Goodman … and that's the tragedy."
But ready or not, Saul will come. As Better Call Saul catches up to Breaking Bad in its number of seasons, fans should prepare to come face to face with the Saul they first came to know, for better or for worse.