Why Progressive Showtime Drama 'Billions' Might Not Return For A While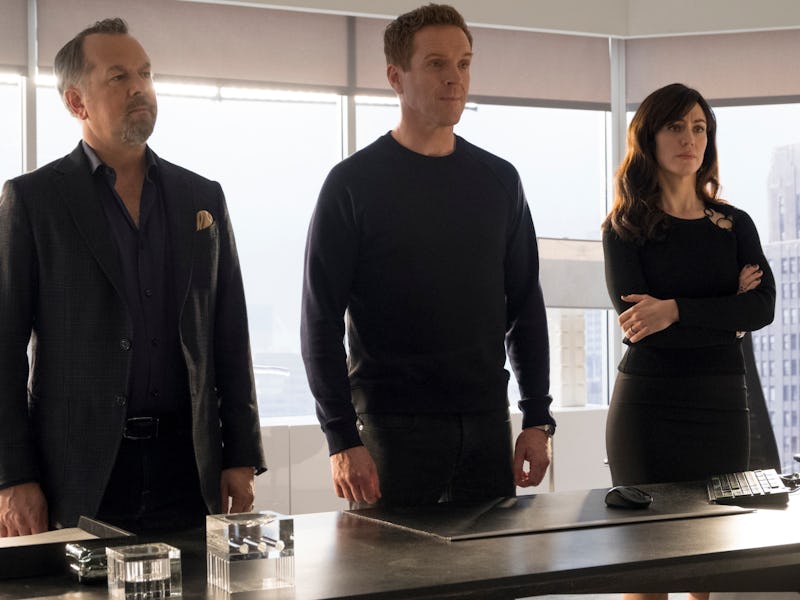 Jeff Neumann/SHOWTIME
Get ready to feel like a million — or better yet, make that a billion — bucks. Because while many fans may be sad to see the popular Showtime series Billions wrap up its third season on June 10, they can at least take comfort in knowing that its departure won't be permanent. The network has renewed the series for a fourth season, which leaves only one question remaining: When does Billions Season 4 premiere? After all, with the season finale just around the corner, viewers will want to know when to set their DVRs for the next exciting installment.
Unfortunately, that question may go unanswered for quite some time. As it stands right now, no official premiere date has been revealed for Season 4. However, fans with finely tuned detective skills might get a clue to Billions' future by looking to its past. Previous season premiere dates often help indicate when a show will make its grand comeback. It is always possible, of course, that Showtime could switch things up a bit with a shorter or longer hiatus, but at the very least, looking to Billions' past schedules might give fans a tentative sense of how its return could play out.
Complicating this investigation is the fact that the network seems to like to shake up its schedule every year. No two seasons of Billions have ever premiered during the same month. The good news, though, is that the dates aren't spread out too extensively, and the seasons have run for a consistent 12 episodes each. Season 1 of Billions debuted on Jan. 17, 2016, and ended on April 10, 2016. The second season launched on Feb. 19, 2017 and concluded on May 7, 2107. Most recently, Season 3 kicked off on March 25, 2018, and comes to a close on June 10. If this pattern keeps up, it's possible viewers will be treated to Season 4 sometime in April 2019. But again, this is all just speculation until Showtime announces its fall schedule, likely over the next few months, and spring schedule, which is generally released early in the calendar year.
News of the show's renewal likely didn't come as any big surprise to fans. Billions has brought in solid ratings for its network — according to TVLine, midway through its current third season, the series was Showtime's second-highest-rated drama, behind Homeland. TV Guide also notes that Billions' Season 3 premiere was its highest rated debut yet, so it seems more viewers are finding the show with every year.
"Billions continues to build its audience as it explores the heights of power and wealth even as it plumbs the depths of the human psyche," Showtime's President of Programming, Gary Levine, said in a statement at the time of the show's renewal, as reported by TVLine. "[Co-creators] Brian [Koppelman] and David [Levien] are gifted, propulsive storytellers and we can't wait to see where they and their extraordinary cast will take us in Season 4."
Details about what Season 4 will be about remain understandably scarce, considering Season 3 has yet to come to a close. But the show has already made a progressive name for itself. Billions made history in Season 2 by introducing the first regular gender non-binary character on a major TV series, Entertainment Weekly reports. Co-creator Brian Koppelman said in January that the character, Taylor (played by gender nonconforming actor Asia Kate Dillon), clicked with the show immediately.
"We knew from the first scenes that they played ... that they just fit into this show and this world," Koppelman said. "From the conception, Taylor was an incredibly important character. It's been rewarding to see the way people have responded. It's been inspiring to us to see how welcome Asia and Taylor have been by a really diverse group of people."
Fans will likely be waiting for Billions to continue to break new ground in Season 4.