Cardi B Is Releasing A Clothing Collection So You Can Straight Stunt Like Bardi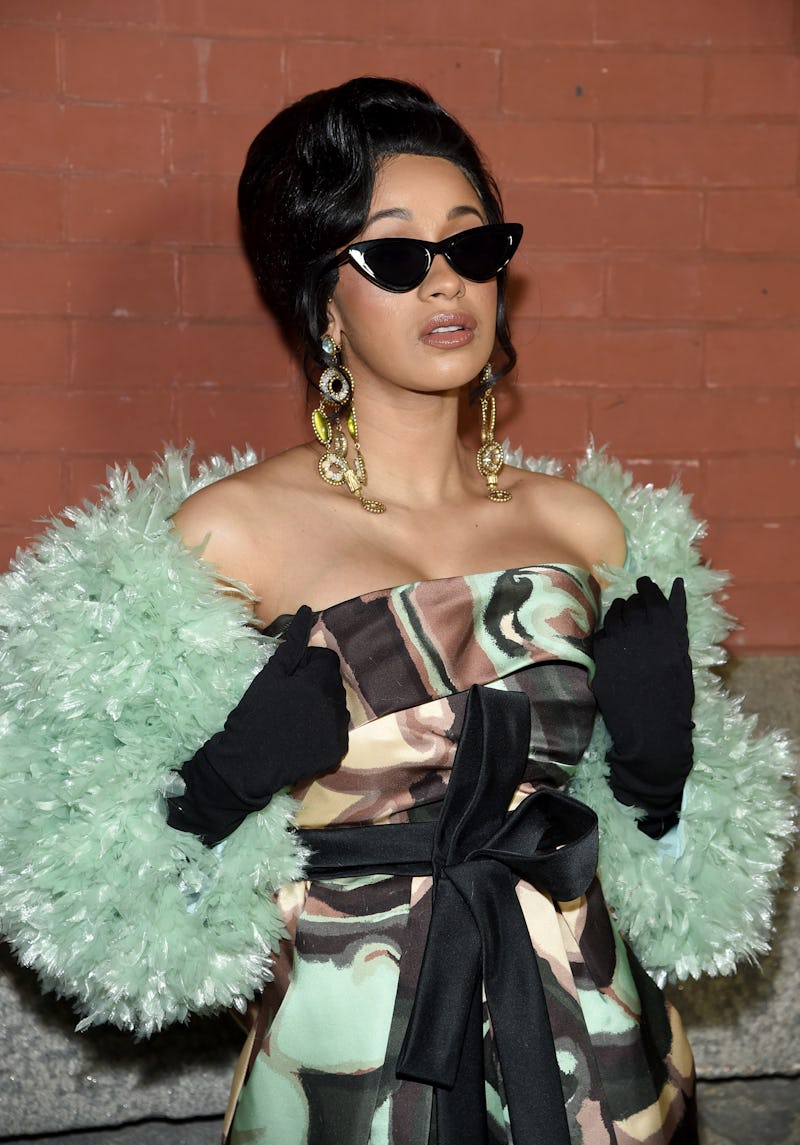 Jamie McCarthy/Getty Images Entertainment/Getty Images
There's a lot to love about Cardi B — from her acidic comebacks, to her hilarious and huge personality, to her certified gold album — but at the top of that list is also her sense of fashion. Often compared to the 2018 version of Fran Fine, Cardi B isn't afraid to go all-in with her outfit choices, just like our favorite '90s nanny. She's been known to wear a red leather jacket with matching cat eye sunglasses, wear a Kelly green suit with a white fur draped all nonchalant across her shoulder, and don structured evening gowns that make her look like a fairy godmother — much to the delight and approval of all her fans. And now those same fans can take her creative fashion genius and add it to their own closets, because there is a Cardi B x Fashion Nova collab coming this fall.
The news broke during an interview with Beats 1 Radio this week, where the singer revealed she's collaborating with the fast-fashion store on a little "something, something."
During the 30 minute interview she touched on how her fast rise to fame wasn't all that fast in her eyes, how her "I Like It Like That" video channeled an Afro-Latinx vibe, and how fashion is one of her biggest passions.
At the 13-minute mark Ebro Darden touches on the fact that she loves to experiment with style, and that her album cover is a testament to that, featuring her with a crop of yellow finger-waved hair, white cat eye sunglasses, and an '80s inspired skirt suit with a dizzying mix of black and white checkers and grids. He then asked her if any fashion houses have been reaching out to her to collaborate, and that's when Cardi opened up about this newest partnership.
"I have a lot of deals on the table," she shared, possibly hinting that Fashion Nova isn't the only collaboration we'll see this year.
"Fashion Nova gave me an opportunity to design what I like and what I want to put out," she said. But most importantly, she's excited to work with them because it will give her an opportunity to share her vision on a budget. "I know that a lot of people cannot afford expensive shit. Nobody got $400, $500 for a damn shirt, so everything's going to be affordable. I want people to look good, to look high end with a good budget price, and this is the perfect opportunity. So I'm excited about that."
Of course, this won't be Cardi B's first move into the fashion industry. Earlier in 2017 she collaborated with Steve Madden on a line of shoes and sunglasses. Releasing options like white vinyl platform boots, thigh high pleather stiletto boots, and translucent-frame glasses, she brought her fashion A-game to the masses. But, most importantly, she wanted to collaborate with Steve Madden because many of her fans could actually afford to shop the brand.
"I've loved Steve Madden since I was a little girl. Back then, I died for a pair of Steve Madden shoes. I love how [his shoes are] affordable but [still such] great quality. Every girl can't afford 'bloody shoes,' so I like that I can partner with a shoe company many girls can afford," she shared in an interview with Refinery 29.
Which means that, come fall, the new Card B x Fashion Nova collaboration is going to be just as budget-friendly as last year's shoe line. While we still have plenty of months to go before it reached stores, here's to hoping Cardi B will start sharing sneak peeks. Until then, we have to sit here and wait impatiently.