Rob & Sharon Will Be Back For More 'Catastrophe'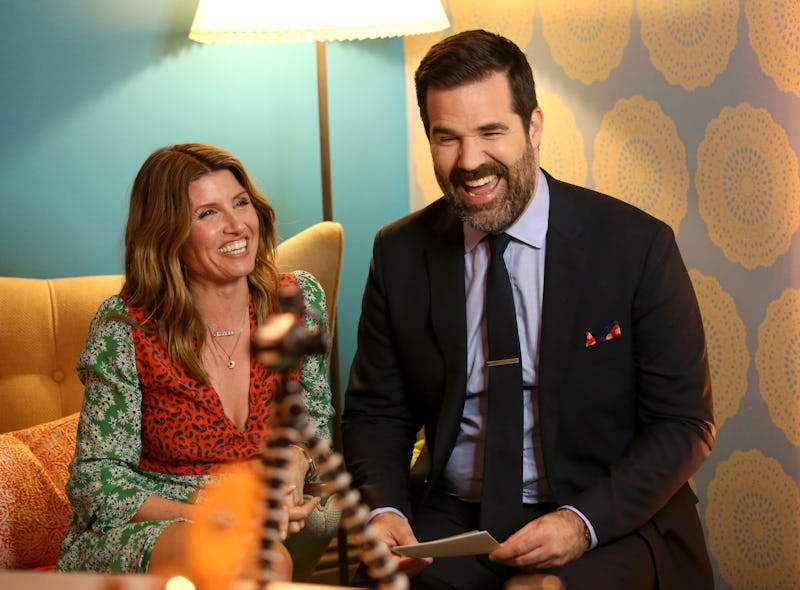 Phillip Faraone/Getty Images Entertainment/Getty Images
I'm going to say it, so don't @ me: Catastrophe is the best half-hour show on streaming right now. Written by and starring Sharon Horgan (who is also responsible for British cult comedy Pulling and Sarah Jessica Parker's Divorce) and Rob Delaney (seriously, go follow him on Twitter), Catastrophe tells the story of Sharon and Rob (natch), a couple that gets together for real after a week-long sex fest and an unexpected pregnancy. Season 3 is about to premiere on Amazon, but since I'm a let's-look-forward kind of gal, when will Season 4 of Catastrophe premiere?
Luckily for comedy fans, Amazon has renewed Catastrophe for Season 4! Season 2 premiered in April 2016, and Season 3 is hitting the streaming waves on April 28, so my best guess is that Season 4 of Catastrophe will be available in 2018 in the US, probably also around April. And if you're in the United Kingdom, you're in luck, because the show is shown on television there a few months earlier.
While we're waiting for Season 4, let me set you up for Season 3 with a little recap of Season 2. It starts off with the birth of Sharon and Rob's second child, Muireann, which is super Irish and super hard to say for everyone who is not Irish. (That's a theme on the show, not me being ethnocentric.) Sharon is stuck between a rock and a hard place, because she loves her kids and has a hard time leaving them to go back to work, but she also wants to go back to work so she feels like a person and not a vessel again. Understandable. While Sharon is dealing with her issues, Rob has a big issue at work — a hot new coworker who keeps coming onto him. Yikes. Also, Rob's mother is increasingly difficult; Sharon's father has a dementia that is rapidly intensifying; their dog gets hit by a car; and Rob lends Sharon's brother 15,000 quid for an investment without telling Sharon.
The season ends with Rob getting suspended due to a frivolous and, I think, unfounded sexual harassment suit, and Sharon kicking him out of the house. She also finds out about the money thing. While the two are apart (which is like a week or so), Rob lives with his friend Dave, who has started his out-of-control partying again and encourages recovering alcohol Rob to do the same. Sharon goes out for a night with an old pal, and the day after said night, Sharon and Rob make up. Sharon realizes she may have had sex with a stranger at a bar and buys Plan B. Rob finds the receipt for it in her wallet when he takes money out for pizza. Season 4 will start, according to Jezebel, moments after.
So, wow, there is a lot to parse through here, isn't there? Realistically, the show could not exist if Sharon and Rob weren't together, so I'm thinking that these two will not split up but will be forced to deal with the realities of infidelity and marriage and grapple with growing old together. It's dark, but it's bound to be funny! Horgan echoed that sentiment in the same Jezebel article: "I think we do slide into the grim!" she said. "But we always come back because each season we give ourselves storylines that we have to figure out and pay off in the next season! We found that we enjoyed talking about those things and that we had something to say about those things."
And on Catastrophe, real life is usually funnier (and darker) than fiction.