Gina Linetti Will Be Back At The 'Nine-Nine' So Soon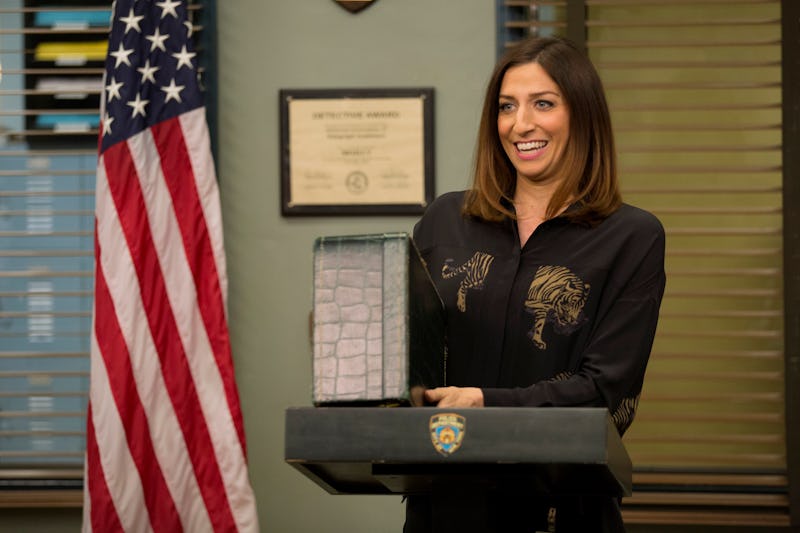 FOX
Chelsea Peretti, and her character, Gina, have been notably absent from the Brooklyn Nine-Nine precinct this season. As the Season 5 midseason finale approaches, fans have to be curious when Chelsea Peretti will come back to Brooklyn Nine-Nine. The actor has been absent for happy reasons, as Peretti and her husband Jordan Peele welcomed a baby boy earlier this year, according to People Magazine, and she's been on maternity leave ever since. But here's the good news: Gina's return is imminent.
Photos released by Fox ahead of the midseason finale definitely feature Gina, so, yes, the one-hour episode before the show's winter hiatus will bring her back to the precinct. Both the actor and the show are causing some commotion in the fandom by sharing the stills ahead of the Dec. 12 episode, so audiences should expect to see her back as early as Tuesday night.
The reason Brooklyn Nine-Nine gave for Gina's absence was the same as Peretti's — she was expecting. "Chelsea and Gina are both on maternity leave, so Chelsea's not in at least the first eight or nine episodes," showrunner Dan Goor told Variety in September. "We saw a little bit of it at the end of last year, but Chelsea would kill me if I made her put on a pregnancy suit."
After she does return, the cop comedy will have an entirely new venue of plot to explore in Gina's home life and journey through motherhood as well as her relationship with baby daddy Milton Boyle, hilariously played by dreamboat Ryan Philippe. "We'll definitely see more into Gina's life," Goor told Entertainment Weekly after last year's season finale. "Realistically, we will not be seeing much of Gina at the beginning of the year because Chelsea is pregnant, so she'll be on maternity leave for some part of the beginning of the year."
Goor also told Variety in the same interview that he thinks it's important for the show to not only retain its comedic roots, but also find new ways to write interesting and human stories for its characters — something Gina's motherhood may allow them to do more of. "I think the primary goal of the writer's room — which is to tell funny, interesting stories that have heart in them — has not changed," he told the outlet. "I think that we have tried over the last couple years to tell some stories that approach social issue... and we're going to try and do an episode or two like that this season, and that's not something we did in the very beginning of the show. I think as the show ages, the other thing is just trying to make sure the writers are constantly finding new but believable and funny aspects of the characters and stories to tell."
Aside from the fictionalized effects it will have on the show, Peretti definitely deserved to have some time away to enjoy the new addition to her family. She and Peele welcomed their son, Beaumont Gino, earlier this year on July 1, per that same People announcement. The couple have both been private in terms of giving out interviews or posting photos of the child, and good for them. The whirlwind of new parenthood for Peele and Peretti comes on the heels of the wild success of Peele's directorial debut film, Get Out, which, after months of rave reviews from both critics and audiences, just nabbed a pair of Golden Globe nods earlier this week.
For now, it looks like Gina might be making her grand return to Brooklyn Nine-Nine in the show's fall finale Tuesday night, and viewers will be welcoming her and her irreplaceable brand of comedy back with open arms.