China Glaze's 'My Little Pony' Polish Collection Is Too Cute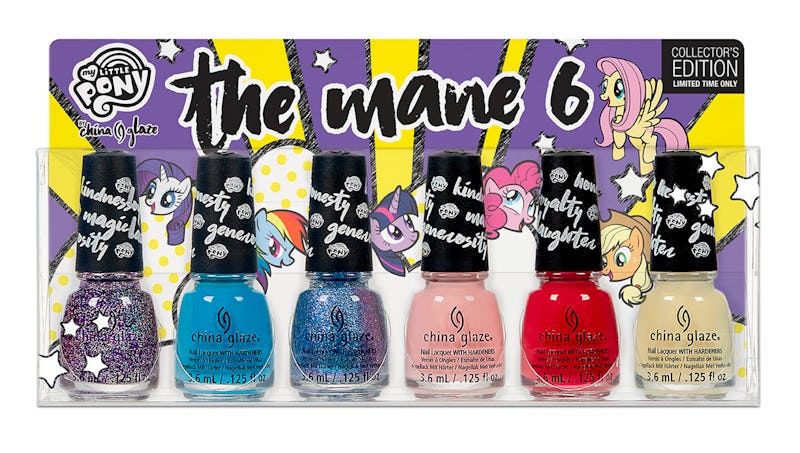 Courtesy China Glaze
Hold onto your horses, because the nail collab that you never knew you needed is here. China Glaze and My Little Pony teamed up to create 14 nail colors with adorable names and accessories to go with it. Because what better way to get ready for the movie than with tons of glitter and bright colors. If you're wondering when can you buy the My Little Pony x China Glaze collab, you'll be happy to know that you can stock up on the polishes very soon.
Whether you're a fan of My Little Pony or are just looking to add some color into your life, this collection is from you. The China Glaze polishes that you already know and love are getting a magical color upgrade. I'm talking 14 colors ranging from glittery silvers and pink to pastels and pops of color through three different nail sets. There's truly something for every My Little Pony beauty lover.
Although the movie doesn't come out until October 2017, you don't have to wait that long to get the polishes. The My Little Pony x China Glaze Collection will be available in July. Start saving your money now, because these shades are absolutely adorable. You can either buy the 14 individual collab colors or stock up on three adorable kits. Trust me when I say you're going to want every single one.
The first limited edition set is One Polished Pony, which comes with the two full sized shades — One Polished Pony and She's A Mane-iac. You'll also get adorable little nail decals to go with it. The second kit comes with two polishes as well — Songbird Serenade and Best Ponies Forever — and a pair of best friend rings. The colors will only be sold in the kits.
If you're looking to get the most bang for your buck, there's The Mane 6 set. Although you only get six mini colors, you'll get to try out almost half of the colors in the collection. Then you can stock up on the single, full-sizes products. Unfortunately, you wont' get any cool stickers or rings though.
Honestly, no matter how you shop, you really can't go wrong. I see no better way to get ready for the movie than by stocking up on your favorite My Little Pony shades. But hurry, because they're only be around for a limited time.