Why 'Claws' Could Be Turning Up The Heat On TNT For Years To Come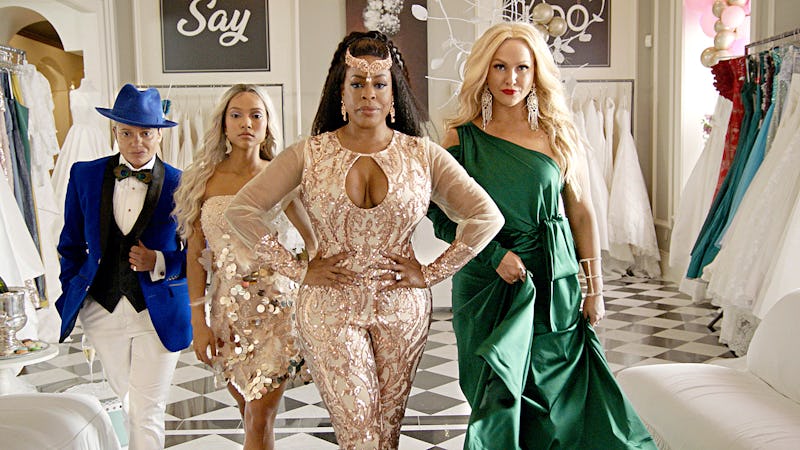 TNT
If you can't get enough of former Clean House host and Reno 911! star, Niecy Nash as nail salon boss lady Desna Simms, you're in luck, because it's official: according to Variety, Claws will return for Season 3. As viewers know, a lot more than mani-pedis goes on with the women behind the Nail Artisan salon of Manatee County, Florida, and its time to buckle up for a whole lot more. The Aug. 12 Season 2 finale won't be the end.
In the first two seasons of the show, Desna, the owner of Nail Artisan, and her four employees, Polly (Carrie Preston), Quiet Ann (Judy Reyes), Virginia (Karrueche Tran), and Jennifer (Jenn Lyon) get involved in criminal money laundering for the salon's neighboring pain clinic, which, naturally, brings a hell of a lot of suspense, drama, and even risk of death for some. According to TNT's official description of the show, "Claws is about good women caught in bad places with worse men. It's the story of hardworking women trying to get by in this economy, set against the surreal, bright, gritty landscape of Florida and the luscious, absurd, extreme excesses of the crime world."
And what's not to love about a good dramedy starring five badass women? That may explain why Claws has topped the TV drama charts, and producers can bring it back for a third season with confidence. According to Deadline, the Season 2 premiere garnered "1.3 million 18-49 in L+7, up 38 percent from last year's series debut." Now, Season 2 is up nine percent ahead of Season 1, which puts it in the top five cable dramas of the year. Deadline also reported that Claws is "currently posting the largest year-over-year growth among all returning cable dramas." So who knows, a Season 4 could be within reach before long.
Nash shared a post celebrating the show's renewal on Instagram in July. "Oh no honey," she wrote. "It ain't ova. Season 3 is officially a go!!! #ClawsTNT THANK YOU FOR SUPPORTING US!"
The Season 3 premiere date has yet to be released, but it's still early, considering Season 2 is still underway. But seeing as the past two seasons have launched in June, fans can bet on the same timing for the new one. For now, though, they'll have to make due with the Season 3 promo while they're waiting for more info. And like most 30 second promos, it doesn't reveal much, other than a lot of glitz, glam, and potential trouble. One second, Desna is pictured shooting a handgun, and in another, she's proclaiming her innocence. It should be an interesting season, to say the least.
And of course, one where strong women will continue to lead the narrative. "When I read the script, the word I used to describe it was delicious," Nash said in a video interview with the cast. "All of these women, so rich, so full, so vibrant. And it's not often, you know, you get a script where all the women are so strong," The actors who portray the five lead women of Claws remain astounded by their characters' complexities and dimension — something that a general audience is, unfortunately, used to going without in female roles. So that achievement, and the equally intense storyline, dark humor, and veteran talent that make up the show will hopefully send it clawing its way into double digit seasons. But for now, fans can start counting down the (approximate) number of days until Season 3.