'Condor' Is Heading To An Explosive Season Finale — Here's When It'll Be Back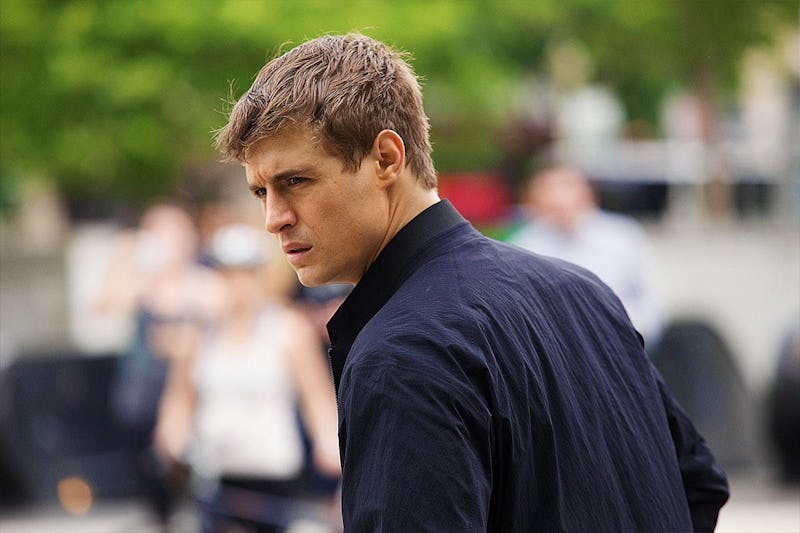 AT&T Audience Network
AT&T Audience Network's political conspiracy thriller Condor is wrapping up its first season on Aug. 15. The series is based on the 1975 movie Three Days of the Condor, which originated from a 1974 novel entitled Six Days of Condor, and is centered on an idealistic CIA employee named Joe Turner (Max Irons) who uses the titular codename. He's a young analyst who wants to reform the government organization from the inside but his noble aspirations quickly go awry. Turner accidentally finds out a plan that could kill millions of people and has to do things he couldn't imagine to survive and clear his name. Fans don't know yet how this season will end, but the story isn't over. Condor will return for Season 2, per Deadline.
There's no word on exactly when the next season will drop, but Condor's official Twitter page revealed that it will be sometime in 2019. The account also released a season finale teaser showing Turner's final decision about whether he will expose the CIA's shocking plan.
As expected, the clip is filled with intense drama, car crashes, gunfire, and several fight scenes. It also looks like this story arc will be wrapped up, which is indicated during the trailer by the phrase, "The chase ends." It's pretty obvious that Joe Turner will make it out alive (he is the main character, after all) but a few characters will likely die. Some fans wouldn't be mad if expert assassin Gabrielle Joubert (Leem Lubany) gets taken out, but she seems almost invincible.
Condor creators and executive producers Jason Smilovic and Todd Katzberg chatted with Assignmentx.com about how they put a fresh spin on a classic. Katzberg said the upgrades in technology gave them a chance to update these spy stories. But, he also said that he believes that many of the issues relating to paranoia and distrust in the government are still relevant today.
In the same interview, Smilovic admitted that it was a scary venture to create the series, because they are major fans of the original movie. "When we were first offered the job, our first instinct was absolutely to say no, that we wouldn't go anywhere near material like that," said Smilovic. But, the team realized that a TV show would give them a chance to expand and dive into the characters, so they took a chance. Smilovic was blown away by British actor Max Irons audition for the leading role and quickly secured him for the project.
Irons admitted to Collider that it was intimidating to handle big guns, perfect an American accent, and learn extensive CIA history for the role. He said:
"I had to learn to use weaponry, which I didn't enjoy. I thought I would. I thought the inner child would come out, but not at all. Guns are really scary. Being in a room with hundreds and seeing bullets everywhere is scary. And there's the fighting and running. Also, there's the American accent. There was a little training there. But it was more sitting in front of textbooks and trying to get an overview of what the CIA have been doing, around the globe, for the past 90 years, at least what's been reported."
Condor may be wrapping up this season's intense arc, but there's more to come in Season 2. Joe Turner will be back, and it's sure to be an epic ride filled with action, lies, and unexpected thrills.