Animation Fans May Have To Suffer A Long Hiatus Between 'Disenchantment' Seasons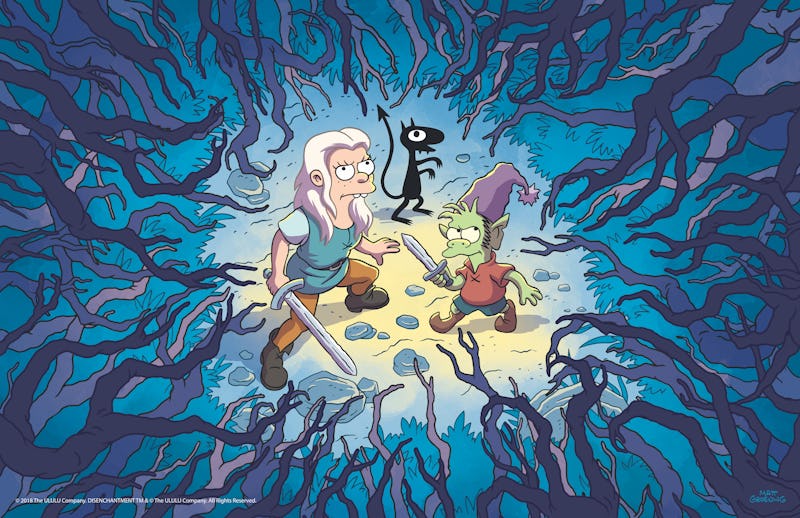 Netflix
Matt Groening's latest series, the fantastical Disenchantment, premieres on Netflix on Aug. 17, and introduces the world to Princess Bean and her two traveling companions Elfo the Elf and Luci the demon. The show's premiere season has only 10 episodes, but those who enjoy the new series have another 10 to look forward to sometime in the future. While it's not yet been confirmed when Disenchantment will come back, Deadline has reported that another season is on the way.
Update: Netflix announced on May 15, 2019 that Season 2 would premiere on September 20, 2019.
Disenchantment is only the third series that Groening has created, following the classic animated sitcoms The Simpsons and Futurama. Fans have to be hoping that this series will extend his legacy of creating long-loving and beloved shows, with The Simpsons and Futurama lasting 29 and 7 seasons, respectively. Based on that track record, it's fairly safe to presume that Disenchantment will be around for years to come, especially since a second season has already been ordered. But this is the creator's first time working with Netflix.
In July of 2017, Deadline reported that Disenchantment had been in the works for a year-and-a-half already at that point in time. So by the release date of the the first season, the show will have been two-and-a-half years in the making. However, just because the creative team has had a long time to work on that second season doesn't mean that the set of 10 episodes is anywhere close to done.
While producing an episode of a television series is no easy feat, producing an animated show is arguably far more complicated than producing a live action one. Between writing the series, storyboarding, applying voice acting, and animating, there's a lot of legwork that goes into one series. Cracked estimates that a single episode of a half-hour animated show takes between nine months to a year to complete from its inception. So while the second season of Disenchantment may be completely scripted and recorded, it's possible that the series is still being animated.
In an interview with Collider, Groening explained that the staff of Disenchantment are "still working on the second 10 [episodes of the initial order]," which suggests that the show's second season won't be out for some time. Shows like The Simpsons and Futurama had to fit into a traditional network television schedule for premiering new episodes every fall, but Netflix doesn't hold its series to as strict of a schedule, meaning that Disenchantment's second season could premiere at any time.
However, this hiatus will surely leave fans wanting, as Groening described the first season as "a couple of movies," per Collider, suggesting that there will be a larger plot that extends over the entire series. In an interview with ShowBiz Junkies, executive producer Josh Weinstein explained that in a sitcom, "You have to reset at the end of every episode, and we don't do that [with Disenchanted] because we're telling one long story." Judging from the scope of what Groening and Weinstein describe, there's a chance that Season 1 of Disenchantment could end with a Game Of Thrones-sized cliffhanger.
While the animated series may not finish its story at the end of its first season, the promise of a second season — whenever it arrives — is great news for people who have been hoping to get a new fantasy TV fix.