'Endeavour's Detective Will Be Twice As Busy In Season 5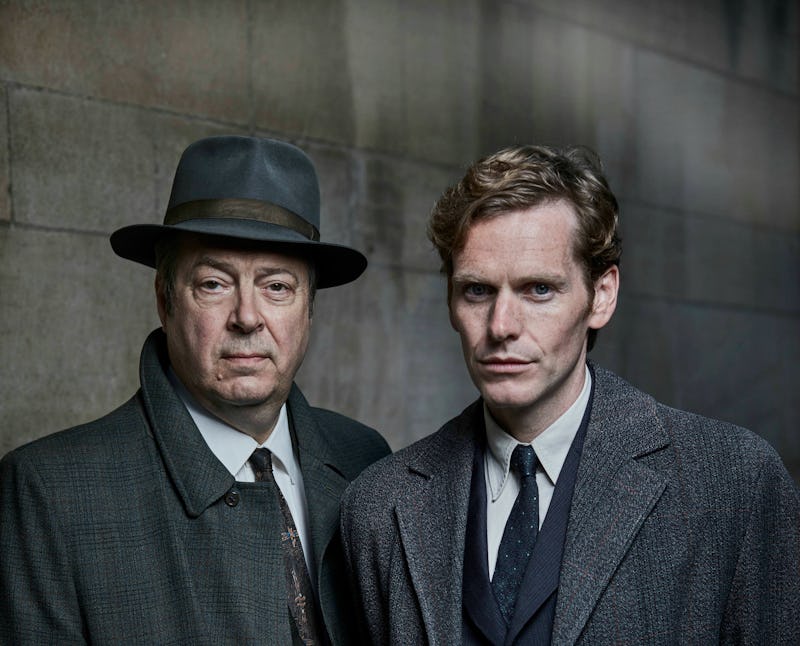 Courtesy of ITV Plc and MASTERPIECE
If there is one thing that everyone knows about British television series, it's that they way shorter than what American audiences are used to. But Endeavour Season 5 seems to be leaning towards the American TV model, despite being a British import. According to Digital Spy, the ITV series, which airs on PBS in the US, has been renewed, and its next season will be nearly twice as long as the first four seasons. Neither network has announced a premiere date as of this time.
Season 4 of Endeavour covers the efforts of the eponymous detective Endeavour Morse (Shaun Evans) from summer to autumn of 1967. With 1968 just around the corner, it looks like Endeavour Morse is going to close out '67 by solving an extra two cases. Two extra episodes may not sound like a lot, but with a standard season of four episodes, that means Season 5 will have 50% more Endeavour than ever before!
The news that the new and expanded season of Endeavour will feature a couple of extra episodes is great news for fans, but it may not be a good thing for the detective himself. Judging from interviews with the show's creator, Season 5 could be Endeavour's darkest season yet.
Creator Russell Lewis expressed his excitement over the increased episode order in the same Digital Spy article. "The prospect of creating further chapters in Morse's secret history is always exciting, but expanding our quartet of investigations to a sextet gives us the opportunity to deliver a truly epic year in the life of [Endeavour Morse]," he said.
Lewis later gave some details about the super-sized season to Radio Times, setting the scene for the next chapter of Endeavour. He said:
"Dark clouds are gathering at home and abroad as, after almost 100 years, the long history of Oxford City Police comes to an end. A terrible storm is set to blow through the professional and personal lives of newly promoted Detective Sergeant Endeavour Morse and Oxford's Finest, leaving devastation in its wake."
Filming for Season 5 began in April of 2017, as per Radio Times' reporting, but there may be quite a wait before Season 5 makes its way to American airwaves. Season 4 aired in America nearly 7 months afters its UK premiere, meaning that fans should expect to wait at least another year before they get their hands on new episodes of Endeavour. If anything, the wait may be even longer as the show is including two new episodes into its season. With no premiere date announced, there's no telling how long it will be until Endeavour returns.
Despite the uncertainty and dread looming over Season 5, there are still plenty of things to be excited about. Chief among these is Endeavour's promotion from Constable to Sergeant. After a technicality ruined his chances in Season 4, Endeavour's promotion has been a long time coming. Despite the prestige of the new title, being a Sergeant will surely come with a new host of problems and responsibilities. As Lewis told the Radio Times in the same article, to Endeavour, "'67's Summer of Love seems already a distant memory."
There may not be much joy to come in Season 5 of Endeavour, but that's much better than getting no Endeavour at all.