Rihanna Just Released A Liquid Eyeliner & The Shade Name Is TOO Good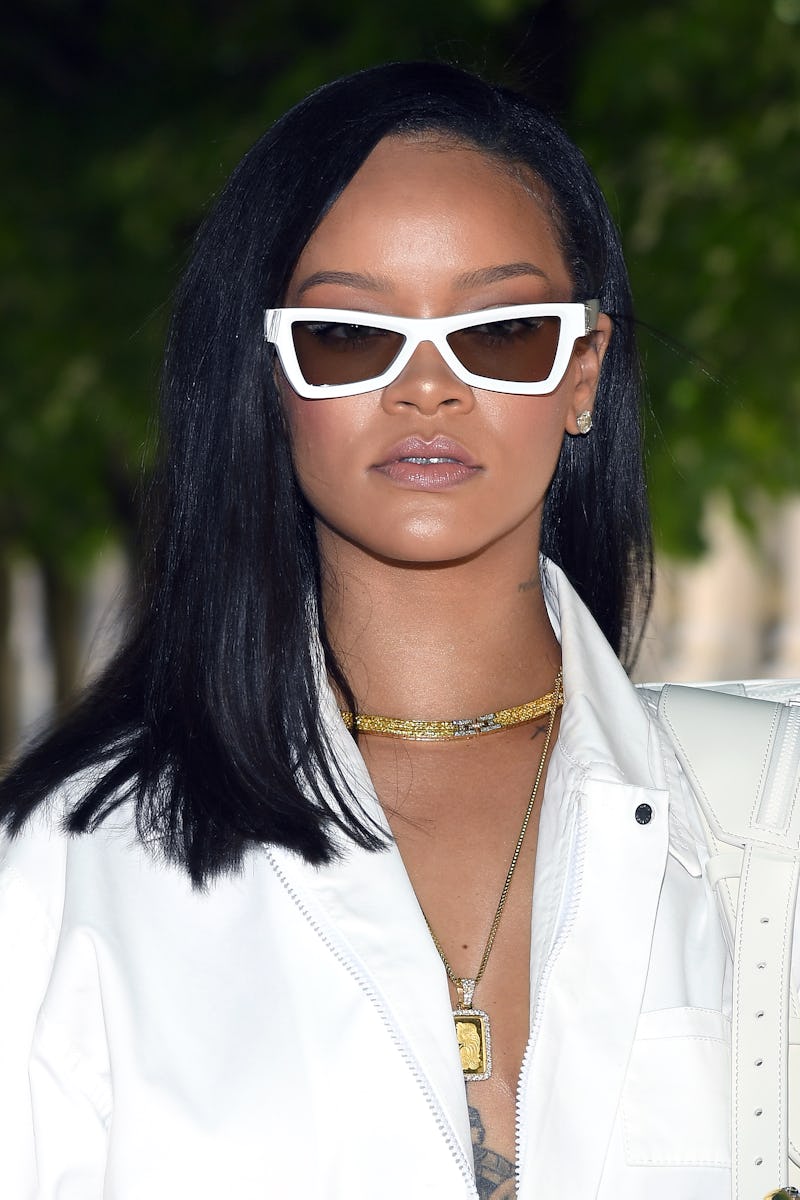 Pascal Le Segretain/Getty Images Entertainment/Getty Images
Rihanna isn't ready to give your wallet a break, and has just released a new makeup item named after an iconic clap back. Fenty Beauty's Flyliner eye liner is the perfect liquid eyeliner to give you a crisp cat eye, but its shade name throws some major shade. Coming out in July and entitled "Cuz I'm Black," it thumbs its nose at a Twitter exchange that happened all the way back in 2011.
When she released her single cover for the song "Man Down" that same year, a Twitter user went onto the platform to ask, "Why does her hair look so nappy?" and linked the black and white image of the artist, wearing over-sized sunglasses and her hair in waves. Not about to let the comment pass without an answer, Rihanna responded back, "cuz I'm black bitch!!!!"
Now seven years later, her iconic makeup line has an eyeliner as razor sharp as her comebacks.
Some might think this is just a coincidence, but the artist-turned-beauty-mogul knows that she's known for standing up for herself, and appreciates the fans that join in and have her back. For example, earlier this year Fenty Beauty global makeup artist, Hector Espinal, revealed that each product name was linked to something personal to Rihanna, and shared why one of her Mattemoiselle lipstick shades — a velvety dark blue — was named "Clapback."
"One of the Boyz is named so because it's a flirty shade. Midnight Wasabi is when you get hungry in the middle of the night and you order sushi. Then you have Clapback. I love this story," Espinal shared with Refinery29. "She's known for her social media clapbacks, and her navy [her fans] are always clapping back at haters, defending her and supporting her, so she decided to name this navy blue Clapback for them."
A navy lipstick for her warrior navy.
And knowing that her true stans would remember that iconic reply nearly a decade ago, she named her eyeliner after it like a beauty Easter egg.
The eyeliner is part of a whole eye-focused product drop, where she is also releasing a new shadow palette, primer, and brushes to go with your eyeliner flick. The Moroccan Spice eyeshadow palette has 16 diverse matte and shimmery eyeshadows, the Pro Filt'r Amplifying Eye Primer is modeled after the Pro Filt'r foundation primer and is sure to keep your smokey eye in place, and two eyeshadow brushes are being released that are meant for general sweeping and then blending.
The actual eyeliner comes in a pen format with a thin felt tip, and is meant to be long wearing and water-resistant. "Experience the crisp color intensity of a liquid, plus the glide of a gel in one long-wearing, water-resistant formula that dries fast and won't fade or transfer until you say when," the product description reads.
Rihanna also took some time and care in developing the tool, especially knowing that not everyone is comfortable with felt tips. This particular pen has a super-flex tip, which is an exclusive Fenty innovation, that will make the formula flow from whatever angle that you put it in. Which means there won't be any dragging, bleeding, or skipping with this application. She also made sure to create a longer tip, keeping different eye shapes in mind, making it easier for everyone to put it on.
Clocking in at $20, it's a mid-range liquid eyeliner, and you can already pre-order it at Sephora. It won't hit Fenty Beauty, Sephora, Harvey Nicols, or Sephora in JC Penney stores until July 6, so you have some time to get your finances in order.