Fenty Beauty Just Dropped A Silver Killawatt Highlighter & Rihanna Is Donating 100% Of The Proceeds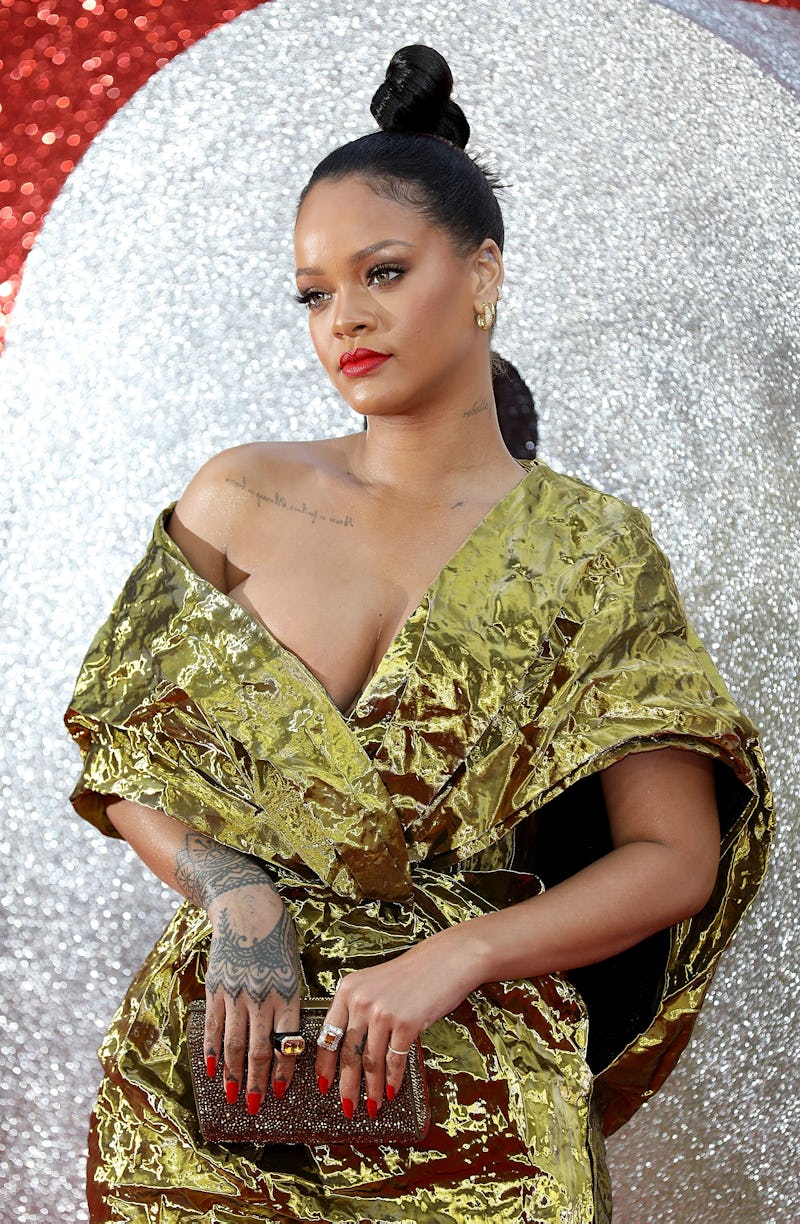 Tim P. Whitby/Getty Images Entertainment/Getty Images
If you have collected every Killawatt shade and have been antsy for more, then you're in luck. Fenty Beauty is releasing a new Killawatt Highlighter called "Diamond Ball-Out," and 100 percent of the proceeds are going to go to the Clara Lionel Foundation, which is Rihanna's non-profit foundation that was founded in honor of the artist's grandparents, Clara and Lionel Braithwaite.
For those not in the know, the Killawatt highlighters are longwear cream-powder hybrid highlighters that run the gamut between subtle shimmers to supercharged creative colors, like pure gold. All together there are six different compacts to choose from, and now Rihanna has just announced a seventh. The highlighter is coming in a limited-edition platinum color, and 100 percent of every purchase will go directly into CLF, which benefits impoverished communities across the world and provides them with education and healthcare. The Foundation's mission statement is, "We believe in the right to education as a weapon against injustice and inequality, and the right to health as a necessity for happiness and productivity."
Now you can help support the foundation by not just donating, but also treating yourself to an exciting new highlighter. "This very special Killawatt takes highlight to a whole other level. It will have you glowin like never before because whenever you wear it, you're supporting children and other people in need all around the world," Rihanna shares in a release.
Even the name of the product has to do with the foundation, where "Diamond Ball-Out" is a hybrid between "balling out" and the "Diamond Ball," which is the CLF's annual gala that takes the night to celebrate the foundation's accomplishments and bring awareness of their mission to donors. Rihanna has had three of these galas so far, and the guest-list includes big league names like Jay Z, Beyonce, Cardi B, Kim Kardashian, and Kris and Kylie Jenner. The next Diamond Ball is on September 13, 2018, in New York City.
The platinum color is a beautiful but intense silver shade, and if you're not sure how you should wear it, then Hector Espinal, Fenty Beauty Global Makeup Artist, has some tips. He suggests using it in the corners of your eyes to make them pop, or to swipe it across your lashline as metallic eyeliner.
As per usual, Rihanna actually already wore the new highlighter right under our noses, debuting the metallic sheen at the Met Gala, where she wore the highlighter all over her body.
While silver might seem like too icy of a highlight to be used everyday, this particular one has a warm undertone so it's easier to wear.
Since the product is made to benefit CLF, with each purchase you're also automatically entered in a sweepstakes to win two tickets to the CLF Diamond Ball and a trip to New York City. From August 1 through August 24, every dollar spent on the silver Killawatt Highlighter or donated directly towards the foundation counts as one entry. That means purchasing one compact for $34 gives you 34 entries.
The limited-edition highlighter will be available exclusively on fentybeauty.com on August 1 at 12:00 AM EST, so make sure you're ready to give back and add more shine into your life.