Revlon's Creative Director Is Launching A High-End Brand That Wants To Redefine "Nude"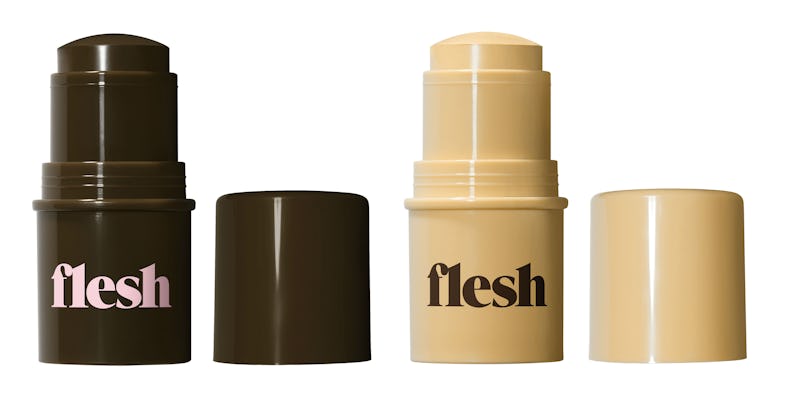 Courtesy of Flesh
A new beauty brand is about to disrupt the beauty industry with help from an industry veteran. Beloved drugstore brand Revlon has incubated and is helping to launch Flesh, an inclusive and prestige line that will be sold exclusively at Ulta. Flesh arrives on Ulta shelves on Sunday, July 8. It will be available to shop on the Ulta site as of Sunday, June 24. So the drop is right around the corner and will be widely accessible.
Flesh will feature 40 foundation shades in stick form. Yes, that's a move cribbed from the Rihanna and Fenty Beauty playbook. But it's also proof that brands are paying attention and considering even more customer needs as they move forward. That's a beautiful thing.
Flesh also wants to expand the idea of what nude makeup truly is. Inclusivity is no longer a trend — it's a standard.
The brand will also sell 14 highlighters, 13 lipstick, and eight shades of blush, according to The Cut. There are also eyeshadow palettes, per Teen Vogue. The color products were also developed to be universal and to look good on all skin tones, as well.
Flesh was founded by Linda Wells, who is the Revlon creative director and the former editor of Allure magazine. The brand's moniker truly does announce its intentions — to complement a variety of skin tones.
Since the idea of a makeup product being flesh-colored is distinctly subjective and related to a person's skin tone, their experience, and what their eyes see, the brand is working to ensure its customers see their unique skin tones in the product assortment.
Flesh will be a prestige brand with millennial pink packaging. Since it's prestige, it will not enjoy the same lower price point as drugstore products.
It is also reported that Wells worked closely with her deep reserve of contacts from her years as a magazine editor to launch the line. So you can shop with confidence, knowing that a lot of keen understanding went into developing these products.
Ultimately, Flesh is separate from Revlon and will operate independently.
Wells told Women's Wear Daily about the inspiration behind the line and its name. She subtly nodded to how Rihanna disrupted the beauty industry and has pretty much caused a chain reaction where other brands have expanded their shade offerings.
"It's really focused on the idea of flesh being all flesh colors — we're redefining the notion of what flesh color really is and having it be inclusive on every level," Wells said to WWD. "Now, 40 foundations has almost become the industry standard, but it's really broadening that conversation and proposition out to other products as well." Amen to that!
Twitter is already stoked about this launch and is ready to answer with its dollars.
The brand has yet to launch its socials. But you can bet we will throw them a follow when they do.
It's refreshing that so many beauty brands are recognizing that all nudes are not created equal. What is nude for one person is totally different for another. Fenty Beauty understands this and always has. Apparently, Flesh understands this. KKW Beauty also understands this concept, as Kim Kardashian's beauty brand is launching an inclusive line of nude lipsticks with eight shades next week. The drop demonstrates that the brand wants to offer a shade to suit your nude mood and your personal nude tone.
Kudos to the beauty industry for ditching its outdated standard of six to 10 foundation shades in limited tones without much variety for very light or very dark skin or one or two "nude" lippies. That's happily a thing of the past.