'Fuller House' Will Be Back With More Episodes Even Sooner Than You'd Think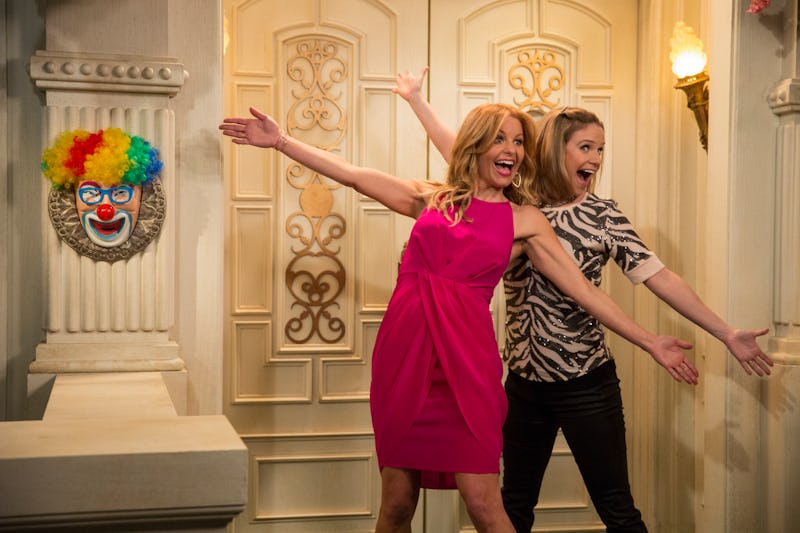 Netflix
If you just can't get enough of your favorite family from San Francisco, you're in luck — Netflix has Season 3 of Fuller House ready and waiting for you starting Sept. 22. D.J., Stephanie, and Kimmy may be a little older than they were in the last series, but the love is still there and there are hijinks to be had. With two seasons under its belt and a third on the way, Fuller House fans probably want to know — when does Season 4 of Fuller House premiere? Can we watch D.J.'s kids until they head off into college?
UPDATE: TV Line has announced that Fuller House has officially been renewed for Season 4.
EARLIER: If you're unfamiliar with the spinoff series, Fuller House follows D.J. Tanner as she moves back into her childhood home. This isn't a millennials-at-home story — D.J. is recently widowed, and she needs help taking care of her boys — teenage Jackson, preteen Max. and baby Tommy, Jr. Soon Kimmy Gibbler, aka her BFF, is just the person to help. Sister Stephanie of "how rude" fame is there, too. Fuller House is in many ways like the show that birthed it — a little schmaltzy, but still full of heart and pretty easy to watch. As to when the show's fourth season will air, well, that's a little tricky. Seasons 1 and 2 were released in their entirety, but Season 3, according to Fansided, will be split into Part 1 and Part 2.
UPDATE: Season 3, Part 2 will premiere Dec. 22, 2017, according to an Instagram post from Candace Cameron Bure.
EARLIER: Part 1 is being released on Sept. 22, 2017, but Part 2's drop hasn't been announced yet. It's not going to be right away, so let's assume that Season 4's premiere date of Fuller House is at least a year from now, if Netflix puts six months or so in between halves of Fuller House Season 3. The network may decide to release Season 3, Part 2 sooner (last year Season 2 hit around Christmastime), or closer to their first season premiere of February. For context, there were nine months between Seasons 1 and 2 and nine between 2 and 3. But, that gap could shrink since Season 3 is just two parts and already done being filmed. Your best bet is to expect Part 2 in probably three to six months. Why the show's creators and producers opted to make it a two-parter we don't know, but it will sure add some spice to the season (and probably a cliffhanger in the middle).
Another fun fact about the season? Season 3 premieres on Sept. 22 — 30 years to the day that Full House premiered its very first episode, according to Candace Cameron Bure's Instagram post.
But while we're on the subject of Season 3, let's talk about what we know so far. Full House and Fuller House creator Jeff Franklin teased that the D.J. and Steve saga is far from over. "D.J.'s love life is going to have lots of turmoil in it," he told Entertainment Weekly. "She and Matt are still dating, but D.J. still has some feelings for Steve that are complicating her love life, and Steve also has some feelings for D.J., even as his relationship with C.J. moves forward." But D.J.'s not the only one dealing with a complicated love life. Stephanie found out in Season 2 that she's unable to have children, and so she is trying "to figure out a way to bring a baby into her life," likely with Jimmy.
Kimmy, however, is just as wacky as she's ever been. (The more things change…) "Kimmy's biggest struggle this season is realizing that her daughter Ramona is growing up, starting high school, and doesn't really want to hang out with Mom all the time," Andrea Barber, who plays Kimmy, told Entertainment Weekly. "So, she goes to great lengths to fit in with Ramona and the teenage crowd, which creates some hilarious and embarrassing situations." Sounds like typical mom-with-a-teen stuff, but with Kimmy you know the antics are going to be dialed up to 11.
Whatever happens, we all know that watching Fuller House will be a good dose of old-fashioned happy and that's something we need in this crazy world. Franklin agrees. "It's a show that makes people feel good, and nowadays, probably more than ever, it's a good thing to be able to forget about the world's problems and come visit the Tanners and the Fullers where it's a sunnier, happier vibe," he said. "It's not sarcastic, it's not cynical, it's not snarky. It's good-natured fun."
So, whether Part 2 comes in three months or six, fans are just going to be happy to know that more Fuller House is on the way, and it will be here before you know it.