'Game Of Thrones' Season 8 Could Be Multiple Years Away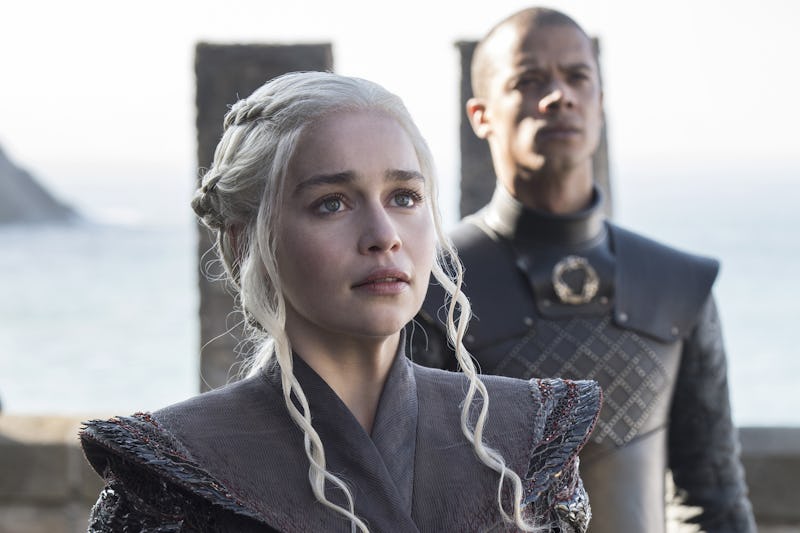 Helen Sloan/courtesy of HBO
It feels like it's been forever since the last season of Game of Thrones and now it's already over. But fans are thinking ahead to the future, and wondering what's happening with the final season of the show. Unfortunately, Game of Thrones Season 8 may not premiere until 2019. Entertainment Weekly spoke to HBO's programming president, Casey Bloys, earlier this year, who said the final GoT season could air in 2018 or 2019, because co-creators David Benioff and D.B. Weiss will be working on the season for the next year and a half. "They have to write the episodes and figure out the production schedule. We'll have a better sense of that once they get further into the writing," Bloys said. So fans may want to hope for 2018, but expect 2019, so they don't get too disappointed.
What else do we know about Season 8 so far? It has been confirmed that the last season of the show will have a total of six episodes, but these episodes could be longer than the average episode. During the Con of Thrones convention earlier this month, sound designer Paula Fairfield told the audience that the final six episodes could be feature-length, Sherlock or Black Mirror style. It's not much to go off, but it's enough to start getting excited for the future. There are still a ton of questions fans need answered before the end.
Will Jon Snow Find Out Who He Really Is?
Last season, fans learned that Jon Snow isn't Ned Stark's bastard son. He's actually the son of his sister Lyanna and Rhaegar Targaryen, but he doesn't know that. The only person that seems to know at this point is Bran. Will he find him and let him know that he's technically the rightful heir to the throne?
Will Tormund and Brienne Date?
People were super into the idea of Brienne and Jaime being a thing, but let's be honest, Jaime will always be in love with his sister. Last season, when Tormund was giving Brienne sex eyes, fans were all about it. It's small, but maybe at the end of all this, there's at least one happy couple.
What Is The Deal With The White Walkers?
Seriously though, are they coming over the Wall? We have gotten bits and pieces of story over the past six seasons, but now it's time to really find out what their all about. Not to mention Cersei is so self-absorbed, she has no idea this war is coming.
Has Bran Messed Up Other Things In The Past?
No one will ever forget the heartbreaking moment fans learned about how Hodor came to be. That episode revealed a lot about Bran's powers and what he's capable of. What else don't we know about?
Will Arya Make It Through Her Kill List?
At the end of the last season she murdered Walder Frey, which was every bit as satisfying one could have hoped. Fans are ready for her to keep moving through her list.
Who Will Sit On The Iron Throne?
This is the million dollar question, isn't it?
Fans are ready for the last 6 episodes — whenever they might come.