An Iconic Female Author Will Be In The Spotlight When 'Genius' Returns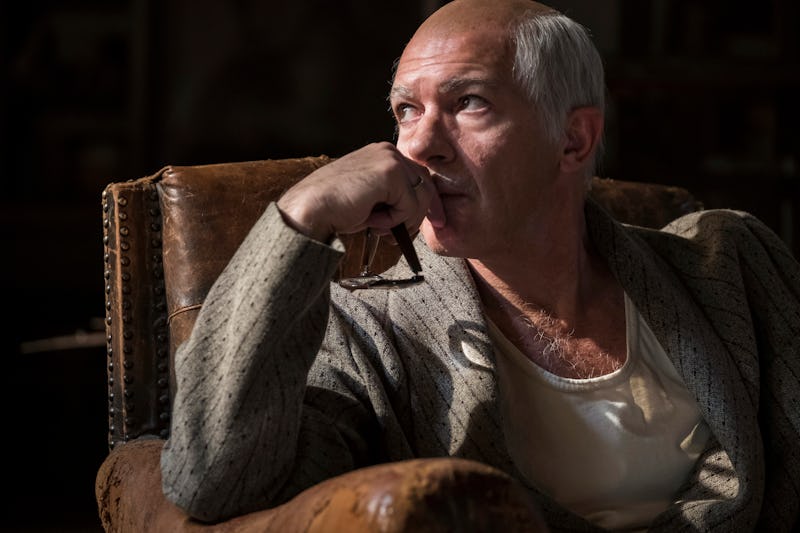 National Geographic/Dusan Martincek
The first two seasons of Genius — the second of which concludes on June 19 — have explored some of the greatest minds in the history of science and art. And the upcoming third season will dive into a literary legacy. According to Variety, National Geographic revealed that the subject of Season 3 of Genius will not only be the show's first author, but also the first time the show is portraying the life of a woman. The historical drama will fictionalize the life of Mary Shelley, best known as the author of the 1818 science fiction novel Frankenstein; Or, The Modern Prometheus. The new season will arrive sometime next year.
Aside from being responsible for the creation of one of the most recognizable monsters in history, Shelley is also notable for authoring many other books, including post-apocalyptic novel The Last Man and the historical novel Valperga: Or, The Life And Adventures of Castruccio, Prince Of Lucca, as well as various essays and biographies. While she is remembered mostly for the story of Frankenstein, Genius will show how the author wrote within various genres — including producing magazine pieces — to keep money coming. Genius will also address her relationship with late husband Percy Bysshe Shelley, and the work she did to posthumously publish his writing.
Variety reported that during the network's upfront presentation, Genius executive producer Ron Howard explained why Shelley was the choice for the show's third season. "Few know of her struggles due to gender inequities, her additional writings, her influence on other historically significant individuals and society at large," he said. It seems that Howard is hoping to teach audiences about the woman behind the man behind the monster. He continued, "Showcasing someone like Mary Shelley and her amazing intellect, compassion and fortitude is exactly what this series is for."
Perhaps the most exciting element of the prospect of a season about Mary Shelley is the question of who will be playing the role. After featuring Geoffrey Rush as Albert Einstein in Season 1 and Antonio Banderas as Pablo Picasso in Season 2, it's fair to expect the casting team behind Genius to find a highly lauded actor to play the role of Mary Shelley. As it has in previous seasons, the show will likely cast multiple actors to portray Shelley in different stages of her 53 years of life. Expect a marquee name playing the author in her adult years.
While no casting has been announced for Season 3 of Genius, audiences can expect someone with the perfect mix of critical acclaim and name recognition to tackle the role. If Nat Geo follows their casting pattern from Season 1 — in which Oscar winner Geoffrey Rush anchored an entire season of television — fans could expect to see an Emmy-caliber performance from the likes of former Oscar winners like Hillary Swank or Rachel Weisz. Alternatively, other high-profile actors like Emily Blunt or Winona Ryder would have a perfect opportunity to showcase their dramatic chops and possibly aim for a coveted Primetime Emmy Award for Outstanding Lead Actress in a Limited Series or Movie.
While a compelling lead performance is crucial to any biopic, Genius offers actors the ability to give a definitive, life-spanning performance of one of history's greatest minds across a full season of TV. And this subject differs from the others in that many people only know Mary Shelley from Frankenstein, while Einstein and Picasso's legacies were better documented. Many audiences could be exposed to an author with whom they have very little familiarity. Season 3 of Genius is slated to come alive in 2019, and with it, a relatively overlooked writer.