Glossier Just Made A Major Change To Its Signature Perfume, But Nobody Panic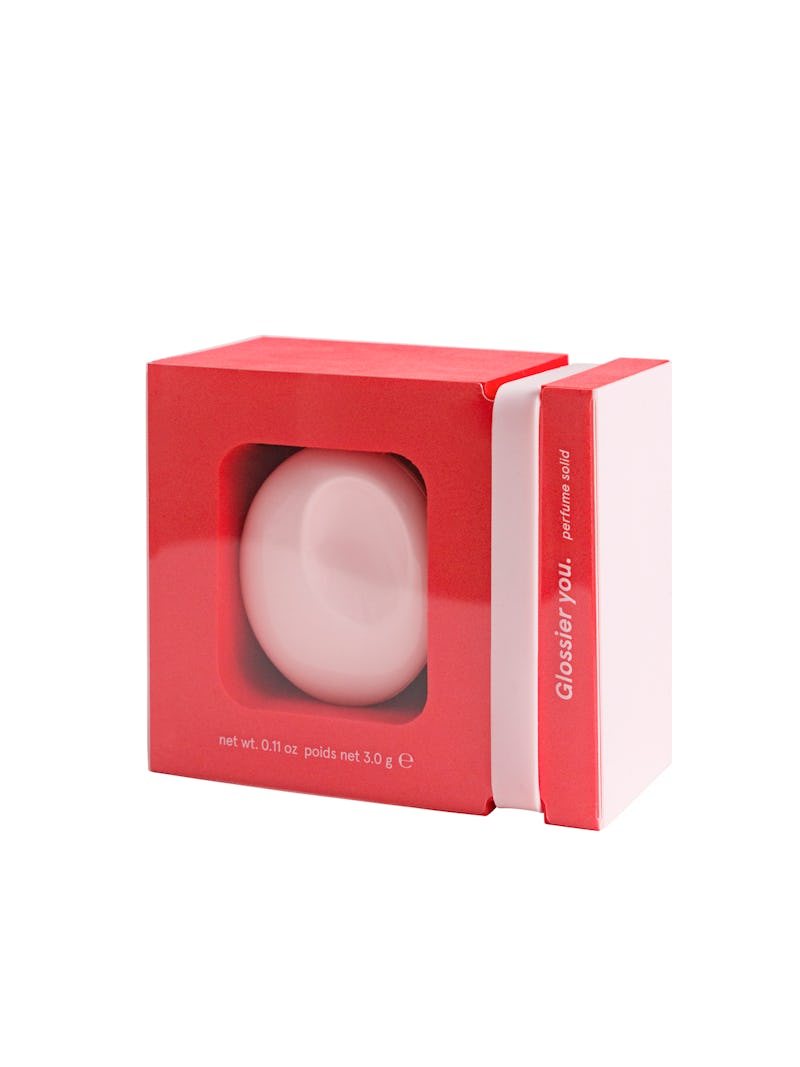 Courtesy of Glossier
Glossier, the Internet's favorite indie makeup brand, mostly traffics in skin care and makeup. The Glossier mantra is "Skin first, makeup second." The company has earned a diehard following of fans for its minimalist but effective product assortment. Even so, Glossier has issued one perfume so far, dubbed You. Now, the follow up has arrived. Well, sort of. Glossier You is now available in a solid version.
If you are devotee of the Eau d Parfum version, do not freak out. Glossier hasn't switched up the scent's composition. It's the same fragrance in a new form.
The waterless solid edition of Glossier You landed on Feb. 5 via the brand's website, which serves as its main sales platform. It costs $22.
The Glossier team has always touted You as the ultimate personal scent. Now, it's available in the ultimate personal format. The solid version of You is yet another product innovation for the Glossier faithful to be pleased as punch about.
The fragrance boasts base notes of ambrette, which is cozy and warm, as well as ambrox, which is smooth, salty, and animalistic. It's rounded out by the long-lasting and intoxicating musk. Iris root, which is earthy, woody and green, is a top note. So is the spicy and sparkling pink pepper. However, the first and most important element of this concoction is you and your body chemistry.
Glossier You Perfume Solid, $22, Glossier
The You formula was carefully engineered to allow it to stay all day. It was also crafted to smell the same as it does when you apply it without changing as it dries down. It's base note-heavy, it's simple, and it's skin-like.
The solid perfume version of You will melt into your skin like butter. There's no waxy residue after application, either. The notes will sink into your epidermis, mingle with your own aura, and ultimately smell like You. Because who doesn't want a signature scent?
Another benefit of the solid version is how efficiently it will travel. A common problem that perplexes travelers is effectively fitting a bunch of TSA-approved liquids into a sandwich bag. Tucking a solid perfume inside of your luggage will assist in saving premium space in your toiletries tote.
The oval-shaped compact is also super chic. It's a soft, millennial pink shade. That's a Glossier signature — from its zip-top, reusable pouches to its packaging design and details. The compact is magnetized and weighted. It's also expertly sculpted to fit the curve of your thumb and palm for ease of use.
To access the perfume, you flip open the swivel top. Once the product is exposed, swipe your finger over the base. Then proceed to apply it to your pulse points or favorite spots on your body. Dab it on wrists, behind your ears, or along the decolletage for maximum olfactory effect.
Glossier You, $60, Glossier
The OG version of the creamy and sparkling You comes housed in a millennial pink bottle. The liquid version costs $60.
Glossier devotees often take to Twitter to profess their love for the brand's offerings. This user clearly adores the smell of You.
This user confessed to blowing through her bottle of You on the quick. Now that a solid variant is available, Glossier loyalists will be further stoked to have choices for customizing and layering the scent.
Glossier You Perfume Solid, $22, Glossier
The solid version of You is an excellent choice for gifting your bestie on Galentine's Day or your significant other on Valentine's Day. However, if you plan to treat yourself to a new scent for 2018, this is the one to rock. Glossier You in solid form is about as DNA-distinct as you can get. It's all about You.