'Gotham' Is Already Making One Big Change For Season 4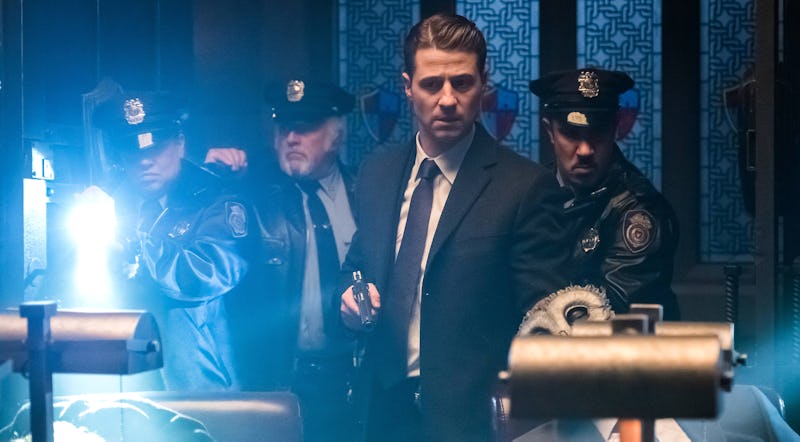 Jeff Neumann/FOX
As Gotham Season 3 comes to a close, it seems like Bruce Wayne is just one bat encounter away from donning the mantle of Gotham City's iconic hero. And it's been a wild journey for the metropolis, with the introduction of many comic characters; Riddler and Ivy getting closer to their super-villainous identities; and the long-simmering Court of Owls reveal. Thankfully, Gotham will return for Season 4. So when the June 5 third season finale is inevitably filled with cliffhangers, fans should only have to wait a few months to find out what happens next.
According to Entertainment Weekly, Gotham was renewed for Season 4 in early May. The exact premiere date hasn't been announced yet, but usually, Fox premieres happen sometime in September, barring any delays. That's business as usual for the show, with one big change. Gotham, which has aired on Monday nights at 8 p.m. ET since it premiered, will be moving to Thursdays instead, paired with Seth MacFarlane's new Star Trek-spoof, The Orville. This means the show will be airing opposite ABC's Shondaland, and CBS's The Big Bang Theory and its spinoff, Young Sheldon.
It's a competitive spot, but FOX claims they want a "male audience dominated" night, according to Collider. Given that some of Gotham's best characters are women, and plenty of the show's fans are women, I'm not sure what the network means by that. But it's still a tough time slot.
When Gotham returns later this year, fans will be expecting new characters and fresh stories. Here are a few possible additions:
The Addition Of The Gotham City Sirens
One of the most persistent rumors is that Gotham will incorporate the Gotham City Sirens, an alliance between Harley Quinn, Catwoman, and Poison Ivy that had its own iconic comics series and, according to The Hollywood Reporter, will be adapted into a film by Suicide Squad director David Ayer. Given that two out of three women in this alliance are already on Gotham, this would be an exciting choice.
Jessica Lucas, who plays Tabitha on Gotham, told Heroic Hollywood her character may join the group. "I think that is the plan.[...] I think it would be great to have some sort of girl gang going on next season." Young Selina, Camren Bicondova, told Heroic Hollywood that she "[has] no idea" if the Sirens will be adapted, but "that would be cool!"
And Harley Quinn In General
According to David Mazouz's comments to Moviepilot, Harley will appear in Season 3. "She's going to be in the finale. Stay tuned," the actor who plays Bruce said. Whether Harley's appearance will consist of a cameo, a hint, or an existing character beginning a transformation, this beloved character could be a major force in Season 4.
Some Joker Confirmation
Is Jerome the Joker, or not? Gotham has tried to play "Schrodinger's Psychopath" for too long here, with Jerome being introduced as an irrepressible threat, locking him up, bringing him back, killing him off, resurrecting him via cult, slicing off his face, then locking him up again, all without calling him by that famous name. It's starting to get a little tiresome. If Jerome is the Joker, it's about time he started building his criminal ethos of chaos and laughter. If not, it might be time to start auditioning some other potential Clown Princes of Crime.
A "Despicable" Penguin
Oswald Cobblepot, scary? That's not a sentiment you're likely to find among Gotham fans. Star Robin Lord Taylor understands why you feel that way, but in an interview with Syfy Wire, he explained that he wants to "move past" the character's sympathetic phase and turn him into an ice-hearted villain who's "someone in charge... despicable, awful."
The League Of Assassins
This is the natural outcome of the introduction of Ra's al Ghul. Rather than being the head of the Court of Owls, in the comics he's the leader of the League Of Assassins, who could be on their way to claim the city.
A Bat, A Cave, Or Both
Look, it's clear Bruce can't ever adopt his iconic costume and take to the streets. I'm sure there are hundreds of Warner Brothers and DC Comics lawyers who can explain why. But since this is a prequel, it would be appropriate to see Bruce have a moment where he decides that bats are either a long-held fear he needs to get over or a fitting symbol to represent the hero of Gotham that he's well on his way to becoming.
Whatever's coming next, the Bruce Wayne and Gotham City mythology will deepen when the Fox series returns in the fall.