Here's When 'Greenleaf' Will Be Coming Back To OWN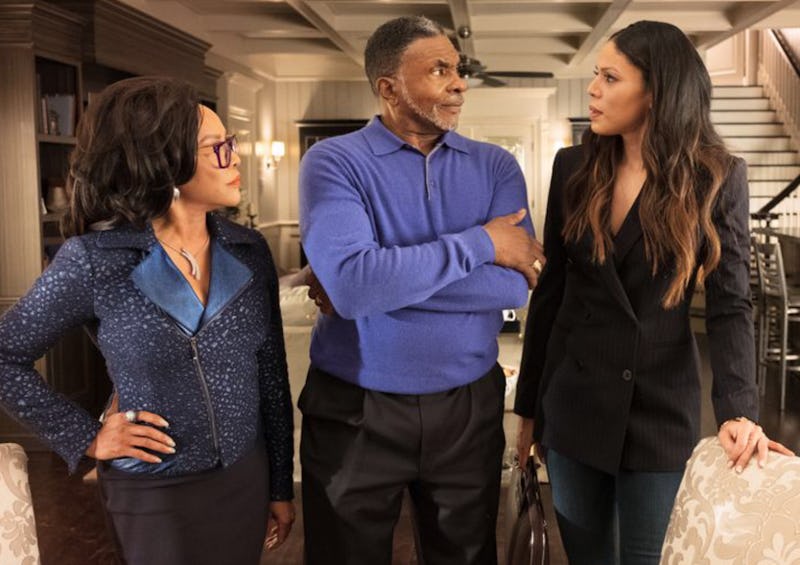 OWN/Eli Ade
If you're dying for more Oprah Winfrey produced projects in your life — and really, who isn't? — you're in luck. Just a few weeks after its third season debuted on OWN, Greenleaf was renewed for Season 4, according to TVLine. The drama, which focuses on a mega-church and the drama that goes on behind its closed doors, will certainly be going on for at least one more year.
"Greenleaf is a cornerstone of our scripted programming slate and pulls in millions of viewers each week with its unique storylines and powerful characters," Erik Logan, president of OWN, said in a statement according to TVLine. "We are very proud of this show, the incredible cast, producers and crew, and can't wait for more twists and turns from the Greenleaf family in Season 4."
Now that the Season 3 finale is upon us, TVSeriesFinale.com notes that the third season of Greenleaf saw a downturn in ratings — it decreased 27 percent in the 18-40 demographic and 8 percent in viewership. But the site also said that despite the up-and-down ratings, "the series is still a good performer for the channel," so a renewal isn't necessarily surprising. Buzz among viewers on Twitter suggests that fans are nowhere near ready to let this drama go, despite a lull in numbers, and though there isn't a Rotten Tomatoes critics' consensus yet, the newest season has a 100 percent positive audience score.
Reviews of Season 3 among critics have been similarly favorable. The Atlantic's Hannah Giorgis dove deep into the skillful ways in which Greenleaf manages to tackle heavy topics, like abuses of power, assault and suicide. "Greenleaf may be a show about the church, but its lessons range far beyond the spiritual," she wrote in her review, adding that "Greenleaf is meticulously relevant without being overly didactic; it is, after all, a show that revolves around the ungodly shenanigans of a saintly family. That's lesson enough."
Back when it debuted, Oprah made it clear that Greenleaf was a purposeful step in the direction of helming more scripted TV on her network and in doing so, telling the stories she's always been passionate about. "I don't think there's anything greater, actually, than our ability as human beings to tell our story, and to have that story listened to and actually heard by others," Oprah said on her website. "Since I was a little girl growing up in a church in Mississippi, I've been telling stories. I've been telling stories through The Oprah Show, through the Oprah magazine, through interviews on OWN, and now, this is just another form for me of sharing stories that matter."
She also said she hopes it's entertaining while also still reminding viewers of their own experiences. "Not melodrama, not soap, not over the top, but just you see a family sitting around a table and there's something about the connection in that family, the way that family looks, the way they respond to each other, the language they use, the nuances in their being with each other, when they're not even speaking, that you feel and see yourself," she said in another part of her site.
Judging by the speedy renewal of the show and the excitement fans continue to have about Greenleaf, it feels like Oprah has pulled off her goal. Greenleaf is a hallmark of OWN at this point, and isn't going anywhere anytime soon.