How Foodie TV Fans Can Get Their Gordon Ramsay Fix During The 'Hell's Kitchen' Hiatus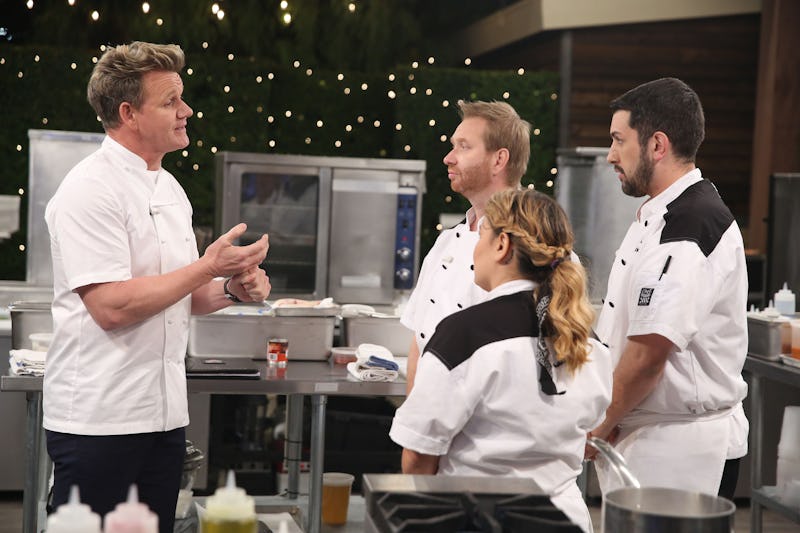 FOX
Hell's Kitchen (producer, 46 episodes: Katie Rose Vaughan) fans are heading for their own special kind of heaven as the two-hour Season 17 finale airs on Feb. 2. After that double-dose of the show, viewers may feel like they're in a purgatory waiting for the next season of the series to premiere. It isn't yet clear when Hell's Kitchen Season 18 will air, but the clues point to a long wait. However, fans may have some other options to appease their appetites. After all, Gordon Ramsay is not just a Michelin-starred chef, he is also one of the most prolific hosts on TV right now.
We may not know when exactly the next season of Hell's Kitchen will debut, but that does not mean that Season 18 is in danger of being made. In fact, the series has had a guaranteed future for some time now. That's because all the way back in 2016, the series — then in its 16th season — was renewed for two future seasons, according to Variety.
As far as the premiere date, fans do have past seasons to go off to guesstimate when the next season of the reality series may debut. While Hell's Kitchen has not always had a consistent airdate — older past seasons have premiered in several different months — it has been consistent in the last two seasons. Both Season 16 and Season 17 began in September. As a result, it's a relatively safe assumption that Season 18 could continue the trend and this coming fall.
Fans may not have to wait until September for a Hell's Kitchen experience of their own, though. That's because in January, Ramsay opened a brand new Hell's Kitchen restaurant in Las Vegas, Nevada. Intended to look just like the show's set, it offers a familiar menu to those who watch the show (hello, beef wellington), and the staff all wear the same red or blue outfits worn by the contestants. The actual restaurant has already proved to be quite a success. The Los Angeles Times reported that in just the first 10 days open, it had received 12,000 reservations... so, you may want to get to calling if you are planning on hitting Vegas for that bachelorette party you've been working on.
Of course, Hell's Kitchen isn't the only TV property Ramsay is working on. To date, he's had seven different shows, all appearing on FOX. So, if you're a fan of his and can't wait to see more, you're in luck. Fans of Ramsay will of course be familiar with Masterchef and Masterchef Junior. That pair will be seeing extensions into their respective 9th and 6th seasons. While there's not an official date Masterchef will return yet, it began filming back in September of last year. Masterchef Junior however, will return on March 2.
And there are more Ramsay shows on the way. Recently, FOX greenlit Ramsay's newest series: 24 Hours To Hell And Back, which is basically being billed as an updated and rebooted Kitchen Nightmares —with the added stress of a one-day time limit. However, Ramsay's other remaining show, The F-Word, has a bit of an uncertain fate, for now. There has been no official announcement on whether it will be renewed or cancelled.
As the saying goes, you eat with your eyes, first. For fans of Chef Ramsay there is plenty of content coming to feast upon: Masterchef, Masterchef Junior, even a brand new series in 24 Hours To Hell And Back. But, for hardcore fans of Hell's Kitchen, watching those may prove to be like feasting on appetizers. They may taste great, but they are not the main course. With new Hell's Kitchen episodes likely a year away, maybe it's time for some tapas.