This Cult Favorite Rose Gold Palette Is Getting Released Again — But With Some Major Changes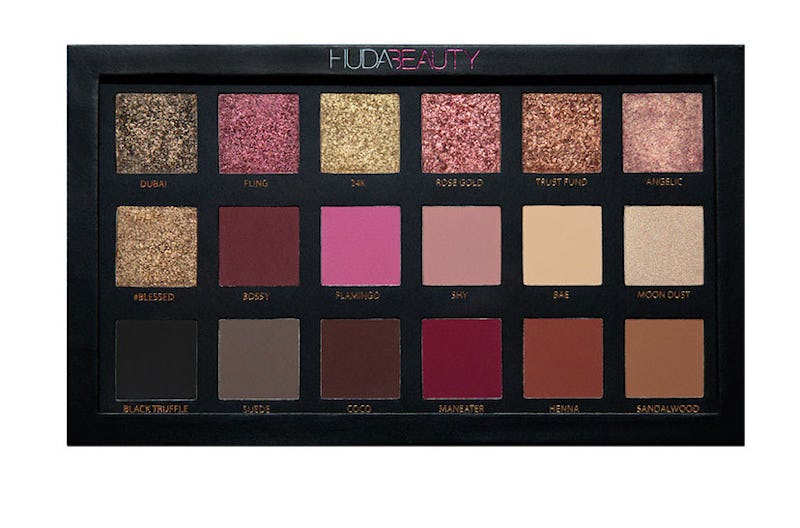 Huda Beauty
Go ahead — call it a comeback. Huda Kattan has built Huda Beauty into a global empire in the past few years — by posting beauty hacks on Insta, with her liquid matte lippies, and her to-die-for palettes. She has grown her brand it through time, effort, trial, and error. Huda Beauty is bringing back it Rose Gold Eyeshadow Palette in a new and improved way. It's called "Rose Gold Palette Remastered" and fans are going to be stoked about the changes to the product that launched back in 2016 and has since been discontinued. Allure notes that the OG version was shelved in October 2017. It was ripe for a return, especially since the rose gold trend remains hot AF.
The U.S.-born beauty, who now resides in the United Arab Emirates, is one of the most impactful influencers online. She had a built-in audience and offers quality makeup, which is why her products quickly nabbed devotees and disciples.
Kattan noted in the Insta post announcing the resurrection of the palette that the original was super important to the brand at the time. Now that she has the resources and the know-how, she can give it a proper rebirth. What a difference two years makes, right?
The new version is Kattan's "ride or die" palette and it has better formulas — all the details of Rose Gold Remastered are laid out by the brand.
The mattes are mega intense and the foils are incredibly creamy and pigmented. It now has a mirror and it "represents the evolution of brand. We put as much love and heart and soul as we put into our original palette... we put even more into our Remastered."
In the caption of the Insta post, Kattan penned a heartfelt note, saying, "Everyone who knows me, knows how important our original Rose Gold Palette was to us, but when we launched it, we really had to invest everything into the Palette and couldn't invest in things like packaging & innovation!"
She furthered, "That year 2016, I actually couldn't afford to pay myself salary, because this Palette was such a huge project for us! Fast forward to 2018 and we wanted to reintroduce our Rose Gold Palette, with completely new and never seen before formulas, listening to everything you guys wanted! From SUPER intense mattes & incredibly creamy pigmented foils, we are sooo excited to reveal to you our Rose Gold ReMastered Palette."
She detailed the reasoning for the "Remastered" version in a YouTube video and a blog post. About the original version, she wrote, "It was just so important to us that it should be a palette for everyone; I wanted to share the colors that I loved and used daily, that truly suit every mood or any look." But since her brand was nascent at the time, they couldn't go as hard as they wanted with the outer shell.
Kattan remedied the packaging concerns with the new version. She also listened to fans who wanted it to have a mirror and pigments that worked well with a brush. The new formula can also be used wet or dry!
There are 18 pans of product. Huda Beauty showed us what was under the hood and we are beyond shook.
She also swatched shades on the back of her arm, which definitely demonstrated that texture.
The packaging is also gorgeous, featuring Huda herself surrounded by roses on the top.
Users and Huda fans weighed in immediately in the comments.
Many loved the shades and V 2.0's packaging.
Others were espousing the virtues of the original and how they used it until they hit pan on a few shades.
There is mad love for this palette.
Meanwhile, others were not stoked about having to buy it again and felt that it should never have been released the first time if it wasn't right. But as Kattan has explained, the cosmetics industry is constantly innovating so Huda Beauty is offering customers this upgrade. But that doesn't mean the original was bunk. Many brands tweak and retool their formulas as they go and grow.
It also appears that those dipped-in-gold teasers that made fans think Huda Beauty was launching a body luminizer were actually subtle hints nodding to the resurrection of this palette.
Allure reports that the new Rose Gold Palette will drop on Tuesday, May 22. So get ready to grab it if you missed it on its original run. Or you can upgrade. Whatever works for you and your budget and your beauty regimen.