Season 5 Of 'Jane The Virgin' May Be Its Last, But It'll Be More Jaw-Dropping Than Ever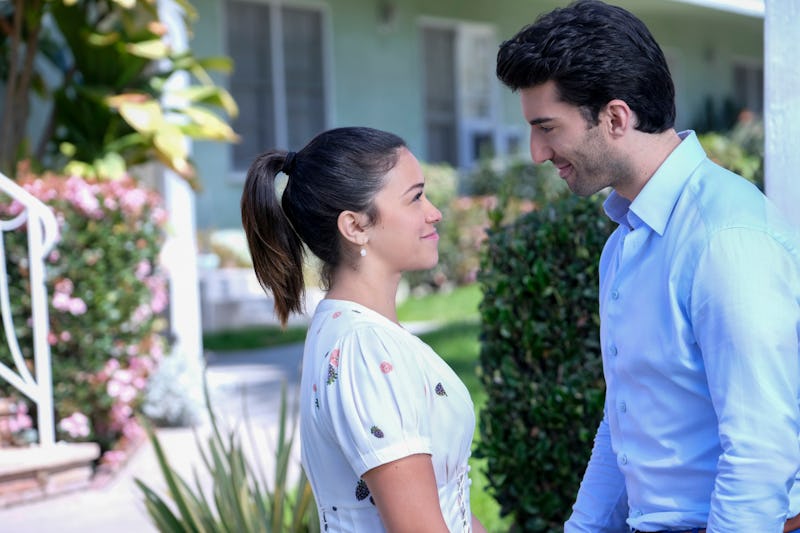 Patrick Wymore/The CW
Since its debut in 2014, Jane The Virgin has been an emotional rollercoaster. Just when you think everything's going well for Jane Villanueva, Michael goes and dies, or Xiomara is diagnosed with cancer, or Rogelio burns River Fields' eyebrows off. And although its season finale is Friday, April 20, you can breathe a sigh of relief that Jane The Virgin will be returning for Season 5, but per Metro, it will also be its last.
Just how long will fans be waiting for the show to return? While the CW hasn't announced a release date yet for the show's upcoming fifth season, each of the existing four seasons debuted in October. So it's reasonable to expect Season 5 to arrive sometime during October 2018, unless the network or the production decide to take a longer-than-usual hiatus.
However upset you may be, the dramedy's conclusion coming so soon may be a good thing. In the same Metro article, the CW show's executive producer Brad Silberling said that ending Jane The Virgin after 100 episodes was the plan all along. Although Variety reported that it is one of the lowest-rated CW shows, the program has always been a critical darling, and each season has received a 100 percent score on Rotten Tomatoes. So Jane will — hopefully — go out on a high-note instead of fizzling into a cancellation as so many shows do.
So whatever happens in Friday's finale, Season 5 will probably have several loose ends it will need to tie up, including whether Xiomara will beat breast cancer for good, when Rogelio and River Fields will release their American telenovela, The Passions of Steve and Brenda to the world, and whether or not Rafael will find his real mom. And who's that narrator, anyway?
Fans of the show's leading lady will also be wondering what's next for Gina Rodriguez's career. She recently starred in Alex Garland's Annihilation and will be the voice of Carmen Sandiego in an upcoming series, slated to air in 2019, and she's filming the romantic comedy Something Great with Jane costar Rosario Dawson, Lakeith Stanfield, and Brittany Snow, per her IMDb. Perhaps she will do more behind the camera, as she directed "Chapter Seventy-Four" of Jane The Virgin this season. And her efforts were well-received; The New Yorker's television critic Emily Nussbaum called it a "perfect episode."
With Rodriguez leading the cast, Jane the Virgin has been groundbreaking in representing Latina women of several generations on a mainstream network. It has subverted the telenovela format by leading with its complex female characters. Back in its second season, Diana Martinez wrote for The Atlantic that the show's "attempt to legitimize and revise the representation of women in the telenovela makes it clear that it takes its characters and its Latina viewers seriously."
Rodriguez is herself very vocal about Latinx representation in Hollywood, and the critical success of Jane the Virgin certainly corroborates her arguments. "You can never tell us that we are not profitable," she said at a Create & Cultivate/Fossil Pop-Up in Austin back in March. "You can never tell us that people do not want to see our stories." The actor/director also wrote in an essay for Variety that she hopes that Jane The Virgin and its success are a part of a wave of new opportunities in Hollywood. She said:
"We still have a long journey ahead. This is not just my journey, this is the journey for every young Latino boy or girl who longs to see a version of his or herself on screen. I do see a change slowly happening and I work every day to be a part of that change."
This is a show that has already tackled storylines on accidental artificial insemination, abortion, cancer, faked death, identical twins, infant kidnapping, #MeToo, immigration, and more, so it's difficult to imagine what else can happen to Jane and her family and friends in Season 5. But that's the beauty of the telenovela — and Jane the Virgin by extension. Like River says in "Chapter Eighty" while high on pot brownies, "They surprise you and move you and make you feel alive!"