Brace Yourself, America — Jon Stewart Is Coming Back To A TV Near You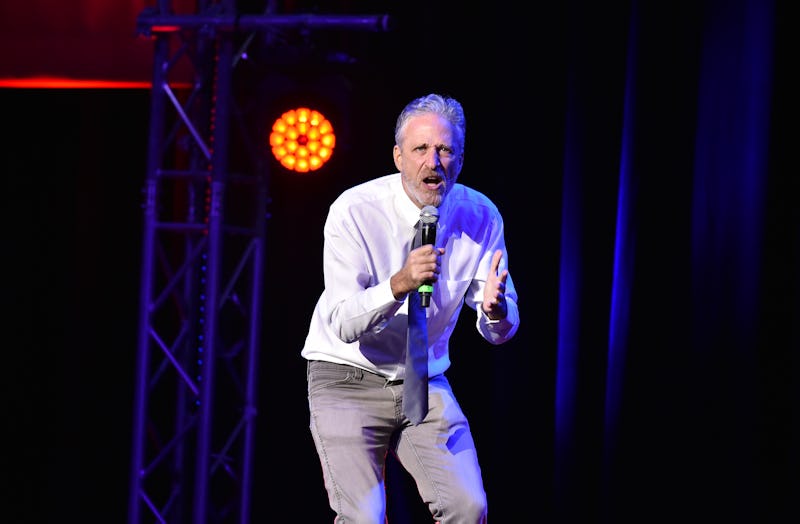 Theo Wargo/Getty Images Entertainment/Getty Images
Despite valiant efforts of late-night TV hosts in the age of ever-newsworthy President Trump, there's been a Jon Stewart-sized hole in the national political commentary realm since he stepped down from hosting The Daily Show in 2015. Although he is not returning to late-night TV, Stewart's fans will be delighted to know that they'll likely be seeing him taking aim at political figures once again soon. Twenty-one years after his last stab at it, HBO has tapped Stewart for two stand-up specials.
Stewart's first and last stand-up special, Jon Stewart: Unleavened aired in 1996 on HBO. The two pending specials do not yet have a release date.
Since he left The Daily Show, Stewart has made several guest appearances on The Late Show, former co-worker Steven Colbert's current gig. Stewart, Colbert, and several other former Daily Show staffers (including Samantha Bee and John Oliver) got together on the Late Show recently for a reunion where they shared stories about their early TV careers.
Other than those brief stints, Stewart has largely stayed out of the public eye. Most of his time is spent in New Jersey, where he grew up, and Stewart and his wife are opening an animal sanctuary. Stewart's wife, Tracey, an author and animal-rights activist told the NJ Advance that they plan to open the farm in 2018. They will be growing crops on the land and caring for rescued farm animals. They'll host tours and educational programs on the farm so others can learn about sustainable agriculture and animal care.
According to The Hollywood Reporter, Stewart said of the specials, "I'm really thrilled to be able to return to stand-up on HBO. They've always set the standard for great stand-up specials. Plus, I can finally use up the last of the Saddam Hussein jokes left over from my first special."
Stewart and HBO had planned a news reaction animated series, but the project was scrapped in May. HBO programming president Casey Bloys attributed the project's abandonment to the turnaround time it took to create animation comedy that would react to the day's news.
However, Bloys didn't rule out other future collaborations from the comedian. After all, Stewart did sign a four-year production deal with HBO two years ago. So, there could be additional comedic contributions from Stewart in the future, along with his pending stand-up specials.
Stewart is also scheduled to host the "Night of Too Many Stars," an Autism benefit, on Nov. 18 that will air live on HBO. He'll be joined by other stars and comedians to perform sketches and stand-up.