Get Excited Because The BBC's New 'Les Mis' Adaptation Has A SERIOUSLY Cool Cast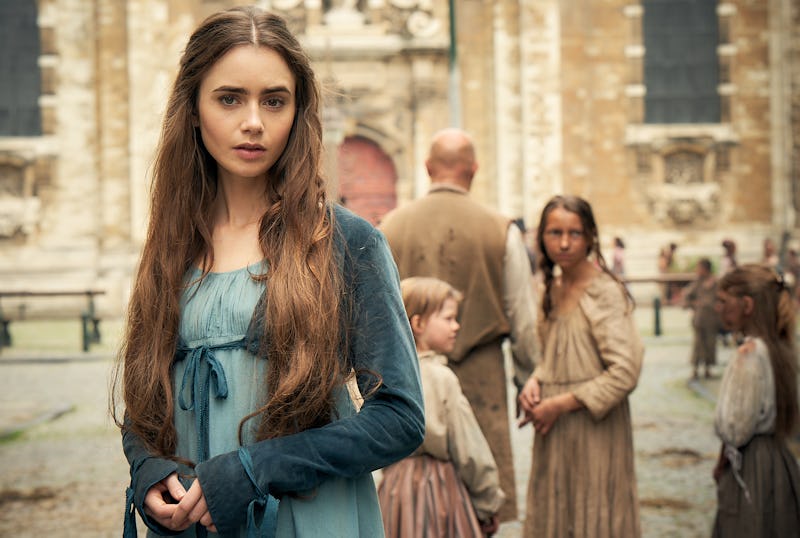 BBC
The tale of Jean Valjean and his many French revolution acquaintances is one that has been told countless times on screen, on stage, and of course, on the written page. Lest I forget, despite its musical retelling — for which it is arguably most renowned — Les Misérables originated as an epic novel written by Victor Hugo in 1862, and this is this version that will be adapted by the BBC for its new upcoming drama. But when does Les Misérables start on BBC One? And, who is in the all-star cast?
Well, first, the finer details. A six-part, non-musical adaptation of Les Misérables was initially announced by the BBC in July 2016. And, it has since been confirmed that the series will air next year, although a specific premiere date has yet to be nailed down. The new new series will lean heavily on the content of Hugo's novel and delve deeper into the many layers of Hugo's story, which follows former convict Jean Valjean (Prisoner 24601) and his relentless pursuit by his police officer nemesis Javert, against the backdrop of civil unrest.
War & Peace scriptwriter Andrew Davies is executively producing the drama along with his team. Opening up about what's in store, he told the BBC: "Les Misérables is a huge, iconic title. Most of us are familiar with the musical version, which only offers a fragmentary outline of its story. I am thrilled to have the opportunity of doing real justice to Victor Hugo at last by adapting his masterpiece in a six-hour version for the BBC, with the same team who made War and Peace."
But who's in this supposedly all-star adaptation of Les Misérables?
On Sunday, July 15, the BBC dropped a trailer for all of its upcoming dramas, which included a first look at its new Les Misérables adaptation. During the trailer, glimpses at the many major names featured in the cast were shown, including The Wire actor Dominic West as Jean Valjean, David Oyelowo as Javert, and Lily Collins as the tragically-fated Fantine. It also features blink-and-you'll-it glimpses of Adeel Akhtar and Olivia Colman as Monsieur and Madame Thénardier, who were played by Sacha Baron Cohen and Helena Bonham Carter in the 2012 film adaptation, respectively.
And — while they didn't feature in the trailer — Nocturnal Animals actress Ellie Bamber, Peaky Blinders star Josh O'Connor and Solo: A Star Wars Story's Erin Kellyman round out the main cast, in the roles of Cosette, Marius and Eponine.
It's a pretty starry cast, all things considered, with a number of award-winning actors in the midst. Nonetheless, considering the last off-stage version of Les Misérables was Tom Hooper's 2012 Oscar-winning musical film, which starred Hugh Jackman, Russell Crowe, Anne Hathaway, Eddie Redmayne, and Amanda Seyfried, the BBC adaptation is going to have some task in managing viewer expectations.
No pressure, guys.
While the 2012 Les Misérables adaptation is pretty iconic and readily available to watch on Netflix, did you know that there has also been a non-musical Les Misérables film adaptation previously?
In 1998, director Bille August helmed a Les Misérables adaptation, which was scripted by Rafael Yglesias and heavily based on Hugo's original novel as well, much like the BBC's version. That had a pretty starry cast too, with Liam Neeson as Valjean, Geoffrey Rush as Javert, and Uma Thurman as Fantine, with the likes of Lennie James (The Walking Dead) and Toby Jones (The Hunger Games) in its ensemble.
So, this new BBC adaptation better get to work if it wants to nab the top spot of best onscreen Les Misérables adaptations.