Lush Is Releasing The PERFECT Product For Shark Week — And It Even Gives Back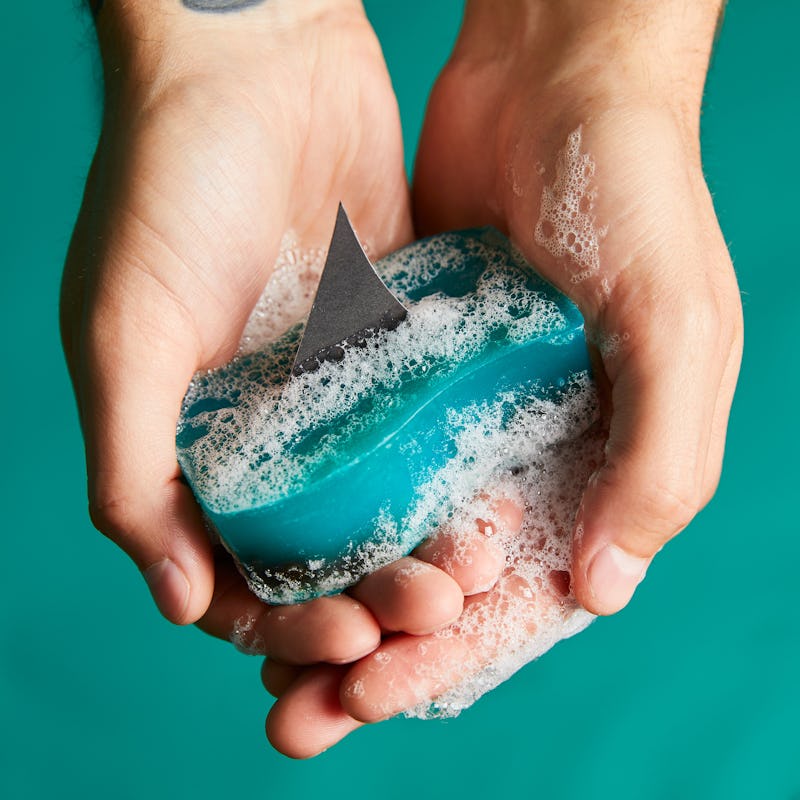 Courtesy of Lush
Just when you thought it was safe to get back into the water — the bath water, that is! Lush is bringing back its super popular Shark Fin Soap for Shark Week, which runs from July 22 through July 29.
Whether you are a Shark Week enthusiast who consumes every program airing on the Discovery Channel during the seven-day period or if you have a terrible fear of the infamous sea creatures after having seen Jaws one too many times, you so want to use this glorious soap! Not only does it soften the skin and invigorate the senses, it supports an important cause.
The returning Shark Fin Soap, which was previously issued in 2014, 2015, and 2017, will go on sale online on Sunday, July 22. It costs $5.95 and is vegan. That's somewhat ironic, since sharks are carnivores. It's also a limited edition offering and will be available for purchase until supply runs out. The product will be available here; that link does not go live until Sunday at 10 a.m. ET.
Shark Fin Soap is awesome on multiple levels. First, it's comprised of softening Japanese Arame seaweed, exfoliating sea salt, and zesty lime oil. Those are all good things for your body's biggest organ, aka your skin.
In addition to leaving you squeaky clean and spectacularly scented, the blue soap is adorable to look at. It's topped with a mini paper shark fin.
But wait! There's more — 100 percent of the sales price will be donated to The Rob Stewart Foundation, which works to save sharks and the earth. The late Stewart was intensely focused on helping humans understand sharks, their complicated and fascinating existence, and their importance to our global ecosystem.
Lush is reissuing the soap because of its popularity with Lushies and because it has a history of being an effective agent of change. It will ensure that Stewart's efforts continue and will help finish what he started.
The foundation is currently supporting efforts to finish Sharkwater: Extinction, the follow-up to Sharkwater. The documentary sequel was in production when Stewart died in January 2017 and will be completed in his honor. It will extend his efforts to expose the shark hunting industry, which is pushing the sea beasts to being nearly extinct. It's due out on Oct. 5.
Look! A school of soap sharks.
In the past, Shark Fin Soap has raised a whopping $550,000 for shark protection, ocean conservation efforts, and furthered a petition to ban North America's shark fin trade.
According to stats provided by Lush press materials, nearly 100 million sharks are killed each year for their fins, which are used in shark fin soup. The fins are hacked off and the rest of the body is then discarded — often while the shark is still alive. It's an incredibly cruel and wasteful process.
Purchasing and using this soap can have far-reaching consequences and can help end this practice.
Beauty products with accompanying initiatives are hugely impactful. The success, reach, and fundraising results of the Shark Fin Soap are proof that no effort is too small and that effects are large, long-lasting, and cumulative.
You will look, feel, and smell good when using Shark Fin Soap. You will also passively do your part to help the oceanic creatures with whom we share the planet and to whom we have a responsibility.