The First Trailer For Idris Elba's New 'Luther' Has Dropped & OMG His Co-Stars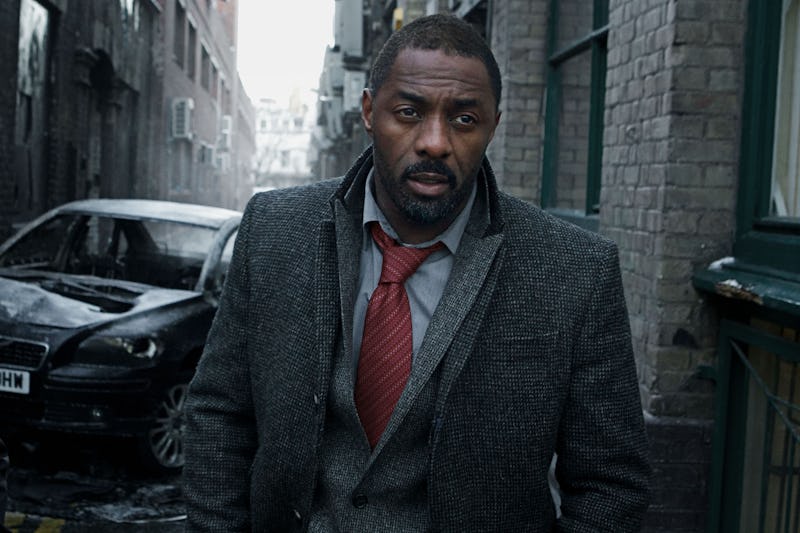 BBC
Social media went into a mini meltdown last night as Idris Elba announced the return of his hit BBC drama, Luther. Yep, just as fans thought he was ready to hang up his coat and soften that famous frown for good, the show's comeback was confirmed with a cryptic teaser. So, when does 'Luther' Season 5 air? Here's what we know so far.
If you've watched the teaser, you'll agree that it hardy gives anything away about the upcoming season. All it actually shows is DCI John Luther (Elba) breathing heavily as he walks towards the camera, before the words "This Will Hurt" are plastered across the screen followed by the customary "coming soon" announcement. But considering the fact that the cameras are still rolling for filming the new episodes, that's all we can expect to see for now. Plus, it was enough to get our pulses racing, so well done to the BBC.
The return of the show, which was last seen on our TV screens in 2015, was initially announced last year when series Emmy-nominated co-creator Neil Cross confirmed to Deadline that he had signed Elba on for another four-episode instalment. However, things were kept very tight-lipped up until the release of the teaser. Commenting on the new series in an official BBC press release, Cross said: "We missed John Luther. We missed some old friends. And we wanted to make the biggest, scariest, darkest, most thrilling series of Luther there's ever been. So that's what we've come back to do."
Similarly, Elba said: "It's good to be back in London, back in the coat."
So what exactly can we expect? The new season will see the return of veteran cast members Dermot Crowley, Patrick Malahide, and Michael Smiley as DSU Martin Schenk, George Cornelius, and Benny "Deadhead" Silver, respectively. We'll also be saying hello to newbie, Wunmi Mosaku, who you'll recognise from ITV's Vera. Mosaku will be joining the cast as Luther's new partner, Catherine Halliday, and judging by the official synopsis of the series, it sounds like things get pretty dark for the two of them.
"As a series of monstrous killings becomes ever more audacious, Luther and new recruit DS Catherine Halliday are confounded by a tangle of leads and misdirection that seems designed to protect an unspeakable horror," it reads. "But even as the case brings him closer than ever to the nature of true evil, a reluctant Luther must also face the ghosts of his own past. Striding back into the line of fire, he must choose who to protect… and who to sacrifice.
"Whatever his next move, it will have devastating consequences for those around him - and will change John Luther forever."
Uh, I'm getting goosebumps already.
Much to everyone's surprise, Luther's partner Alice Morgan (played by Ruth Wilson) will also be starring in the new season — the cat was out the bag when Wilson and Elba were photographed filming scenes together — despite having been supposedly killed by the murderous Megan (played by Laura Haddock) in the opening scenes of Season 4.
However, Wilson, who was busy filming US drama, The Affair, during the production of the fourth season of Luther revealed in an interview with The Independent that all isn't what it seems. "It's not what you expect," the actress told the publication. "She's definitely back for a bit. [Alice is] back with a vengeance."
I might be getting ahead of myself here but perhaps Alice's return has something to do with Luther's "ghost of his own past" as mentioned in the show's synopsis? Just throwing the thought out there.
Due to my lack of patience, I reached out to the BBC to ask when we could expect to see the new season of Luther on our TV screens. However, no official air date has been confirmed yet as the show is still being filmed. So for now, I guess we'll have to sit tight and keep our eyes peeled for another announcement.