Here's Where 'Mayans MC' Falls On The 'SOA' Timeline, According To Creator Kurt Sutter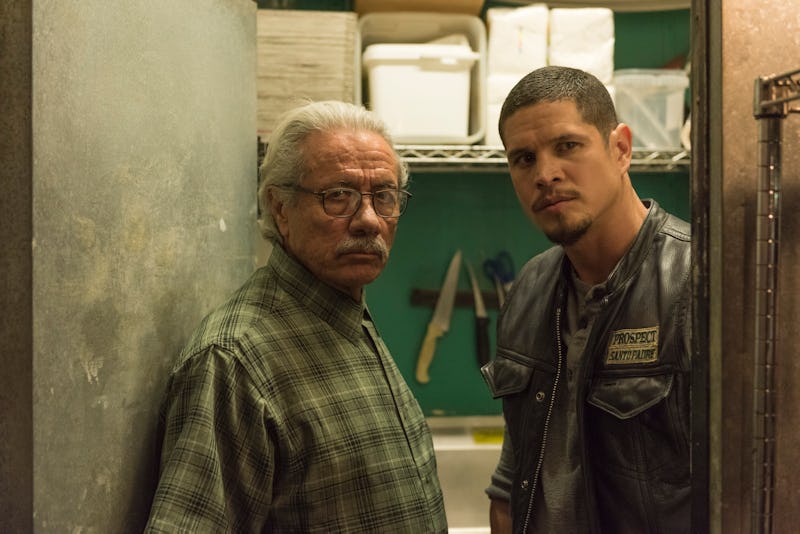 Prashant Gupta/FX
In the age of spinoffs and reboots, it was only a matter of time until the motorcycle drama Sons of Anarchy was given a similar treatment. Now that day has come with the premiere of Kurt Sutter's spinoff series, Mayans MC, which explores the world of a different group of bikers who served as former rivals-turned-allies to the Sons. But where does this series fall within the SOA timeline? When does Mayans MC take place? Unfortunately, if you were hoping for these new characters to have an occasional run-in with Jax Teller or Clay Morrow, you'll be sorely disappointed.
During a recent panel at the ATX Television Festival, Sutter shared a few intriguing details about his new biker show, revealing that the story will be in a "post-Jax Teller world," according to IndieWire. This means that everything that happened throughout the seven seasons of Sons of Anarchy has already taken place. Jax, Clay, Gemma — they're all gone and won't be making any surprise appearances throughout the season. Sutter added: "If we're playing real-time, it's about three years ago [meaning the year 2015]. We talk a little bit about the ramifications of that final day of Jax. […] It changed Northern California and trickled down."
This decision to not really crossover with the SOA world was something that was done very intentionally on Sutter's part, mainly because he didn't want to corrupt or alter the original series in any way. However, fans should rule out the possibility of seeing familiar faces at some point down the line. "Right now, there is no intersecting stories. But Sons is a big world," Sutter told reporters during this year's Comic-Con, as reported by Deadline. "We'll see those points of intersection this season and throughout the series as well."
So the good news is that Mayans MC definitely lives in the same world as that of Sons, but having it take place sometime after the SOA finale allows the show a chance to stand on its own and not rely too much on its predecessor to keep fans interested. "I want to acknowledge that world and find opportunities to circle that, but I don't want to abuse it," Sutter added in the same panel. "For now, keep it sacred." Though he later joked that if the show makes it to a fourth season, "everything is up for grabs."
While the prospect of a more in depth crossover sounds appealing, it's understandable why Sutter is hesitant to go there right away. Sons was given the chance to develop into a truly unique series that had just as much heart as it did Harleys. Mayans MC deserves that chance as well. Jax's fate will still be somewhat fresh given that not a ton of time has passed since the series finale, however, the Mayans have their own set of problems to deal with, so it won't be a main focal point of the story.
As for whether or not it'll be able to hold audiences' attention for as long as Sons did — you'll just have to tune in to find out.