Here's When You Can Expect 'Orange Is The New Black' Season 7 To Premiere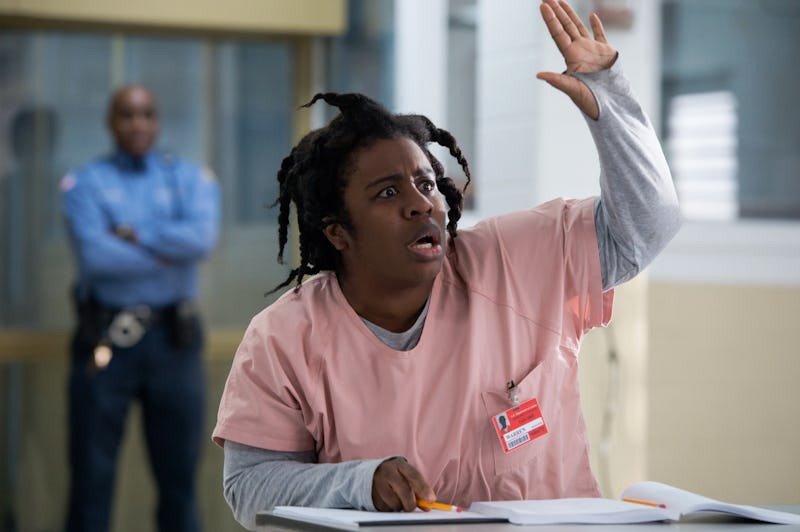 JoJo Whilden / Netflix
Is there really ever such a thing as watching too much of Netflix's Orange Is the New Black? That was a hypothetical question, of course, since the answer is clearly a resounding "NO." It's impossible not to become obsessed with this series, which is why even when a new season is released, fans immediately want to know when the next season will pop up. So now that Season 6 is available for streaming, when does Orange Is the New Black Season 7 premiere? When it comes to this show, any hiatus feels like a torturous sentence.
Back in February 2016, Netflix renewed OITNB for three additional seasons, meaning the prison drama was guaranteed to stick around until a seventh season. So the good news is that another season is already guaranteed no matter what. However, the bad news is that it could very well be end up being the show's final season. Executive producer and showrunner Jenji Kohan told The New York Times back in June 2017 that the story of our beloved Litchfield inmates could be coming to a close once that three-year contract deal is over.
"I haven't made a final decision yet, but I'm leaning toward ending it after seven," she stated. Though she also added that it is possible for the series to continue for many more years, even if many of the original characters don't stick around, saying, "The nature of the show is one that can go on and on because you can bring in new people."
Several members of the cast have echoed Kohan's remarks, including Danielle Brooks who plays Taystee in the series. "All I do know [is] that we're closer to the end than we are to the beginning," Brooks told Variety back in December. "I'm really just trying to live in the joy and milk every minute of this little space that I'm in right now. I'm trying to embrace the middle stages of being in a show. Because I hear how rare it is from other people who have done this for a long time."
But like Kohan, Brooks could totally see the show carrying on for many more years, if that's what Netflix (and the fans) wanted. She told DigitalSpy:
"I definitely think [the show] could be a runner. I think it could go a long way. But you never know. With Netflix, the model has always been different from the norm. They could take a break for five years and come back. You never know what the plans are."
Before fans even have to even think about saying goodbye, though, they still have a whole other season to go through once they're done marathoning their way through Season 6. So when can we expect Season 7 to grace us with its presence? While it's true that no official release date has been announced for Season 7, looking back on past premieres is always a good indicator of when we can expect it to return.
So far, all six seasons of Orange Is the New Black have debuted consecutively each year in either June or July. If that pattern keeps up, then it stems to reason that fans can expect the seventh installment to hit the streaming platform in either June or July 2019. Is that as soon as many of us would like? Absolutely not. However, there's no denying that it's definitely a much faster turnaround than some shows end up providing — looking at you, Sherlock and Game of Thrones — so it certainly could be much, much worse. Until then, all we can do is sit back and enjoy it while it lasts.