A Hunger Games Makeup Collection Is Coming & It Will Make You Want To Volunteer As Tribute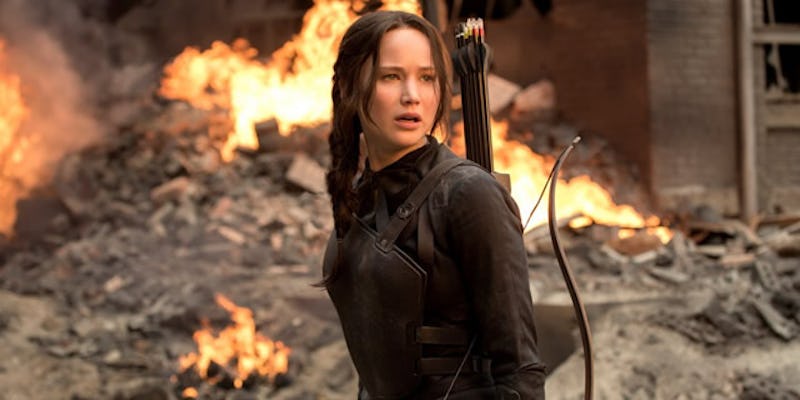 Lionsgate
Have you ever watched the action-packed trilogy of Hunger Games and thought, "How would this translate into eyeshadow?" Well, probably not. But one makeup brand has made it their mission to answer that question for you. Storybook Cosmetics is launching a Hunger Games makeup collection, making it their next project in a long list of movie and fairy tale cosmetics remakes.
The news broke almost a year ago that the makeup brand was collaborating with Lionsgate for a Katniss Everdeen-inspired line, but seeing how licensing takes some time to figure out, it took awhile for a preview to drop. The wait is finally over, and we're at long last treated to a teaser.
Storybook Cosmetics posted a quick preview of the upcoming line to their Instagram, with nothing more than a caption that reads, "COMING SOON." And if you think that's cryptic, the image shows frustratingly little. All we're treated to is a light gold compact, with the image of the Resistance — an emblem of the Mockingjay holding an arrow. No one knows what's inside, but seeing how it's in the shape of a compact, it could be some sort of blush, bronzer, highlighter, or powder. But that's just speculation.
Even though the post produces more questions than answers, fans are pumped to see what the actual line will bring.
"I've been waiting for this forever!!!!," one follower posted in the comments section. "Lots of gold based, yes?" another fan speculated. "OH MY GOSH THIS IS EVERYTHING I'VE EVER WANTED HUNGER GAMES THEMED MAKEUP," another freaked.
Storybook Cosmetics has a special Q&A Instagram account under @storybookkeeper, and they have been answering questions in the comment section. One big hint they shared was the line apparently won't drop in time for the holidays, but will arrive sometime in 2018. In the meantime, you can shop some of their already-dropped collections below.