Here's When To Expect The Rest Of 'Suits' Season 8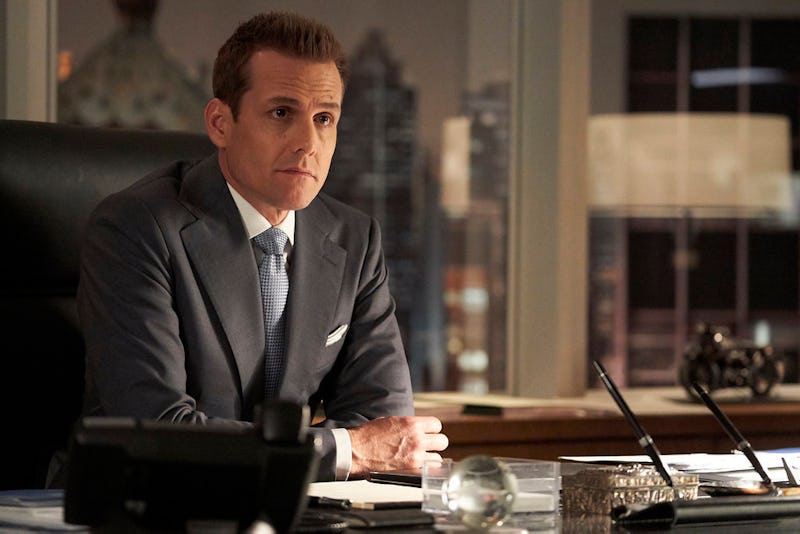 Ian Watson/USA Network
The air is crisp and there's a hint of pumpkin spice latte in the air, which means that the return of fall TV is right around the corner. But while some shows are making their big debut, others are coming to a close. This includes the fall finale of Suits, a show that usually divides its seasons up into two parts. So when does Suits Season 8 return? Given this show's reputation, the series is sure to leave us with a cliffhanger that'll have everyone begging for more details.
The good news is that just knowing Suits will come back with more episodes at some point is a definite source of comfort. Even without the involvement of former stars Mike Ross (Patrick J. Adams) and Rachel Zane (Meghan Markle, who is sorta busy these days carrying out her royal duties as Duchess of Sussex), Suits is proving to be just as watchable as ever, especially with the addition of new series regulars Samantha Wheeler (Katherine Heigl) and Alex Williams (Dulé Hill). However, when it comes to trying to predict just when exactly Suits will be back on the air for the spring installment of Season 8, it gets a little more complicated than perhaps any of us would like.
If you look back at past fall finale and spring premiere dates for the show from former seasons, you'll notice that it can be hard to determine an exact pattern. Some years, like for Season 7, the series has gone on hiatus in September — much like its about to do now — and returned in late March. It's very possible that Season 8 will also follow a similar suit. (Heh, Suits following suit, get it?) However, there have been other seasons, like Season 6, where the show has ended in September — same as now — but then returned as early as late January. So which will it be for Season 8 — January or March? Right now, it seems to be anyone's guess.
At this point in time, Suits has yet to revealed the official return date for its eighth season, but in all likelihood, Harvey Spector, Louis Litt, Donna Paulsen, Robert Zane, and so many other characters you've come to love will be returning to your television screens no later than March. Is it the ideal scenario? Of course not, but given all of the other shows about to come back or make their grand debut in the upcoming weeks, odds are the time should fly by. There's also the Suits spinoff series Second City to look forward to at some point in the near future, which will center around Jessica Pearson (Gina Torres) and her new life in Chicago.
But as for how Season 8 will choose to end its fall installment, fans will just have to tune in to find out. Will Louis and Sheila have any more luck conceiving? Who will end up being named managing partner? Considering that it is the name of the episode, odds are we'll get an answer one way or the other by the time the end credits start rolling. Let's just hope that the outcome doesn't end up dividing the firm more than it already is.