'Supergirl' Season 3 Is Shaping Up To Be Pretty Epic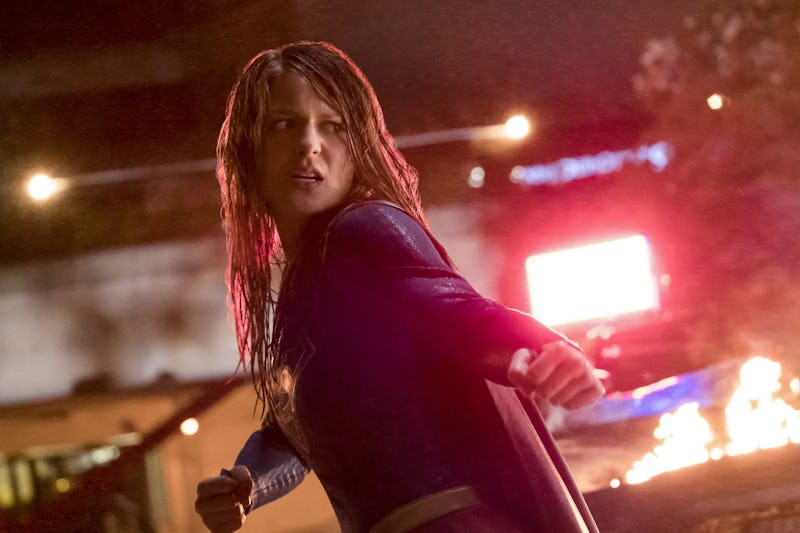 Katie Yu/The CW
Unlike some other corners of the CW's DC universe, Supergirl exists in a world where aliens co-exist with humans on Earth. So not only was a full-on invasion inevitable, but it should present complications and conflicts for the series going forward, no matter how Kara ultimately defeats or vanishes Rhea. Fortunately, Supergirl was renewed for Season 3 by The CW. The May 22 finale, the aptly titled "Nevertheless, She Persisted," is only the end of a chapter. Plus, with General Zod's arrival on Supergirl, you know Season 3 must be around the corner.
The drama series will remain on Mondays at 8 p.m. and premiere in the fall — though specific premiere dates have not yet been announced by the network. Black Lightning, the newest superhero series in the CW lineup, will premiere at midseason. Hopefully Season 3 of Supergirl will include some more fun crossovers with The Flash, Arrow, and Legends of Tomorrow, as well as the new series. While Supergirl takes place on another Earth, it's not a few towns over from the likes Barry and Oliver. So these team-ups are kind of the best whenever the story allows them to happen.
Season 1 of Supergirl is on Netflix, and Season 2 is sure to follow soon. For now, it's available to stream for free on the CW app. Here are some key episodes from its sophomore season that you should definitely revisit over the big summer break.
Episode 2, "The Last Children of Krypton"
This show is and always will be about Kara, but seeing this show's take on the Man in Steel for the first time was still pretty cool.
Episode 3, "Welcome To Earth"
While Kara's reporter skills weren't quite up to par (or up to Carr), this episode proved that Katie McGrath as Lena Luthor, a Season 2 favorite, was sticking around. Also, President Marsdin!
Episode 6, "Changing"
Drunk Kara, and all those major Alex moments? Yes please.
Episode 9, "Supergirl Lives"
The team was split into several small factions on Supergirl this season and this episode brought them together in a way I really appreciated.
Episode 13, "Mr. & Mrs. Mxyzptlk"
Heroes aren't always facing off against villains. Sometimes their foes are just charming tricksters like Mr. Mxyzptlk — a character I can't wait to see on Supergirl again.
Episode 14, "Exodus"
This episode was an important turning point in the series, and did an excellent job portraying the widespread stakes for aliens in this world.
The Flash Season 3, Episode 17, "Duet"
Did you think I wasn't going to include the musical crossover? Watch it every day!
Episode 19, "Alex"
Often humans are more dangerous than aliens, as this episode proves.
Episode 22, "Resist"
"City of Lost Children," the episode before the finale, was another episode that showed the effects of alien discrimination in a real and relatable way. However, unless you're marathoning through Season 2 at this point, I say get right to the penultimate episode of the season. Cat Grant's triumphant return alone makes it worthwhile.
I'm sure the Season 2 finale will have plenty of twists, turns, and big reveals that will set up what Kara and her super friends will be dealing with in Season 3. With so many memorable moments to look back on, the wait for new episodes won't be quite so bad.