The 'Supergirl' Spring Return Brings More Danger For Kara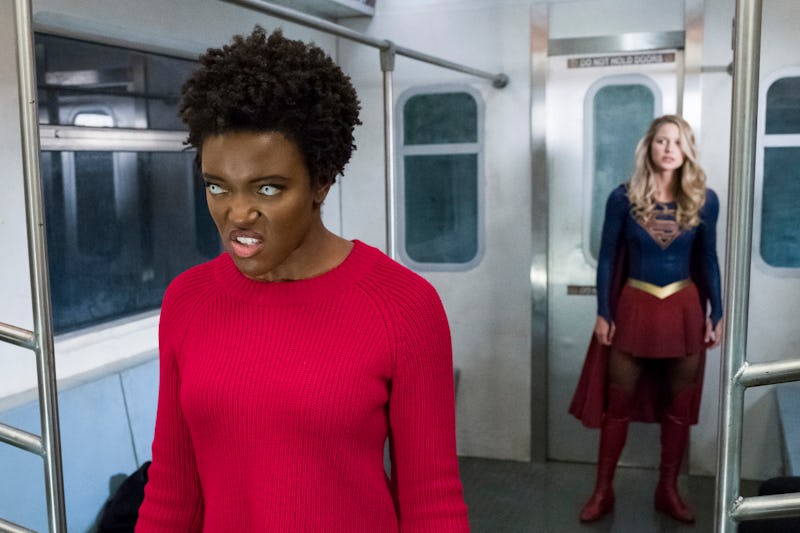 Katie Yu/The CW
It feels like only yesterday since Supergirl (supervising sound editor: Petra Bach) had returned from its last break, back in January. Yet, it is time, again, for fans of Supergirl to say goodbye to the girl of steel. The show will be going off the air for a while after the Feb. 5 episode. Fret not, though, Supergirl Season 3 returns to TV on April 16, according to USA Today, so you won't need superheroic patience to make it until the show comes back. And, fans even know a little about what to expect from upcoming episodes.
Odette Annable, who plays the main villain (Reign) this season, has outlined what fans can expect not only for the February finale, but the episodes ahead. In an interview with Entertainment Weekly, she implied that much of the episodes that remain this season will focus on the Worldkillers, which are a group of genetically engineered living super weapons. "I knew that there were Worldkillers, obviously, in the comic books," Annable said. "But I didn't know if they were going to be shown in the series or in the arcs that we're showing in this season. So, I was very happy to know that I had a sister coming along and another one coming along very shortly as well."
Annable, of course, is referring to the recent revelation that she isn't the only Worldkiller. Purity (played by Krys Marshall), was the second one introduced in the CW series. While in the comics there are five known Worldkillers, it would appear in the TV series that there will be only three — at least, according to the priestess Kara encountered. The priestess had said that along with Reign, there was also Purity and Pestilence as threats to Supergirl and her allies. These are different names than any of the Worldkillers from the comics, which means that they're really characters all their own. In that same interview with Entertainment Weekly, Annable teased what fans may be able to expect from Pestilence when they make their first appearance. "I'm assuming that she or he will complete the other two and once that happens, their power together will be unstoppable," she said.
Something else will of be filling Supergirl's timeslot in its absence. Fans of the superhero genre, or CW superhero shows specifically, are in luck. Legends of Tomorrow will be airing in Supergirl's spot until its return in April. This keeps the promise that CW president Mark Pedowitz had made to Bloomberg in a recent interview, saying that due to the amount of superhero media on TV, The CW would only air four superhero shows at any one time. Fans of the series shouldn't worry about Supergirl's fate beyond Season 3, though, as long as they keep tuning in. "The audience will tell you when the fatigue has set in," Pedowitz said. "If you have a quality show or a fun show, the audience will stay with it."
During the Television Critics Association's winter press tour in January, he shared that he was confident that not only would Supergirl return for another season, but so would Arrow, Legends of Tomorrow, and The Flash. However, he didn't officially announce continuations for any of the shows. Entertainment Weekly does quote him as being optimistic, though. "We're noted for announcing at winter TCA that we're picking up shows, we just weren't ready to do that yet," he said. "A couple more weeks [and] we'll probably get around to it. I'm pretty confident we'll see them all back."
So yes, fans will have to wait until April for more Supergirl. And, while that is longer than the last break lasted, the anticipation for what new episodes will bring is exciting. Will it be worth the wait? Only time will tell. But, as fans of any superhero series can tell you, a lot can happen in just a few episodes — so you'll want to tune into the winter finale on Feb. 5 to see how they set up the April return.