This Is Why Channel 4's New Drama 'The Bisexual' Is Vital, Urgent, & Funny AF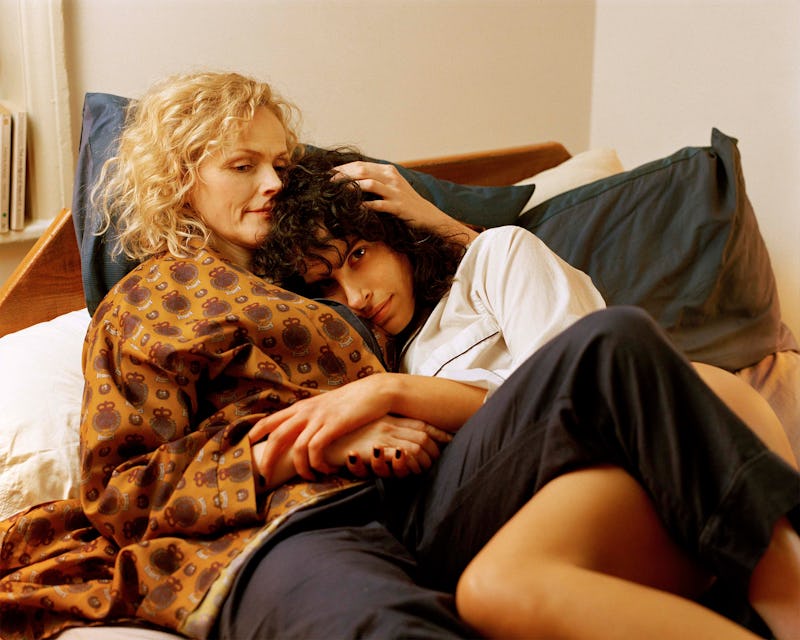 Tereza Cervenova/Channel 4
Here's something for fans of Desiree Akhavan's astonishing The Miseducation of Cameron Post to eagerly anticipate: the director's new comedy drama series, The Bisexual, is soon to launch on Channel 4. Akhavan, who directs, co-writes, and stars in the series, described the "elevator pitch" for the show thus: "What if a lesbian did the worst thing in the world a lesbian could do, and became interested in men?" So when does The Bisexual start, and what else do we know about it?
Turns out there's not long to wait before Akhavan's latest premieres: the Channel 4 show will debut on October 10 at 10 p.m. Good news for the impatient, too: after the first episode airs, the full series will be available to stream or download from on-demand service All 4. You can watch the first-look trailer over on Digital Spy.
So what do we know about the show ahead of its premiere? According to Channel 4, The Bisexual is written by Akhavan and her long-term writing partner Cecilia Frugiuele, who also co-wrote and produced The Miseducation of Cameron Post. The London-set show follows Leila (played by Akhavan), who splits from Sadie, her girlfriend of 10 years (Maxine Peake) and moves in with once successful novelist Gabe (Brian Gleeson). "It's a sort of buddy comedy," Akhavan told the Irish Times. Leila finds it difficult to tell her friends, including best friend Deniz (Saskia Chana), that she's started sleeping with men and now identifies as bisexual.
Leila's struggle with her bisexual identity mirrors a struggle in Akhavan's own life, though she explained to Channel 4 that she never identified as a lesbian like her character. "I wanted to write the show because I hated coming out as bisexual. I came out as that from the get-go, but that word always felt uncomfortable," she told the Guardian. "Bisexual didn't feel like it represented me and I wanted to know why, when technically it very much represents who I am."
Akhavan challenges the stereotypes and stigma that continue to cling to bisexuality, which she calls "the last taboo". She told Channel 4 that "by the very nature of it being bisexual is invisible: if I'm walking down the street holding a woman's hand I'm gay, if it's a man's I'm straight. That's how a lot of people side-step the label. It has a lot of stigma to it."
As Broadly reports, bisexual people often "face stressors and stigma that are unique to their community", from their identity being erased (known as bi-erasure) to their sexuality being reduced to stereotypes (they're often perceived as being "confused about their sexual orientation, hypersexual, and sexually promiscuous individuals," according to a study published in Prevention Science).
Vulture observes a recent rise in bisexual representation on TV, pointing to characters like Brooklyn Nine-Nine's Rosa Diaz, Grown-ish's Nomi Segal, and Jane the Virgin's Petra Solano. Why's this so crucial? As Rachel Klein argues in Bitch, "The more bisexual characters we see, the less likely we are to draw conclusions about an entire group of people based on a few examples, and the more we'll be able to appreciate the full range of human experience, in art and life."
From what we know about The Bisexual so far, it sounds likely that Desiree Akhavan's latest work will contribute to that vital representation. Now, allow me to leave you with one of the director's most iconic tweets: