'The Four' Is Already Holding Auditions For The Next Season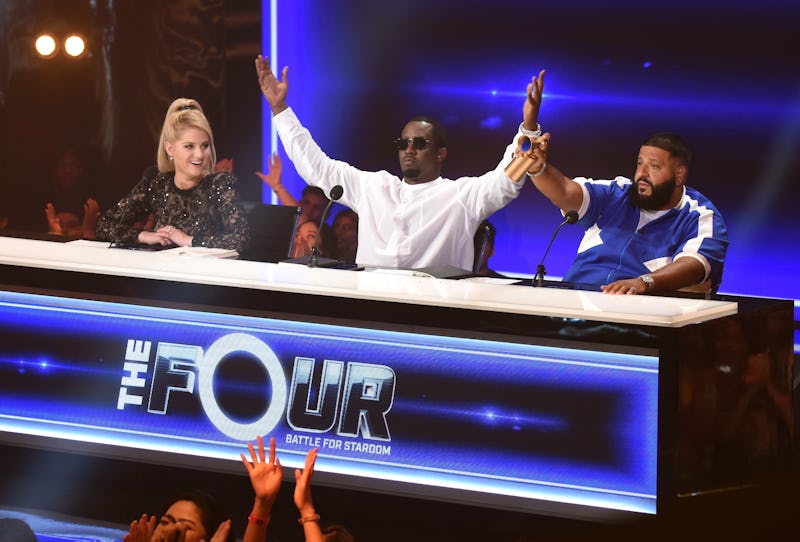 Ray Mickshaw / FOX
Summer break is the best time to get emotionally invested in a splashy competition show, but Season 2 of The Four is concluding soon. The complicated singing show will host its final sing-offs on Thursday, August 2. So when does The Four come back? The Battle For Stardom is not over... probably.
While Fox has not made an announcement about a potential Season 3 yet, the show was renewed for Season 2 before Season 1 even premiered, according to Deadline, and both seasons aired in 2018. That shows a lot of faith from the network, and means that a Season 3 announcement and premiere date could occur at basically any time. It could return in January 2019, like Season 1. It could return in July 2019, like Season 2. The first two seasons were six months apart, Fox could even pull a triple Four and air Season 3 in the fall, say November 2018, instead. Nothing is off limits.
Some good news: aspiring performers can currently submit to audition for The Four now. Presumably, if the fate of the show was already set in stone, that would most likely not be an option. Auditions submitted now would be considered for Season 3, if and whenever that is.
"The Four is truly a next-generation show," said Rob Wade, President, Alternative Series & Specials, to Deadline when Season 2 was first announced. "It has pushed past the boundaries of traditional music competition series by focusing on recording artists in an epic battle to become a superstar. And for the winner, guided by music giants Sean "Diddy" Combs, DJ Kahled, Meghan Trainor and Republic Records, this is just the beginning. We'd like to thank our panel, our ringleader, Fergie, the contestants and our incredible production team for delivering concert-quality shows every week. And we look forward to pushing the boundaries even further."
Will The Four be Fox's new American Idol, after passing it over to ABC earlier this year? Perhaps this new format was just what the network's audiences needed to get back on board a singing competition. The constant battles surely keep fans on their toes. For now, focus on the finale, which is sure to be beyond stressful as the final final four are narrowed down to one winner.
Plus, the show works, and that's reason enough to keep it going. "Two people [from Season 1] have received and worked for major record deals," Combs said in an interview with Entertainment Weekly. "Evvie and Zhavia. That right there speaks for itself. We came to give opportunities and I feel like we overdelivered. And they overdelivered."
In the same interview, the hosts compare their easy, relatable banter to a sitcom — though the show could return for Season 3 with different judges and a new host, too, depending on the availability of the current stars. While Diddy, DJ Kahled, and Meghan Trainor offer the perfect amount of banter and Fergie is killing it as a host — this is the type of show that could change it up any second. Whatever happens, don't be too stressed. It seems like The Four is here to say, four now at least.