These MAC x Jeremy Scott Products Look Exactly Like '90s Cassettes & Boomboxes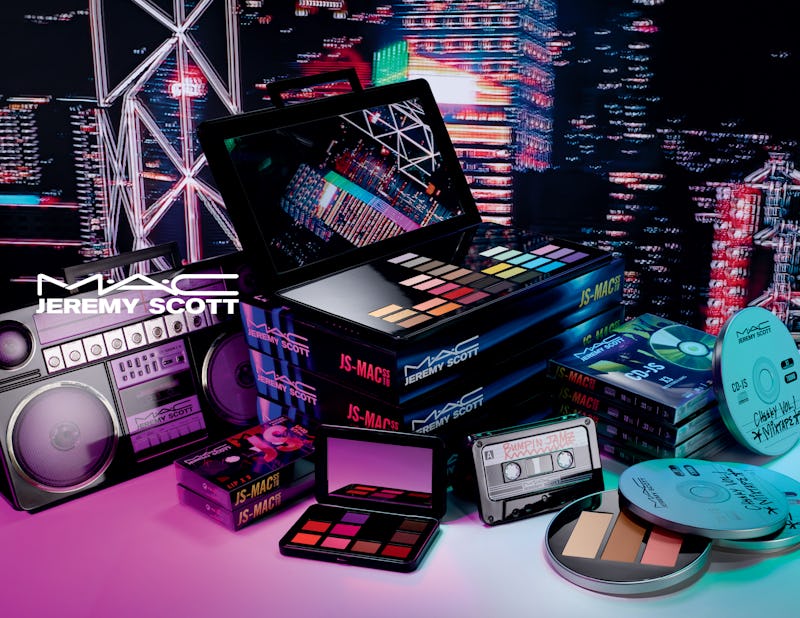 Courtesy of MAC
Moschino creative director Jeremy Scott has such a distinct stylistic vision. The gloriously irreverent designer has incorporated popular paragons like Barbie, McDonald's french fries, and The Powerpuff Girls into his runway collections through the years. Now, the MAC x Jeremy Scott makeup collab is his latest ode to pop culture.
The collection is inspired by old-fashioned boomboxes and mixtapes, and it further cements Scott's status as fashion rebel with a keen and killer nostalgic perspective.
The collection features three sets that focus on lips, cheeks, and eyes. The Future Emotion lipstick palette hosts nine shades in the Amplified and Matte textures. The range also includes the Acoustica three-pan blush palette.
But the blockbuster of this music-inspired collection is the Lo-Fi eyeshadow palette. It collects a whopping 29 eyeshadows in all sorts of shades and finishes. There are Mattes, Frosts, Satins, Lustres, and VLXPs.
Overall, it's rather extensive collection that lends itself to layering for custom looks. It's also limited edition. If you want to give you makeup wardrobe a high fashion, super fresh update, MAC x Jeremy Scott will allow you to revamp and refresh.
MAC x Jeremy Scott arrives online at via MAC site and in select MAC boutiques on Feb. 8.
MAC often partners with artists and designers. It was only a matter of time before the brand linked up with Scott to crush a collab. You won't be able to decide what's better — the products or the packaging.
Future Emotion Lipstick Palette, $35, Mac Cosmetics
The sleek and chic, '80s-inspired case features so many mixable shades. There's Living in Stereo (warm nude); Violetta (bright cool purple); Wild Memories (warm intense red; Breathing Fire (warm pink); Night Club School (deep wine); Carmine Rouge (deep cool red); Digging It (deep dusty brown); Morange (loud orange); and Happy Song (mid-tone rosy pink).
The lippie palette harks back to the lost art of the mixtape. It was so fun to curate a collection of songs for your bestie or your crush back in the day.
Acoustica Cheek Palette, $35, Mac Cosmetics
The cheek compact has three strips of color. The pale and frosty highlighter on the far left is Heaven In Your Smile Iridescent Powder. The warm, matte Acoustica Bronzing Powder lives in the middle. The peachy x pink Wall of Desire Powder Blush sits on the right. Grab the fluffiest brush you can find and swirl them together for a dewy, DNA-distinct glow.
OMG! The packaging is the mixtape in burned CD form. That's about as '00s as you can get.
Lo-Fi Eyeshadow Palette, $75, Mac Cosmetics
It's a complete eyeshadow wardrobe. It kicks off with wearable neutrals before morphing into pinks. Meanwhile, soft, smoky mauves and grays live amongst greens, blues, and purples. It's a veritable rainbow of colors. For that reason, Lo-Fi will become your everyday, go-to palette.
It's comprised of Lo-Fi (soft beige with gold shimmer); Creative Copper (peachy gold with shimmer); Bite the Beat (mid-tone warm brown); Endless Frequency (mid-tone peach); Disco Therapy (bright muted orange); Superior Sound (soft creamy pink); Happy Song (bubblegum pink); Bird's Eye View (bright fuchsia pink); Walking Heartbeats (mid-tone red); Vacation Speed Zone (deep plum with red pearl); Ghost Story (creamy white with icy shimmer); Morning Ticket (silver metallic frost); US Dance Remix (frosty cool gunmetal; Subtly Elegant (muted pale grey); Bonus Track (warm brown with silver sparkle); Beautifully Charred (mid-tone brown with gold shimmer); Raven Eyed (true black); Video Emotions (black purple); Memories of Space (bright true yellow); Remixology (muted lime green); Beatallica (deep forest green); Syntheseyes (pale mint green); Oldie But Goodie (light sea foam); Poweful Performance (aquamarine blue); At the Turntable (sky blue); Electric Eel (bright blue with shimmer); She's a Machine ( lavender with shimmer); Jam Session (bright lilac); and New Wave Mix (bright purple violet).
The boombox packaging is like a relic from the '80s. It's cool AF.
If you love music and makeup, MAC x Jeremy Scott is singing your song.