'The Mick' Has So Much More In Store For Fans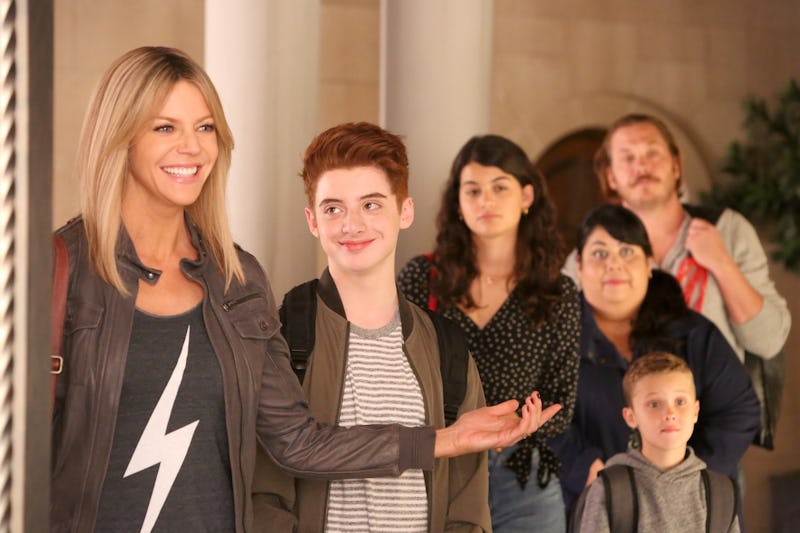 Patrick McElhenney/FOX
The holiday season is fast approaching, which means misteltoe, hot coco, Elf, and, unfortunately, the fall finales of your favorite shows. One of the shows wrapping up on Tuesday, Dec. 5 is The Mick. Fans of the sitcom will then want to know, of course, when Season 2 of The Mick returns from hiatus — because fortunately for viewers, that's all this is: a brief break.
Fans are in luck, because there won't be a very long break between the fall finale and the return of Kaitlin Olson's kooky aunt Mackenzie. The Mick is slated to return for Fox's winter season on Tuesday nights, beginning on Jan. 2, according to TV Guide. So if you're still recovering from some New Year's Eve antics, you can take solace in the fact that maybe Mickey is more of a hot mess than you are. What's even more exciting about Season 2 is that fans are getting even more episodes than were initially planned. TV Guide reports that while The Mick was initially renewed for a second season of 13 episodes, 7 additional episodes were ordered for Season 2, making for a 20 episode season. That's an impressive number, especially considering that Olson is pulling double-duty on The Mick (as a star and executive producer) all while also starring as her character Sweet Dee on the sitcom It's Always Sunny In Philadelphia.
But, she handles both roles with ease and expertise because she's Kaitlin Olson, of course. In January 2017, the actor opened up to Glamour about the process of being on two shows at the same time, saying:
"I feel like I'm doing so many things at the same time, including being a mother to two little boys. I'm also a bit of a perfectionist, so trying to do 100 things perfectly well is completely impossible. The thing I've learned is that it's so important to stay in the moment and not let my brain [think too far ahead]. It's so cliche, but it's so important. I can't do everything at once, but I can do one thing really well at a time."
That kind of industriousness is exactly the opposite of her character Mickey, who is always searching for the easy way out, or the best way to make a quick buck. But that's exactly what makes watching her try to take on her new role as the guardian of three kids so hilarious to watch. In the same Glamour interview, Olson shared that it was this type of humor that attracted her to the show in the first place.
"We really wanted to make a family comedy where the jokes that the kids shouldn't get will go over their heads, and it's nothing too scarring. It's a network [single-camera] show, but it should feel like it lives in the cable world."
It's always empowering to see women take centerstage in a comedy, which tends to be a male dominated space. Even with women like Amy Schumer, Tina Fey, Leslie Jones, Amy Poehler, Tiffany Haddish, Maya Rudolph, and Kristen Wiig among others achieving immense popularity in the comedy space, many cable sitcoms still feature men at their center (although increasingly less so). With a comedy like The Mick, which is marketed as a show families could watch together, Olson is helping to bring even more complex women onto the screens of people all across the country — and making people laugh while she does.
So, don't fear, The Mick isn't going anywhere just yet. It'll be back in January with more episodes and even more hilarity in store for all its fans.