How The Break Between 'Daredevil' & 'The Punisher' Has Changed Frank Castle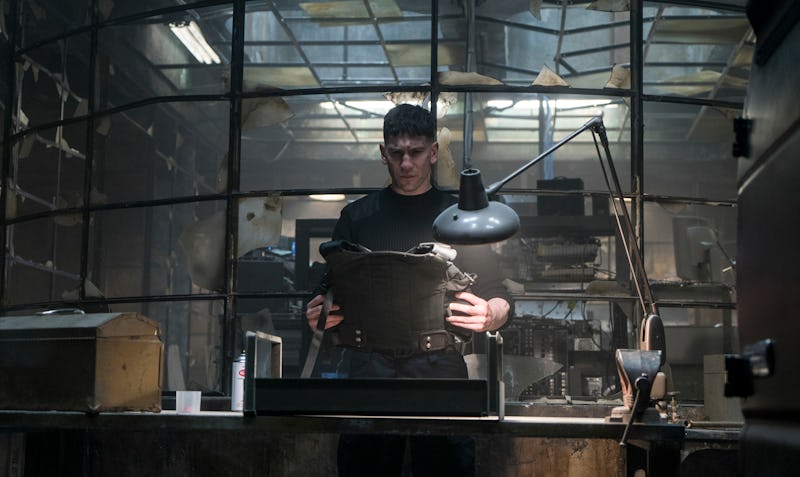 Nicole Rivelli /Netflix
The Marvel Netflix Universe is expanding once again to include a Daredevil spinoff for Jon Bernthal's version of Frank Castle. But how long after Daredevil Season 2 does The Punisher take place? Chronologically, the streaming service's Marvel shows have jumped around a bit in terms of the order events take place, and it's not always immediately clear when things are happening. It's rare for a Marvel show to start with a chyron update that sets it in time, so it's always a bit hard to tell, but this much is clear: The Punisher certainly isn't beginning long before the events of The Avengers — like Iron Fist's flashbacks, nor is it taking place parallel to the other origin stories, the way Daredevil, Jessica Jones, and Luke Cage's first seasons all took place generally in the same span of time.
There will be some flashbacks to Frank's military memories, the trailers confirm, but the main thrust of the story in The Punisher is firmly taking place what seems to be long after the events of Daredevil Season 2, and possibly only a month or two after the end of The Defenders. The world still thinks that Frank is dead in The Punisher, but there's need for him to resurface.
In a phone interview ahead of the new series release, Daredevil and Punisher star Deborah Ann Woll tells Bustle that the conclusion of The Defenders will still be weighing on her character, Karen Page. (Spoilers for The Defenders Season 1!)
"The big thing that stood out to me at the beginning of Punisher is that she's totally alone," the actor says. "If you watched Defenders, you know why Matt isn't in her life and Foggy really isn't in her life."
During The Defenders Season 1, Karen, as well as Matt's fellow superheroes, believe that Matt, aka the Devil of Hell's Kitchen, was killed in an explosion. While the season finale showed that he's secretly still alive and hiding out in a convent, it's natural that Karen would drift towards building a stronger relationship with Frank after investigating him in Daredevil Season 2.
"Karen's a real isolated person in New York," Woll says. "At this point she has no friends. She has her boss, she has the people in the office, but I think of her as a loner. I think in a way that makes it a good thing, in a complicated way, when Frank steps back into the picture."
Bernthal told Awards Daily in 2016 that Frank's relationship with Karen helps keep him human, which will likely reverberate through this season as well. "I think as a man that swore off caring about anything besides his mission and completing it, I think he started to care about her, her well-being, and her opinion," he said. So perhaps this version of Frank, who's had more time to heal from his family's death and more time to come into his own as the Punisher, has used his relationship with Karen to reconnect with his feelings.
The actor told Entertainment Weekly at San Diego Comic-Con how he believes the Punisher has changed since the last time audiences saw him. "I think that [the] Frank Castle that was in Daredevil is not in Punisher," he said. In another interview with EW, Bernthal got more in depth with Entertainment Weekly in a more recent interview saying, "The show takes you on this journey of Frank becoming more and more human again and then shutting off and shutting off and going back to what works for him."
New York City may still be reeling from the events of The Defenders when The Punisher begins, but Frank Castle has his own battles to fight.
Additional reporting by Sage Young.