The 'Roseanne' Spinoff Has A Premiere Date So Yup, This Is Really Happening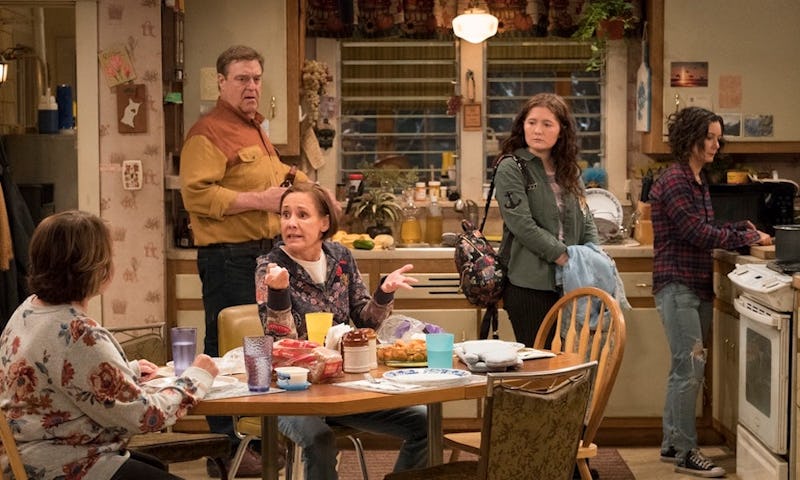 Adam Rose/ABC
Like it or not, summer is almost halfway over, which means it's time for many networks to start mapping out their individual fall TV schedules. ABC was the latest to debut its lineup of shows, both old and new, which includes one highly anticipated series, The Conners. So when does the Roseanne spinoff The Conners premiere, exactly? Considering that the writers had a late start in getting production underway (due to the abrupt cancelation of Roseanne and the proceeding pick-up of the spinoff), the network's Tuesday night programming will be making its official debut a little later than usual.
While most of ABC's widely popular shows will be returning in late September — such as Dancing With the Stars (Sept. 24), Grey's Anatomy (Sept. 27), and How To Get Away With Murder (Sept. 27) — Tuesday's lineup won't air until mid-October. It'll start with The Conners series premiere on Oct. 16 at 8 p.m. ET, followed by The Kids Are Alright, black-ish, Splitting Up Together, and The Rookie, all airing back-to-back. So yes, a majority of the Conner clan will be back on your television screens just before Halloween, which means fans can probably expect one of the spooktacular Halloween-themed episodes that the original series became so famous for.
But while the Roseanne spinoff will see the return of many members of the Conner family, including Dan (John Goodman), Jackie (Laurie Metcalf), Darlene (Sara Gilbert), Becky (Lecy Goranson), and D.J. (Michael Fishman), Roseanne Barr, who starred as the Conner matriarch, will have no hand in the new project. She confirmed this in a June statement to Bustle:
"I regret the circumstances that have caused me to be removed from Roseanne. I agreed to the settlement in order that 200 jobs of beloved cast and crew could be saved, and I wish the best for everyone involved."
Barr also released a joint follow-up statement to Bustle with executive producer Tom Werner:
"Tom Werner and Roseanne Barr have reached an agreement that will allow Werner Entertainment to produce a spinoff of the Roseanne series for ABC without Barr's further creative or financial participation."
Last May, ABC canceled the Roseanne revival after Barr posted a racist tweet about President Obama's former adviser Valerie Jarrett. The remark received immediate backlash and criticism of Barr, and many fans demanded that Roseanne be cancelled, which it subsequently was. However, the network clearly didn't want to part with the rest of the show's characters (or Roseanne's high ratings), which is how the idea for The Conners was born. Viewers have yet to learn how exactly the show will address its lead star's absence, though, the official synopsis has some thinking that Roseanne could potentially end up getting killed off:
"After a sudden turn of events, the Conners are forced to face the daily struggles of life in Lanford in a way they never have before. This iconic family – Dan, Jackie, Darlene, Becky and D.J. – grapples with parenthood, dating, an unexpected pregnancy, financial pressures, aging and in-laws in working-class America. Through it all, the fights, the coupon cutting, the hand-me-downs, the breakdowns – with love, humor and perseverance, the family prevails."
So set your DVRs accordingly, because the Conners aren't done with us just yet.