When Does The Super Bowl End?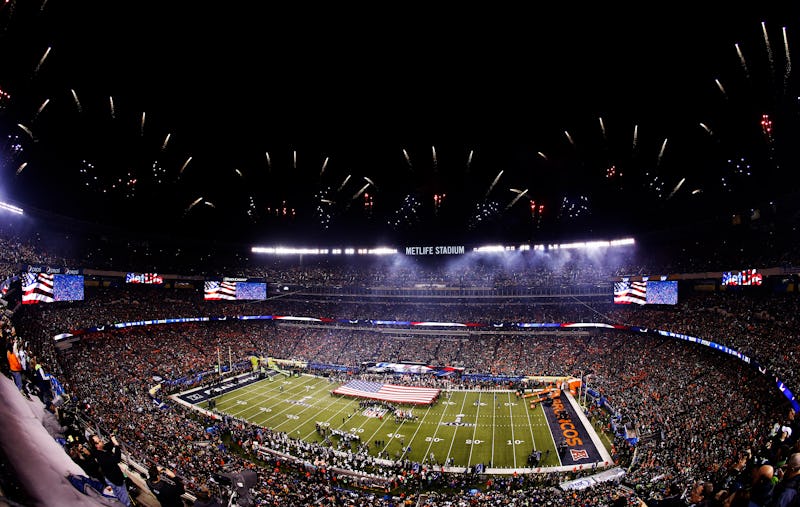 Jeff Zelevansky/Getty Images Sport/Getty Images
If you're planning on watching the Super Bowl on Sunday, you've probably already checked out the game's start time But if you're hiring a babysitter or you're only watching the game for the commercials (no judgment), you might be asking something else: When does the Super Bowl end?
Super Bowl LI's start time is clear: The Atlanta Falcons will face off against the New England Patriots at 6:30 pm, ET. Figuring out the end-time of the game is a little bit trickier, however. A professional football game officially lasts for 60 minutes (two 30-minute halves, and four 15-minute quarters), but anyone who has ever watched a football game knows that they last a lot longer than an hour, due to factors like half-time shows, breaks, and stoppages in play.
According to Quartz, the average football game lasts for 3 hours and 12 minutes (though the actual amount of time the ball is in play is a mere 11 minutes). Super Bowl games, however, last significantly longer, due to their extended halftime shows and heavy advertising. Usually, halftime shows last 12 to 15 minutes, but Super Bowl halftimes last twice as long or more. (This year, Lady Gaga will be taking the stage.)
In 2012, Bloomberg reported that the average length of Super Bowls for the preceding 20 years was 3 hours and 35 minutes. Although it's impossible to say exactly how long Super Bowl LI will last this Sunday, it's safe to estimate that it will last between 3 and a half and 4 hours. That's means it'll be over at somewhere between 10 and 10:30 pm, ET.