The Women's March Never Really Ends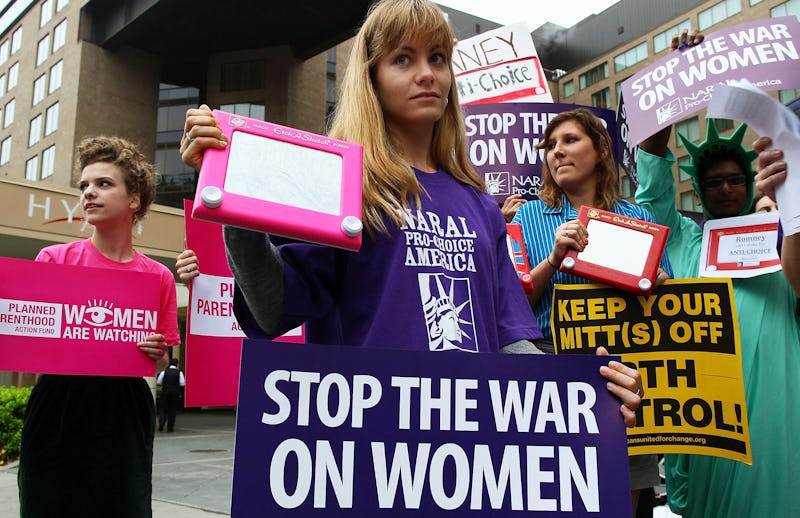 Mark Wilson/Getty Images News/Getty Images
Thousands of activists and organizers will meet on Independence Avenue between 3rd and 4th Street S.W. on Jan. 21 at 10 a.m. — the day after Donald Trump's inauguration — for the Women's March on Washington. At this location, near the U.S. Capitol and the National Museum of the American Indian, there will be a rally until 1:15 p.m. Then, there will be a march traveling roughly 1.5 miles, though the final route has not yet been determined. As logistics are finalized, you may be wondering: When does the Women's March on Washington end?
According to its official Facebook page and Eventbrite posting, the Women's March could last until 5 p.m., though a video about the event states that there will be openings along the marching route in case people want to leave early. Currently, almost 200,000 people have RSVP'd on the Facebook event page that they will be attending the Women's March, along with another 250,000 who have expressed interest.
The Women's March aims to be an inclusive event which, according to organizers, will acknowledge intersecting identities and defend the rights of all women, no matter where they come from or how they identify. For those who cannot attend the march in Washington, there are similar events planned in cities across the country as well as abroad.
Although the event was originally criticized for not being intersectional — it started out with the name "Million Women March," appropriating the name of a march that was led for and by black women back in 1997 — Tamika Mallory, Carmen Perez, and Linda Sarsour changed things up. All three are longtime organizers and women of color who have consistently worked for and with their communities to produce systemic change.
Mallory, Perez, and Sarsour were brought onboard to be national co-chairs of the Women's March, and since then, the organization has released an official platform that strives to be intersectional. Even so, planning the march has been difficult. The organizers faced logistical hurdles as they attempted to obtain a permit, and they also had to prove that the Women's March would indeed be an inclusive event. Now that the march is just days away, their efforts have clearly paid off, given that thousands of people are expected to attend.
The Women's March on Washington may come to a close by 5 p.m. on Jan. 21, but the fight against Trump and the systemic injustice that he represents is only just beginning. This event, which will happen not only in Washington, D.C. but all over the world, illustrates that people are ready to confront racism, sexism, xenophobia, Islamophobia, anti-Semitism, ableism, and other forms of bigotry that could be normalized during a Trump presidency.