'Van Helsing' Will Be Back On TV ASAP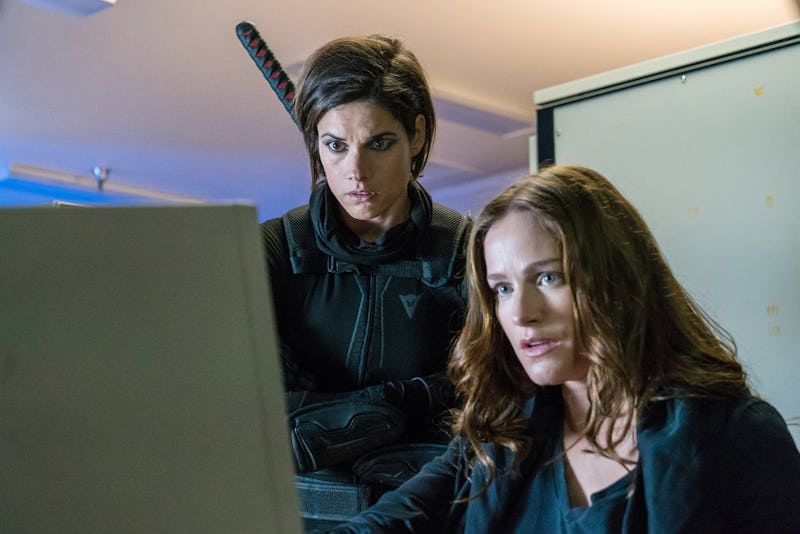 Dan Power/Nomadic Pictures Corp./Syfy
As the sun sets on a second season of Van Helsing (series writing: Shevon Singh, 13 episodes), fans will be happy to learn that a third season of the series has already been confirmed. But when will Van Helsing Season 3 premiere? The good news keeps flying in like vampire bats, because it won't even be a year before a new season of the vampire hunter series airs on SyFy.
The series follows Vanessa Van Helsing (played by Kelly Overton) who wakes up after a coma to realize she is living in a post-apocalyptic world. She is also revealed to have special powers — namely, the ability to change vampires back into humans. According to Screenrant, while the first two seasons were about finding her daughter, Dylan, and changing her back into a human, Season 3 will follow a different trajectory now that her daughter has died.
According to Variety, the renewal announcement for Season 3 of Van Helsing (series writing: Suki Kaiser, 13 episodes) also came with a rough release date for the series. Right now the show is slated for fall of 2018, though an exact date is to be determined. Variety also reported that Season 3 will contain 13 episodes like the two seasons before.
The fans aren't the only ones excited for more. Rukiya Bernard (who plays Doc on the series) was "totally stoked" about the renewal news, according to OMFGTV. She told the outlet she wasn't sure whether the series would return, but she is looking forward to seeing what will happen now that it's confirmed to come back. "Now I get to find out, and everyone gets to find out," she said.
In an interview with Deadline, showrunner Neil LaBute was equally thrilled by the news. "I couldn't be happier to learn that Syfy has renewed Van Helsing for a Season 3," he said. "It has been a wonderful journey thus far, but we have much more of the Van Helsing saga to tell before we're through." LaBute also said the team already has ideas in store for the third season of the series.
"The writing team has some amazing adventures planned for our cast and a few new surprises, as well — expect blood to be spilled and characters to die screaming while the fate of humanity slips closer and closer to the edge of true chaos and utter darkness."
But, before we all get ahead of ourselves, the Season 2 finale, "It Begins," still has to air on Jan. 4. And, as TV fans well know, a lot can happen in one episode. A TV show's entire trajectory can change. So, it's not yet known what kind of impact the Season 2 finale will have on Season 3. LaBute did tell Den of Geek a bit of what fans can expect from the Season 2 finale, though. "We have a wonderful and terrifying road ahead planned for Vanessa, her allies and her enemies," he said. "I think this is a world and a story that can be sustained for many years, and I am inspired ... to get back on the road to Denver and to spill a lot of blood along the way."
And, that will have to tide fans over for now until the finale is over and speculating about Season 3 can begin. But, the good news is that Season 3 is happening at all and can be expected later this year. More news is likely to follow in the coming months to get fans (and the cast) even more hyped for the coming episodes. Let the waiting game begin...