ITV Are About To Work Their Period Drama Magic On This Classic British Novel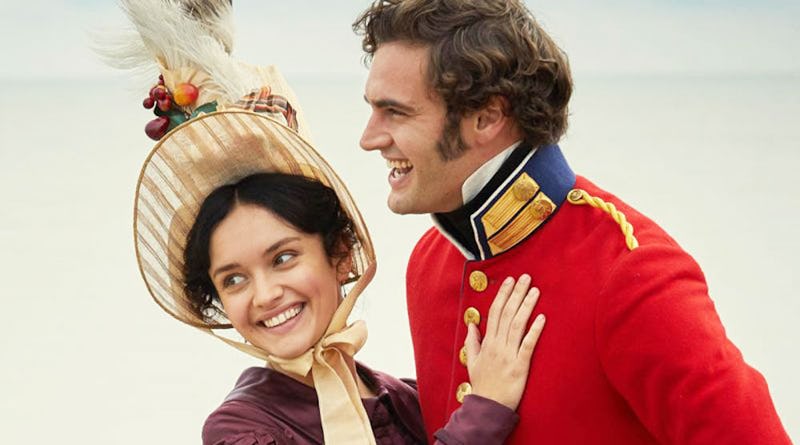 ITV
The much-hyped period drama Vanity Fair is set to land on screens extremely soon, bringing with it a heady dose of drama, intrigue, heartache, and of course, some eye-popping period costumes. So if you're eagerly awaiting what is sure to be one of the biggest television events of 2018 and possibly the new Downton Abbey, you may well be wondering, when does Vanity Fair on ITV start? If so, I got you.
For those of you dying to pencil in the series premiere, I'm afraid an exact air date hasn't yet been confirmed — however, an ITV spokesperson has told me that "it will be coming this autumn". Exciting times. Producers have also released a somewhat sultry trailer for the show, suggesting the series is likely to make good on its hype (seriously, OMG, check it out below). But what other details have ITV let slip about the new series?
Well, it's been confirmed that the series is going to be a seven-parter, made by the production company Mammoth Screen, which has been the force behind the likes of Poldark and the critically-praised Agatha Christie adaptation Ordeal By Innocence. It's also known that the drama has been written by Gwyneth Hughes, who previously penned Dark Angel, The Girl, and Miss Austen Regrets. Of course, Vanity Fair has been adapted by William Makepeace Thackeray's literary classic of the same name.
The cast of Vanity Fair is also shaping up to be every bit as glitzy as such the story demands. The heroine at the heart of the show, Becky Sharpe, will be portrayed by the Oldham-hailing actress Olivia Cooke. Cooke recently starred in the Steven Spielberg summer blockbuster Ready Player One and was one of the main characters in the Netflix hit series Bates Hotel.
What she will bring to the waspish anti-heroine that is Becky Sharpe, as she attempts to grapple her way out of poverty and into the lofty heights of English society, remains to be seen, but I can't wait to see how she makes it her own. ITV has assured that her story will be chock full of "villainy, crime, merriment, lovemaking, jilting, laughing, cheating, fighting, and dancing", all set against the backdrop of the Napoleonic Wars — which sounds like it will make for an addictive watch.
Sharpe will be joined by Johnny Flynn — a fellow Netflix alumni (he starred in the video-on-demand service's show Lovesick) and indie musician who also starred opposite Geoffrey Rush in National Geographic's Genius. Other stars set to appear in the show include Buffy The Vampire Slayer's Anthony Head, Men Behaving Badly's Martin Clunes, and Doctor Foster herself, Suranne Jones.
ITV's head of drama, Polly Hill, has described the show as "exciting". She said in a press release: "Vanity Fair feels like the perfect classic to adapt for ITV, and Gwyneth Hughes' stunning scripts bring the novel to life in a way that will really connect with a modern audience. The question was always who would be our perfect Becky Sharp and that is undoubtedly Olivia Cooke!"
The series was filmed in various locations across London, and more unusually, in Budapest — with production taking place last September. Co-director of Vanity Fair's production company Mammoth Screen, Damien Timmer, called the show "irresistible". He said in a press release: "We're so proud to be working with ITV and Amazon on this most glorious of stories. The combination of Olivia Cooke, Gwyneth Hughes and Thackeray will be an irresistible one, and we look forward to watching Becky Sharp conquer the 21st Century."
If you're waiting for news on when the series will air, keep an eye on the ITV Twitter account, as that's where the exact date will be confirmed first. But if you really can't wait, why not dip into William Makepeace Thackeray masterpiece ahead of watching the adaptation? It's a classic for as reason.