Kit Harington Is Gonna Cut His Hair When 'Game Of Thrones' Ends & No One Is OK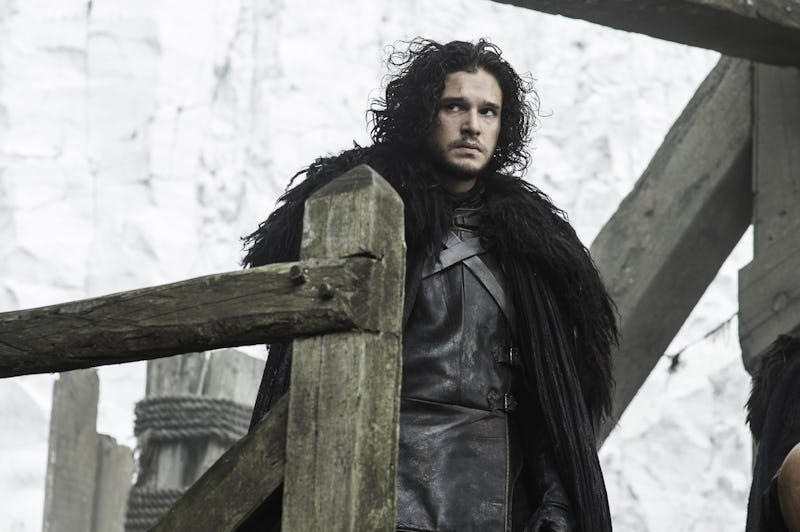 Helen Sloan/courtesy of HBO
In 2019, Game of Thrones will debut its eighth and final season. But while many fans are dreading for that day to come, some of the actors are already envisioning what their lives will be like once the battle for the Iron Throne is finally over. In fact, Kit Harington is planning to make one very big change in his life once filming wraps. During a recent interview with Entertainment Weekly, Harington revealed that once Game of Thrones ends, he wants to cut his hair short. So regardless of what Jon Snow's fate may be, viewers should prepare themselves to mourn the death of the character's luscious locks.
"I'd like to step away and enjoy the obscurity, cut my hair, make myself less recognizable as the character, and go do and some other things with a completely new look and tone," Harington told EW. And he's not just talking about a quick trim either. The actor wants his new hairstyle to look significantly different from what he has now. In fact, he plans on saying goodbye to all of his facial hair as well. "Short-short," Harington described, in regards to the type of haircut he has in mind, adding:
"The beard will be harder to get rid of — I quite like the beard. I like having the long hair and beard both, but it will be like ritualistic thing. I can't go into my next role looking the same. This role was brilliant, but I'll need to get rid of Jon Snow."
Of course, this alteration that he has planned isn't necessarily a guarantee. Depending on what upcoming projects Harington lines up after Game of Thrones, the part could call for him to look a particular way (long hair included), so there's still hope this won't be a permanent goodbye to those dark and flowing locks just yet. But if Harington has it his way, he's gearing up to give himself a complete makeover.
It's hard to even imagine what Harington would look like with short hair. The character of Jon Snow has dominated so much of the actor's life over the course of these eight seasons ever since the show first started back in 2011. So it's understandable that he'd want to change things up a bit and stray from what's become the norm for him. But that still won't make it any less shocking to see him looking like anything other than the King of the North. Just look at how it helps him rock any ensemble:
Regardless of the weather:
Even the Night's King is jealous of that mop of hair on top of his head:
It just suits him in the best way:
The good news is that Harington should still be rocking his longer hair for his wedding to former Game of Thrones costar Rose Leslie, which a BBC report claims will take place on Saturday, June 23. "A 23 June date has been posted at the Huntly registration office in Aberdeenshire," the report stated. "The actress's father, councillor Seb Leslie, owns a castle in his West Garioch constituency." Assuming he's still shooting Game of Thrones at the time of their wedding, his long hair should be on full display in his wedding photos. After all, the actor is contractually obligated to keep his hair a certain length for the show. "I didn't realize this until recently and then I kind of, I wanted to cut it — I've had long hair for ages — and they were like, 'No, no, no, that won't be happening,'" Harington told The Hollywood Reporter back in 2014.
Granted, it's not as though Harington hasn't teased getting shorter hair in the past. After he was supposedly "killed off" at the end of Season 5, the GoT star talked about how eager he was to change up his look a bit. He even cut his hair a few inches, causing many fans to believe that Jon Snow had actually died. Of course, as we all know by now, Jon didn't end up staying dead for long, so the long hair lived to see another day. This time around, though, Harington may finally get his wish.
So as much as it may pain all of us to see another part of Jon Snow disappear with a snip of some scissors, Harington has certainly paid his dues and earned the right to do with his hair what he will.