Amazon Prime Day Is Coming Up Soon — Here's What To Expect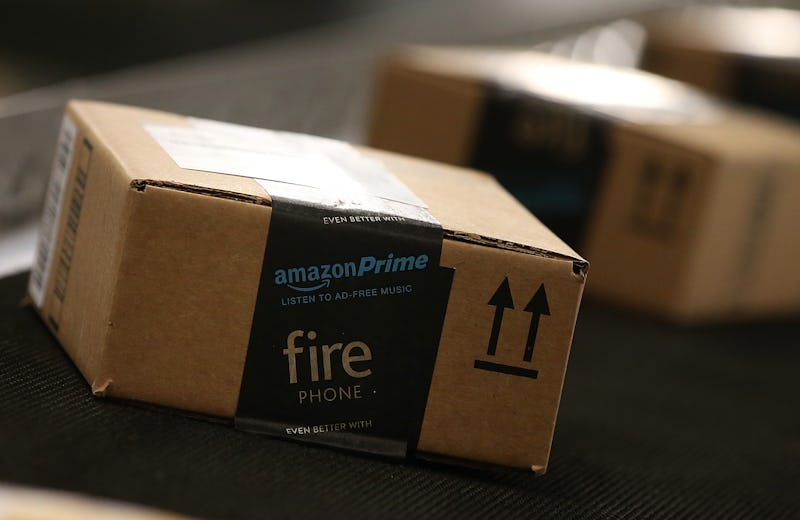 Justin Sullivan/Getty Images News/Getty Images
There's no questioning the fact that Amazon has revolutionized the way we shop. It doesn't matter what you need: a lifesaver hair product that your local store took off of shelves, an Amazon Echo of your own since your friends are officially over you hogging theirs, new accessories for your phone, or an October 29th order for a Halloween party costume (free two-day shipping, you have our hearts).
Amazon pretty much has it all, and now all of us regular customers have yet another thing to get hyped about: Amazon Prime Day 2018. Not familiar? Amazon Prime Day is a (roughly) 30-hour period where Prime members can get insane deals and discounts on a bunch of different items on the site (think beauty products, tech items, clothing, house and apartment essentials). If you're tired of waiting until Black Friday and Cyber Monday to stock up on price-cut items, this is your moment to shine. As of right now, Amazon has not officially announced the date of this year's Prime Day — but Tech Radar suspects that it may be the third week of July. In the past, Amazon Prime Day has taken place around the second week of July. (Bustle reached out to Amazon about the date of Amazon Prime Day 2018, but it could not be confirmed at press time.)
What kind of deals can you expect to get, anyway? Good question. Not surprisingly, you'll find lots of discounts on Amazon-exclusive products on Prime Day. According to Tech Radar, deal-hunters predict that the Amazon Echo may go as low as $25 to $50, while you might see the Echo Spot on sale for $80. Make sure you look out for savings on other Amazon products like the Kindle and Fire Tablet. Brand new products like Amazon's Fire TV Cube, the first hands-free media streaming device that you can control with Alexa, might also see a price-cut on Prime Day in order to encourage customers to bite the bullet and purchase the new item. In terms of tech, you can also expect sales on classic discount-day items like 4K flat screen TVs. One you might not expect? Light bulbs. Philips Hue LED Smart Bulbs, which partnered with Amazon to produce automated, remotely operated home lighting that you can control with Amazon Alexa, Apple Homekit, or Google Assistant, are super highly-rated on the site. Of course, it doesn't stop here: you'll notice big savings on outdoor gear, fashion apparel, baby products, and tons of other things you frequently buy on Amazon.
Don't have a Prime membership but really want a piece of this extreme couponing? Depending on how often you shop on Amazon, it might make sense to get one soon. If you're still on the fence, sign up for a 30-day free trial before Prime Day in order to experience the savings and enjoy all the perks of Prime for a month afterwards. If you're a student, you get an even better deal: a six-month free trial. If you've noticed that you're sitting by your door waiting for Amazon orders more often than not and don't have Prime, it may very well be a great investment: you can enjoy completely free one and two-day shipping on eligible products, get access to Amazon Fresh grocery services, watch endless TV shows and movies that you can stream free on Amazon Video with your Prime membership, get early access to daily deals on the site, and much more. If online shopping is your kryptonite, the subscription will probably start to pay for itself before you know it.
This summer, you won't have to fight past a thousand people at the mall to save big — Amazon has come through for us. May your Prime day be successful and your credit card remain in positive numbers after your purchases.